Most small-to-medium sized nonprofit organizations do not prioritize cybersecurity, despite the risks faced by many of these organizations. The threat landscape continues to evolve and grow and most organizations are at greater risk than they realize. This report shares some of our experiences and insights and establishes a solid business case for making nonprofit cybersecurity an organizational priority.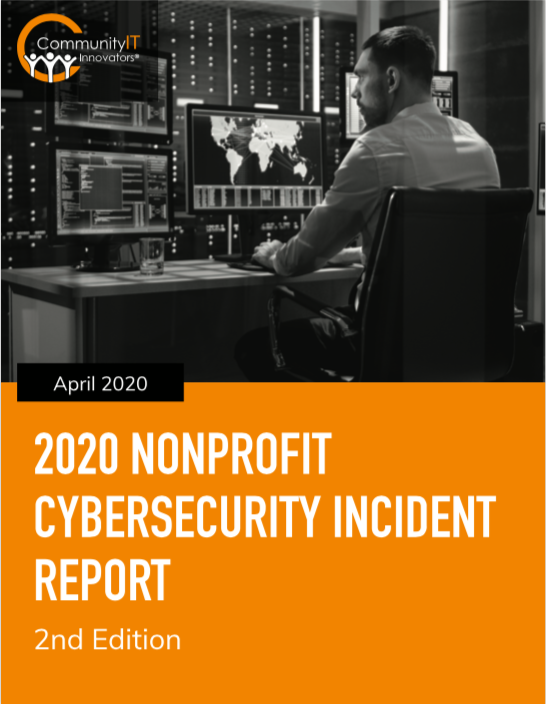 Community IT Innovators is pleased to announce the 2nd Annual Nonprofit Cybersecurity Incident Report now available online for viewing and sharing, or we recommend you print double-sided for best paper viewing.
Do you know how exposed your nonprofit or association is to cybersecurity threats?
Do you have a written technology security policy that includes your cybersecurity defensive planning costs and strategy?
Have you investigated Cybersecurity Insurance, but you are not sure if your security set up would be able to comply with the terms?
Are you worried that you won't be able to even understand the terminology some consultants use to talk about your cybersecurity risk assessment?
Our goal is to help nonprofits establish a credible business case for taking cybersecurity seriously and to provide specific and meaningful recommendations for threat mitigation and incident response, in language accessible to any nonprofit executive, decision-maker, or IT staff who implement security.
For more details please view this webinar video from CTO Matt Eshleman, cybersecurity expert and author of this report.
2020 Nonprofit Cybersecurity Incident Report Download
Free download of 2020 Nonprofit Cybersecurity Incident Report from Community IT Innovators