Survey Findings and Insights from TechImpact/Idealware
Community IT Innovators is very pleased to sponsor a new Idealware download on ROI in nonprofit technology decisions that will be useful to our community.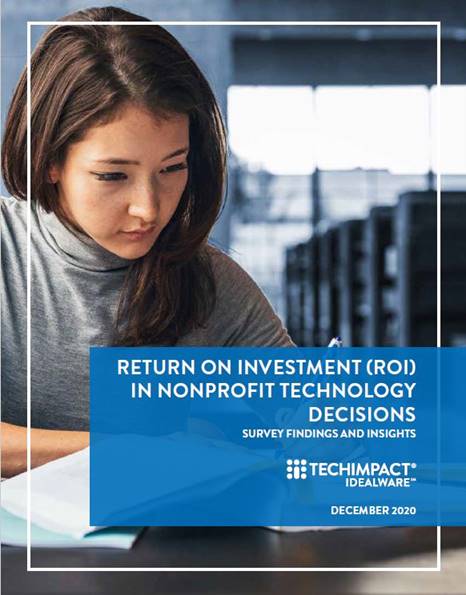 While many organizations factor Return on Investment (ROI) in their decisions when purchasing new technology, the sector is still not realizing the full strategic value of a thoughtful ROI analysis.
For anyone involved in nonprofit technology, this may not come as a surprise. But do you know why some organizations experience better ROI than others? Or what types of tech investments yield a better return? Do you know who should be involved in the decisionmaking process to better your chances of a high ROI?
Earlier this year, we helped Tech Impact survey more than 1,000 people in the nonprofit sector. The goal was to learn how they think about ROI and identify the strongest factors in their decisionmaking processes. Tech Impact/Idealware has just released the findings of that survey, along with expert insights, analysis, and recommendations, and we wanted to make sure you knew about the report.
It's free to download at https://offers.techimpact.org/tech_roi. See how your nonprofit compares to sector norms and learn how to strengthen your approach to improve your own returns.
Tech Impact's Karen Graham will be presenting these findings and answering audience questions about ROI in a free webinar with Nonprofit Quarterly's Jeanne Bell on Wednesday, Jan. 20, from 1-2 PM Eastern. You can sign up for Are You Getting the Most for your Technology Dollar? here.
The Idealware program is a trusted and authoritative resource for nonprofits on software and technology. They maintain the highest level of professionalism and objectivity in their work, and operate with transparency and accountability to their audience.
Idealware does not let financial or other relationships influence or undermine their high standard for that integrity. Community IT Innovators is proud to once again contribute funding that carries no conditions that could compromise editorial integrity. Idealware editorial decision making is carried out without contact from funders such as Community IT.
Ready to use ROI to make the case for tech projects at your organization?
We've found that many nonprofit organizations deal with IT companies that aren't designed for them. This leads to recurring issues: Systems aren't prepared for the future. Subpar IT service hurts productivity. Strategy doesn't account for nonprofit structure or budget. These organizations simply aren't getting the full value from their IT investment, and their missions suffer.
Our process is based on 25 years of exclusively serving nonprofits. Our technicians have certifications across all major platforms, and we constantly research and evaluate new solutions to ensure that you get cutting-edge solutions that are tailored to the needs of your organization. We have decades of experience and understand the budget decisions nonprofits face.
If you're ready for an assessment and to talk to someone who understands ROI in nonprofit technology, let's talk.