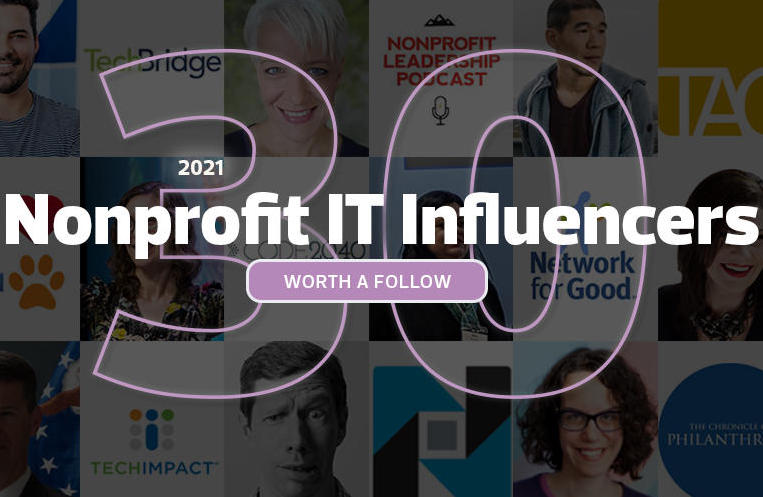 We are really excited BizTech Magazine named Community IT Innovators on their list of thirty nonprofit tech influencers to follow in 2021.
As Keara Dowd writes, "Nonprofits have changed not only the way they achieve their missions, but also how their staffers maintain operations. Now that this infrastructure is in place, nonprofits are better positioned to get the most out of emerging IT tools, driving innovation in the sector. To help navigate these new horizons, BizTech has compiled a list of 30 leaders, authors and organizations that are standing at the forefront of these efforts."
We are the only MSP exclusively serving nonprofits to have made the designation. Congratulations to our entire team on this achievement! This list is a stellar compilation of some of our old friends, thought leaders, and nptech practitioners. It really is an honor to be included.
Community IT works hard to provide free resources and knowledge best practices to our nonprofit IT community – the organizations that we serve and those that manage their own IT. To that end we provide monthly webinars, videos, articles, free downloads and whitepapers, and other resources on our website. Two decades ago when we began our exclusive services to nonprofit organizations, most nonprofits had an "accidental techie" or two – and we quickly realized that to support this sector, those techies needed support and knowledge. So sharing innovations and practical know-how – in accessible language to all levels of IT background – has been part of our culture from day one, and continues to drive us forward.
We began podcasting last year and are always looking for new platforms to reach IT managers and decision makers in the mediums where they are comfortable learning new information. So it's gratifying for our podcast to be recognized as "a one-stop shop for nonprofit IT professionals. The podcast is formatted like a series of webinars and has something for every level of technology expertise. Recent episodes have delved into cybersecurity, collaboration tools and IT management."
To access the complete list of thirty nonprofit technology influencers and give them all a follow, please check out this article: https://biztechmagazine.com/article/2021/08/30-nonprofit-it-influencers-follow-2021
Ready for IT support you can depend on?
We've found that many nonprofit organizations deal with more IT issues than they should have to. Resources are tight. Systems are unreliable, responses are too slow, and repairs are too expensive. Sometimes nonprofits don't even realize how bad things are until something big breaks and their mission is derailed.
Our process is based on 25 years of exclusively serving nonprofits. Our technicians have certifications across all major platforms, and we constantly research and evaluate new solutions to ensure that you get cutting-edge solutions that are tailored to the needs of your organization.
We regularly present webinars at Community IT about nonprofit technology issues, and we work hard to keep our nonprofit technology community informed and engaged in best practices. While we are pleased BizTech named Community IT Innovators an influencer, we are not surprised given our commitment to innovation. You can download our new "Building the Foundation for IT Innovation" to learn more.
If you aren't sure if an MSP model is right for your nonprofit IT support, we have provided a free downloadable guide. And if you are in the process of choosing or re-evaluating an MSP, you can download the free guide 12 Questions Nonprofits Should Ask to Evaluate a Managed Service Provider (MSP)
If you're ready to gain peace of mind about your nonprofit IT, let's talk.