Transcript below!
---
View Video
Listen to Podcast
Like podcasts? Find our full archive here or anywhere you listen to podcasts: search Community IT Innovators Nonprofit Technology Topics on Apple, Spotify, Google, Stitcher, Pandora, and more. Or ask your smart speaker.
Community IT Voices: Rivel Koulle, Help Desk Analyst
Join us for our series featuring interviews with Community IT employees. In this series, we talk about nonprofit technology career paths, career resources, skills, and certifications. We will also touch on mentoring opportunities as you start out on your career and ways to give back if you are further along. If you are wondering what it is like to work at a place like Community IT, you can learn about it here.
In today's interview, Carolyn talks with Rivel Koulle, Help Desk Analyst, who has been with Community IT over three years, about how he found this job and what attracted him to Community IT. Rivel answers the help desk phones, emails, and live chat and is the first person many people talk to when they have to get in touch for help. He was getting his Comptia A+ certification at Carlos Rosario International School in DC, where he met our CEO, Johan Hammerstrom, and knew he wanted to work at Community IT.
Originally from Cameroon, Rivel has found community in DC and lots of support. His advice for aspiring IT techs is to get the certifications and find people to learn from who will help you grow confidence in yourself.
I think I'm really blessed to be at CIT, because I can talk to my peers about anything IT related. I go to everybody to get mentorship, advice on IT. I would advise any person who wants to get into IT to find those people – knowledgeable people, experienced people – talk with them to benefit from their experience and knowledge.

Rivel Koulle, Help Desk Analyst
---
Speakers: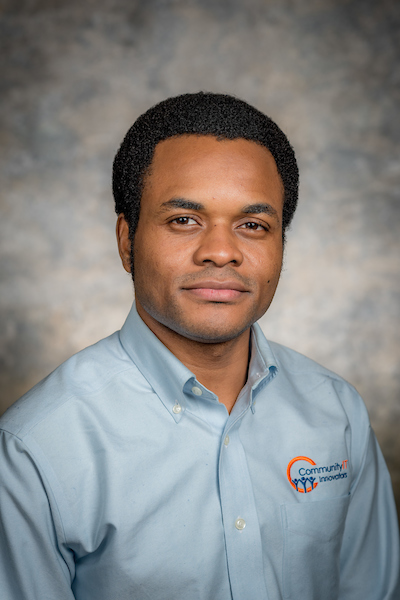 Rivel Koulle joined Community IT Innovators as a Helpdesk Analyst in April 2019. He is studying for an associate degree in Computer Science and holds CompTIA A+ and IT Fundamentals certifications.
Having attended a bilingual high school, Rivel is not only fluent in English and French but also has intermediate competency in Spanish. Originally from Cameroon, Rivel attended Carlos Rosario International School in DC to improve his English and found he had a natural aptitude for IT work.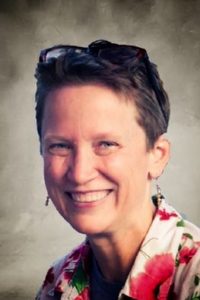 Carolyn Woodard has served many roles at Community IT Innovators, from client to project manager to marketing. With over twenty years of experience in the nonprofit world and marketing, including as a nonprofit technology project manager and Director of IT, Carolyn knows the frustrations and delights of working with technology professionals, accidental techies, executives, and staff to deliver your organization's mission and keep your IT infrastructure operating.
Carolyn is excited to help manage Marketing at Community IT Innovators and is always looking for new ways to tell stories and reach people. She has a master's degree in Nonprofit Management from Johns Hopkins University and received her undergraduate degree in English Literature from Williams College. She thinks the best thing about being with Community IT Innovators is the people.
---
Transcript
Carolyn: Welcome to the Community IT Innovators Voices series. My name is Carolyn Woodard and I'm the director of Outreach and Marketing for Community IT. I'm very happy today to be here interviewing Rivel, so Rivel, can you introduce yourself?
Rivel: Hi Carolyn. My name is Rivel Koulle but I prefer to be pronounced "Cool" because it's cooler. I'm from Cameroon, I've been in the US for 8 years now, and I've been working at CIT for 3 years and a half. My position at CIT is help desk analyst.
Carolyn: That was going to be my next question: what is your job title and what do you do on a typical day?
Rivel: Like I said, my job title is Help Desk analyst. On a typical day I just answer the phones. I help clients over the phones for any computer issues that they have. I also look at the board and distribute tickets to my colleagues, and I do that within every hour of the day. And I'm also on the chat support, so I have clients who go to the website and chat about the issues that they have. So those tickets come to me, and I assist them.
Carolyn: So, you work on the help desk?
Rivel: Yes, that's correct
Carolyn: So, what's something about your job that you really love?
Rivel: One thing I really love about my job is I get to work from home, and so I get to save on gas. Also, even though I am at home, I still benefit from the support of all my peers at CIT, if I get stuck on an issue that is too complicated for me. I can go ahead and submit for help on the support chat. So that is another thing I really love about my job.
Carolyn: I think probably a lot of people have interacted with help desk or IT support in the past and have some ideas of what that job is like; maybe people yell at you a lot, or it is difficult [for them] to get the support that they need. Is there something about your job on the help desk and helping our clients that is different than you thought it would be, and what is that?
Rivel: Yes, when I first joined the help desk – because I was first on on-site support. You have almost unlimited time to trouble shoot people's issues. On the help desk I found out you can not stay too long on the calls with the clients. Because there are so many calls coming in. We have limited time. For me, that has been a challenge for the first couple of months, because I had to really kind of rush to get to what the issue is and find a solution a little bit quickly. But over time I got the hang of it. That's something I would say is different about the help desk, we have limited time to troubleshoot the issues.
Carolyn: I think also just from talking to you, you might be somebody who enjoys talking to people. So sometimes it can be hard to have to stop talking to them and move on to another.
Rivel: True, true. You know, sometimes when you get those kind of clients or users who are really warm you just want to talk to them forever on the phone but you can't. You have to move on. So yeah.
Carolyn: But of course that helps the other people who are waiting on the phone to get help, you have to move to them. So you said that you worked for CIT for about 3.5 years. Do you remember when you applied to CIT, and what made you, how did you find out about the job opening and what made you decide you were going to do it, you were going to apply?
Rivel: So I found out about CIT – I would like to say that CIT found out about me. I was taking some classes at Carlos Rosario and CIT was in collaboration with that school. So I was taking IT classes over there, and we got introduced to CIT, that they were looking for you know, hiring entry level people, entry level technicians. That's how I found out about CIT. And then, I decided to apply for the job. Because one of the things that made me really want to apply for the job is Johan, who visited. So he came one day to the school, and we had a conversation, and I saw that he was really a humble person, a down to earth person. I said to myself I would like to have that man as my boss. He was very chill, very cool, it would be great working for him.
Carolyn: I don't think you are the only person at CIT who has that feeling. We were talking a little earlier about how you got training and certification and what kind of training there was when you joined CIT after taking some IT classes. Could you talk a little bit about that? What kind of support do you have at CIT when you join as an employee?
Rivel: So I just got my A+ certification from the classes I was taking. So in orientation with people like Rick, William, really helped me built up my confidence to research issues and also their knowledge, because they are very knowledgeable about what they do. Even David Dawson, even though he is remote, I was on the phone with him almost revery time, so I really benefited from their knowledge and support.
Carolyn: That's something I've heard from many of the interviews is what a warm and supporting environment CIT is on the different teams. Do you have a sense of what made you a good fit for CIT? You said that CIT kind of found you. Was there something about your personality or what you were interested in that made you a really good fit?
Rivel: I'm not really sure. I would say that maybe my quiet personality and also my resilience, my resilient personality. As I said, I didn't know anything about IT, I had just learned about it and it was very new to me. I was pushing myself to really get the hang of it, to understand it, to be more efficient about troubleshooting. I guess those are the traits, the characteristics that got me hired. And also my desire to improve and become better.
Carolyn: I think that makes sense. I've heard other people say that to work at CIT you have to have a kind of creativity and a willingness to – the technology is always changing, and the situations you are assisting in are always changing. You have to be able to be flexible – maybe be a self-teaching or self-learning person.
If you could give somebody else some advice on having a career in technology or working with nonprofit technology, or working in a place like CIT – do you have any advice on what kind of certifications should they get, and how they can find out about this type of a job?
Rivel: I would say they should definitely get the big three Comptia certifications. The A+, the Network+, and the Security+, because that's going to be a really good foundation for any kind of IT job they apply for. Definitely get those three certifications down and you will be good to go.
Carolyn: Do you have any advice for anyone who might be in an IT job now and is not finding a lot of mentorship or support? Where do you go to talk about you career, or who do you talk about your career with?
Rivel: I think I'm really blessed to be at CIT, because I can talk to my peers about anything IT related. I go to David Dawson, to William, to Omar, to everybody to get mentorship, advice on IT. I would advise any person who wants to get into IT to find those people – knowledgeable people, experienced people – talk with them to benefit from their experience and knowledge.
Carolyn: That makes sense. You said you took classes at Carlos Rosario school. What made you apply there, and how did you find out about that?
Rivel: I found out about Carlos Rosario from one of my friends. I initially went to Carlos Rosario to improve my English; I went there to take English classes. After that I decided to get into IT, so I started taking IT classes over there as well.
Carolyn: That sounds like great advice. You said earlier you were from Cameroun originally, and Carlos Rosario school is in DC. Do you mind telling us a little bit about your journey and how you came to DC and why you wanted to end up in DC?
Rivel: So my father is the one who made us come here to join him; he was already living in DC. Once we got there from NY, from Cameroon to NY to here in DC, we just lived here. And also because DC has a lot of advantages you know. Like full health benefits and jobs. The minimum wage here is higher than anywhere, so that's why we kind of chose to stay in DC.
Carolyn: That makes sense. Of course, a lot of the costs are higher too. Is there a big Cameroonian, is there a community here from Cameroon?
Rivel: Yes, there's a community from Cameroon but it is mostly in Maryland. But there are some here in DC too.
Carolyn: Do you have a lot of peers from your community who go into IT or do you think you are a little unusual?
Rivel: Oh no no no no no, a lot of people from my country are into IT. A lot of people work in that field.
Carolyn: That makes sense. So then you have more support as well. It was such a pleasure to talk to you today, Rivel, I learned so much about you, thank you so much for sharing your ideas and advice and telling us about your job.
Rivel: Thank you so much for having me, Carolyn, it was a pleasure.
---
We hope you enjoyed this Community IT Voices interview with Rivel Koulle. Community IT is the right place for you if you find fulfillment in helping others succeed and love mastering new technologies.
Our employees stay and grow with us, and over half of our staff have been with us for over a decade. Community IT is an employee-owned company with a positive, sustainable workplace that promotes professional development and a healthy work/life balance. We have been 100% employee-owned since 2012. Check out careers with us here.