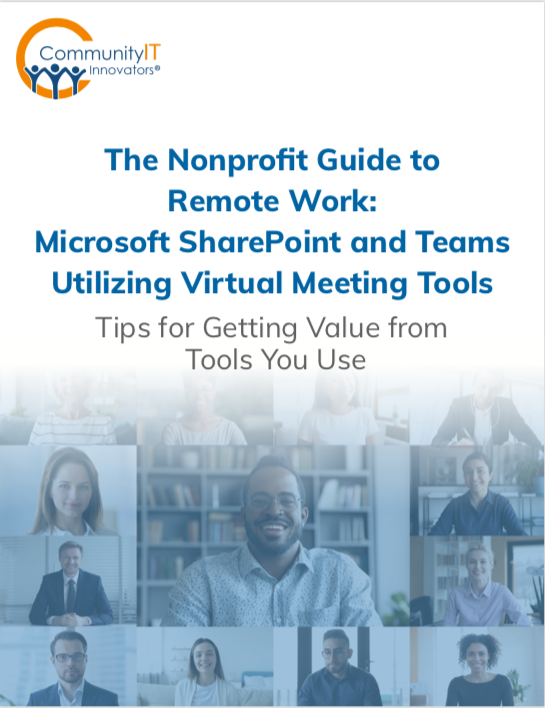 If you are an Office 365 subscriber you already have access to some of the best file sharing and video chat/productivity platforms available, Microsoft SharePoint and Teams.
But are you utilizing these tools to your best advantage?
If you are considering moving your organization to Office 365, these are two of the products that will add extra value.
And there are other virtual meeting tools available to consider.
This Nonprofit Guide to Remote Work will help you understand these tools, learn where they can help your productivity (especially as you work remotely), and to find more resources to help you use your IT effectively.
The final section of this Guide includes tips on humanizing the remote work experience and setting yourself and your teams up for success. If you've been working remotely for a while, check out our tips to re-tune your experience.
Ready for remote IT support you can depend on?
At Community IT Innovators, we've found that many nonprofit organizations have already made moves to not just allow remote work but actually embrace remote workers and develop a supportive culture.
SharePoint and Teams have made working from home even easier, saving a lot of stress for remote workers.
At Community IT, we have supported nonprofits as they have moved to the cloud, and helped enable remote workers for years. We know that there isn't a one-size-fits-all solution for remote support that works. We accurately assess, implement, and manage cloud solutions for nonprofit organizations so that you can spend your time building your remote team, not worrying about the technology to support them.
We created this roundup of remote work tips and to assist our community utilize free and low-cost solutions to work more effectively. And we always consider cybersecurity concerns front and foremost as we help our clients and community work successfully from home.
If your organization needs an assessment of whether SharePoint is right for you or could be better utilized at your organization, implementation support to help move to SharePoint or improve your SharePoint, or have other remote working needs to assess, let's talk.
The Nonprofit Guide to Remote Work: Microsoft SharePoint and Teams
Tips for getting value from tools you use, in a free download from Community IT Innovators.