Do you find a leader and teach them IT?
Or do you find an IT person and teach them leadership?
View Video
Listen to Podcast
Part 1 includes a discussion and advice on how to grow your career as a leader if you start out in IT, including resources from the experts, which we will share in the transcript. Part 2 covers how to align your IT strategy and your organizational strategy as a nonprofit leader. Johan and David also touch on how to nurture three essential leadership traits in the second part of this podcast.
Like podcasts? Find our full archive here or anywhere you listen to podcasts: search Community IT Innovators Nonprofit Technology Topics on Apple, Google, Stitcher, Pandora, and more. Or ask your smart speaker.
---
Join Community IT CEO Johan Hammerstrom and Build Consulting co-founding Partner David Deal for this discussion of leadership needs and career training in nonprofit technology. How can you be an effective advocate for technology opportunities for your nonprofit?
What do nonprofit IT leaders need to succeed?
Between them, Johan and David have decades of experience both in being executive leaders and in interacting with IT leaders at nonprofit clients, from large to small, with a variety of IT needs. Learn about leadership at nonprofits and who finds themselves managing IT.
Learn about the importance of prioritizing.
Does your nonprofit have the capacity to undertake a tech project right now? Will you ever?
How are you going to ensure your staff have additional time to spend on a tech project? What are you willing to take off their plate to make the tech project a priority?
Learn the importance of setting the example.
Do you hesitate to invest in tech projects because you don't feel literate enough in the technology to make decisions?
Are you working with tech vendors and consultants who increase your competency? Or do your vendors make you feel you are not able to understand complicated technology?
Learn to insist on accountability.
Accountability from yourself as a leader; do you take the tech and security training you require of your staff?
Accountability of your staff; do you always do an assessment before you embark on a tech project? Do you always do an evaluation, or multiple evaluations, as you implement new tech tools?
Often "leadership webinars" consist of buzzy terminology and generic advice. Not this one. David and Johan held a deep discussion and offered practical takeaways on growing into leadership in IT at nonprofits.
As with all our webinars, this presentation is appropriate for an audience of varied IT experience.
Community IT and Build Consulting are proudly vendor-agnostic and our webinars cover a range of topics and discussions. Webinars are never a sales pitch, always a way to share our knowledge with our community.
---
Presenters: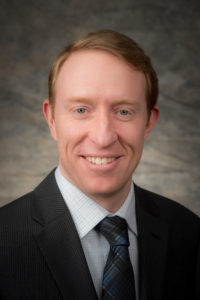 Johan Hammerstrom's focus and expertise are in nonprofit IT leadership, governance practices, and nonprofit IT strategy. In addition to deep experience supporting hundreds of nonprofit clients for over 20 years, Johan has a technical background as a computer engineer and a strong servant-leadership style as the head of an employee-owned small service business. After advising and strategizing with nonprofit clients over the years, he has gained a wealth of insight into the budget and decision-making culture at nonprofits – a culture that enables creative IT management but can place constraints on strategies and implementation.
As CEO, Johan provides high-level direction and leadership in client partnerships. He also guides Community IT's relationship to its Board and ESOP employee-owners. Johan is also instrumental in building a Community IT value of giving back to the sector by sharing resources and knowledge through free website materials, monthly webinars, and external speaking engagements.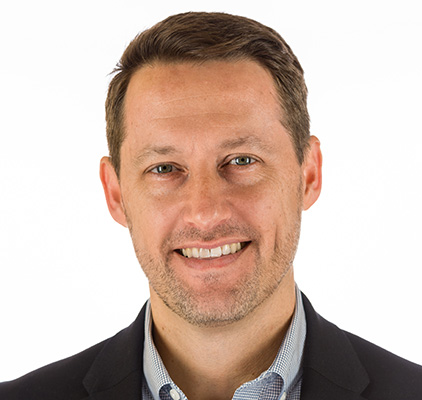 David co-founded Build Consulting in 2015, building on over 20 years of deep experience in the nonprofit technology sector. His work for Build's clients has a broad focus spanning many operational areas including fundraising, program and case management, human resources, accounting, and many others. Internally, David leads efforts to develop and grow relationships with service partners, vendors, independent contractors, and prospective employees.
Before joining Build Consulting, David Deal was the founder and CEO of Community IT Innovators, which provides technology guidance and services to nonprofits in the DC metropolitan area. David guided Community IT from a start-up to an established employee-owned company with more than 45 staff members, serving 1,000 nonprofits. He personally worked with over 100 nonprofits to provide everything from hands-on application development and network engineering to technology strategy and guidance. David continues to serve as the Chair of the Community IT Board.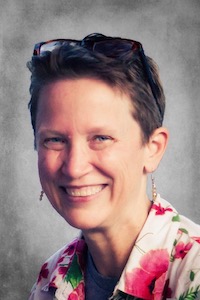 Carolyn Woodard is currently head of Marketing and Outreach at Community IT Innovators. She has served many roles at Community IT, from client to project manager to marketing. With over twenty years of experience in the nonprofit world, including as a nonprofit technology project manager and Director of IT at both large and small organizations, Carolyn knows the frustrations and delights of working with technology professionals, accidental techies, executives, and staff to deliver your organization's mission and keep your IT infrastructure operating. She has a master's degree in Nonprofit Management from Johns Hopkins University and received her undergraduate degree in English Literature from Williams College. She was happy to moderate this webinar on leadership in IT at nonprofits.
Transcript
Some of the resources mentioned by the panelists or shared in the chat during the webinar:
A website that David mentioned while we prepped for this presentation that speaks to servant-leadership particularly is Greenleaf https://www.greenleaf.org
https://www.managementcenter.org/trainings/
A classic: https://www.franklincovey.com/the-7-habits/
Strengths Finder: https://www.gallup.com/cliftonstrengths/en/253868/popular-cliftonstrengths-assessment-products.aspx

Some previous talks from Johan on the topic of making IT management decisions and best practices creating and implementing a roadmap.
https://communityit.com/webinar-creating-value-and-saving-money-on-nonprofit-tech/
A discussion of hiring for IT roles. https://communityit.com/staffing-it-positions-at-nonprofits/
IT Leadership fundamentals: https://communityit.com/webinar-nonprofit-tech-trends-leaders-need-to-know-about/
Our Cybersecurity Playbook for nonprofits, which includes best practices for leaders. https://communityit.com/cybersecurity-readiness-for-nonprofits-playbook/

Many more webinars from Build here on leadership, project management, roadmaps. https://buildconsulting.com/learning_category/webinars/
An example of a change management template from Build: https://buildconsulting.com/learning/resource-change-management-impact-catalog/
Roadmap building: https://buildconsulting.com/learning/how-to-build-a-better-technology-roadmap/
This webinar transcript has an IT Roadmap example in a spreadsheet. https://communityit.com/webinar-creating-value-and-saving-money-on-nonprofit-tech/
Introduction
Carolyn Woodard: Welcome everyone, to the Community IT Innovators' presentation on IT Leadership at Nonprofits. I'm excited to introduce our panellists today, Johan Hammerstrom, who's CEO of Community IT and David Deal, who's the founder and former president of Community IT, now co-founder and partner at Build Consulting. Between them, they have decades of experience, both being executive leaders and interacting with IT leaders at nonprofit clients, whether they're large or small, with a variety of IT needs.
Today we're going to talk about this theme of leadership. My name is Carolyn Woodard. I'm the outreach director for Community IT, and I'm the moderator today. So, I'm very happy to hear from our experts. Johan, would you like to introduce yourself?
Johan Hammerstrom: Yeah, happy to. Thanks for having me today on the webinar. Looking forward to discussing this topic. I've been with Community IT for over 20 years. I've worked with hundreds of nonprofits in that time and have really seen the value and importance of strong IT leadership. It's a topic that is kind of near and dear to my heart, so I'm looking forward to the discussion.
David Deal: Yeah, just really glad to be here today. As Carolyn mentioned, I used to be at Community IT for about 20 years. And I've been at Build now for about eight years, but definitely involved in helping to grow those organizations and helping nonprofits to grow out their technology support and IT functions. So, it's definitely a topic I've thought a lot about and worked on a lot with Johan and Carolyn and others. So, I'm really glad to be here today. Really glad to see some familiar names in the attendee list and also some new ones.
Build Consulting is a team of people across the US. It sounds really large, but we're a small firm that works exclusively with nonprofits in the US and Canada, mostly mid-size and large nonprofits. We are independent of any vendors, so whether it's Microsoft or Google or Salesforce or Blackbaud or anyone else, we really sit on the client's side of the table and figure out what's going to be best for them.
We provide technology and data strategy for organizations both in CIO roles and through assessment and software selection projects and through leading implementations. And we do that with a strong focus on organizational change management. Technology alone is almost never the answer. We really focus on those other things that help organizations to use technology effectively.
Carolyn Woodard: Thank you. And I'll jump in and talk a little bit about Community IT before we begin. If you're not familiar with us, we are a 100% employee owned, managed services provider, so we provide outsourced IT support. We work exclusively with nonprofit organizations. And our mission is to help nonprofits accomplish their missions through the effective use of technology. We're big, big fans of what well-managed IT can do for your nonprofit, and we serve nonprofits across the United States also. We've been doing this for over 20 years. We are technology experts and we are consistently given the MSP 501 recognition for being a top MSP, which is an honor we received again in 2022. I want to remind everyone that for these presentations, as David was just talking about Build Consulting, we also are vendor agnostic.
We only make recommendations to our clients and only based on their specific business needs. We never try to get a client into a product because we get an incentive or any kind of benefit. We do consider ourselves a best of breed IT provider. So, it's our job to know the landscape, what tools are available, reputable and widely used, and we make recommendations on that basis for our clients based on their business needs, priorities, and budget.
Learning Objectives
The next thing we're going to talk about is our learning objectives.
Today we wanted to
discuss career paths and ideas to identify new leaders of IT at nonprofits.
We want to understand the importance of IT leaders learning to match real business needs of their organizations and IT needs with their roadmap.
And we want to learn the importance of prioritizing, setting the example and holding yourself, your staff, and your organization accountable.
Poll 1: What is your role at your organization?
This poll is interactive. What is your role at your organization?
Are you a team member?
Are you a manager?
Are you a director?
Are you at the C level?
Are you an executive director or CEO, or
Is this just not applicable to you?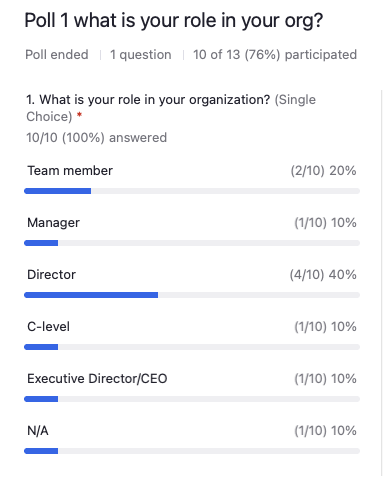 Johan, would you mind reading the poll results?
Johan Hammerstrom: Happy to read them. Really interesting and nice distribution of roles on the webinar today. So, roughly 20% of attendees are team members. 10% managers, 40% are at the director level, 10% are at the C level, 10% are executive director and or CEO. And 10% it does not apply to. So, we had a really pretty much across the board in terms of who's attending today.
Carolyn Woodard: That's great. That's so great to know. Thank you all so much for sharing that with us, because that will help us share our conversation with you.
So, our next item is as if that wasn't enough, we have another poll, we want to learn a little bit more about you and keep this going.
Poll 2: What department are you in?
Our second poll: What department are you in?
You could choose that you're in IT business systems or data and analytics.
You could be in finance, HR, administration,
you could be in program management,
you could be in marketing and communications. That's me.
You could be in fundraising advancement or
you could be other.
This one wasn't a trick question at all. It's pretty easy to know which department you're in.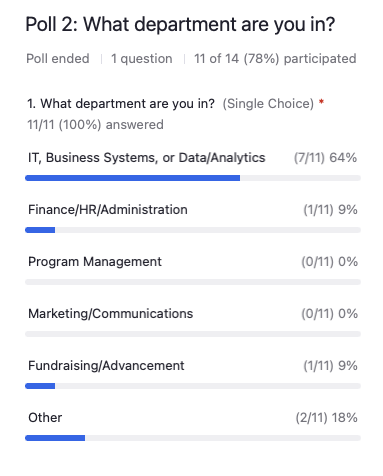 David, would you mind reading the results?
David Deal: Sure thing. This poll is a little bit more concentrated. It looks like 64% of the respondents are in IT business systems or data analytics functions, 9% finance, 9% fundraising and advancement, and 18% other. So, no one identified as program management or marketing communications.
Carolyn Woodard: Great. So, knowing a little bit about you and you learning a little bit about us, we want to go ahead and jump into this conversation. Johan, you were going to take the lead on this slide discussing career paths and ideas to identify new leaders of IT at nonprofits.
Identifying new IT leaders at nonprofits
Johan Hammerstrom:. There's a couple different ways that we were going to approach talking about this issue.
And one of them is the specific IT backgrounds that people have in IT, and we'll talk about that in a second.
But one of the other ways to think about developing IT leadership is to think about the different skills that are required to be an effective leader. And how does someone in IT develop those skills?
So, some of the skills that are necessary to be a good leader in general. Generally when someone grows into a leadership role, the typical path is to start at the manager level and then move up to the director level and then move up to the executive level.
And broadly speaking,
A manager is someone who oversees the work that other people are doing and helps guide and direct their efforts.
A director is someone who oversees the management that managers are providing and helps to ensure that the strategy, the organization is being executed effectively.
Someone at the executive level is helping to develop organizational strategy, providing a long-term vision for the organization.
That's a somewhat overly simplistic way of looking at leadership. But I think it's a helpful structure for thinking about moving up the ladder, if you will, if you're in IT or if you're responsible for it and you need good leadership in your IT function.
Management Level Skills
Starting at the management level, what are the skills that are needed to be an effective manager? And some of those might be, they start with the individual.
Does someone in IT have good personal time management skills? Are they able to manage themselves effectively? Are they good at planning out tasks and ensuring that tasks and initiatives get completed in a timely manner?
Another important skill for management is communication, being able to communicate effectively with the people that you're managing, making sure that they understand the overall task that the team is working towards.
And then another skill is change management. So understanding the impact that technology changes and initiatives and projects are having on the rest of the organization and its use of the technology and anticipating what's this change going to mean for the end users?
So, that's a good starting point. If you're someone who's in IT and you're interested in moving into a leadership role, or if you're someone who has leadership responsibilities and you're interested in cultivating or identifying IT staff that show promise, show leadership potential, starting with their ability to manage themselves is a good place to look.
David Deal: Thank you Johan for that.
I look at this question and I feel like it's a provocative question. Do you have to be in IT to become an IT leader? Or can you find IT leaders who are outside of the traditional IT career paths?
I think it's a little bit of a false choice here with this question. I think there will undoubtedly be future managers and directors and senior leaders on the IT track, but I think there are also those who aren't on that track who could feasibly lead IT. And a lot of times they might have a role that looks like a COO role or some other role that has responsibility for technology. Because what's needed from a technology leader at the manager level is very different from what's needed from them at the senior leader level, right?
Certainly each level builds on the others to some extent. And what I mean by that is first you need to be able to manage yourself well before you can manage others well, before you can lead others. So, they certainly build in that sense. But I think the career path to being an IT leader doesn't have to necessarily lead up through IT channels. I think it will happen 90% of the time, but sometimes you can find a great leader who's not from that path, who has supervised people on that path, who can really make an effective CIO for an organization.
So, I think that's one important thing I'd add to what you said. I think it's interesting, our attendees are a mix of leaders who are probably thinking about how to cultivate this next generation of management and leadership, but it's also people who are not in leadership roles currently.
For those people who aren't in leadership roles yet I would offer just a little bit of guidance. Becoming a manager, becoming a leader, it's not a point in time activity. It's not a class you take, it's not a webinar you attend. Sorry, we're not going to have all the answers today. It's really being a lifetime learner and having a commitment to that, right?
My own path took me through things like the servant leadership school for classroom learning and probably a skill path back in the day was some of the webinars I would attend and peer learning programs. I was in a group called the Entrepreneurs Organization. And then once I did a summer program, the EO MIT program, I think all of those things were activities, webinars, learning activities, each added a piece to my toolkit in figuring out how to become a better manager or leader.
Maybe we'll talk at the end about some resources for those sorts of things, but have that commitment to being a lifetime learner. Learn about yourself, learn what you need to do and develop to become a manager and leader, and to become a better manager and leader.
I really think becoming a good leader is in part about knowing your blind spots and then surrounding yourself with team members or consultants who can see things that you can't. We all have strengths and weaknesses and knowing yourself is one of the most important steps to being able to be effective in any of those later roles: manager, director, leader.
Carolyn Woodard: I was just going to jump in to say that I did put a resource in the chat, and I wondered if people who are on the webinar also might want to share resources that they know of and use for leadership development and learning these issues.
I wanted to just jump in and ask about mentors. I was very lucky to have good mentors find me in the different places I was at when I was younger in my career. But for people who aren't having someone reach out to them to offer mentorship, what would you recommend in terms of finding mentors? How do you go about that?
Johan Hammerstrom: Well, I was very fortunate because my first boss was Dave, and he mentored me for many, many years in my leadership path and in growing into a leadership role. So, I was just extremely fortunate. And Dave can speak a little bit more about it. I remember he was very intentional, especially in the early days of Community IT, about seeking out mentors and constantly finding organizations, peers and other individuals that he could learn from. So, I'll let him speak more to that in a second.
Be a Lifetime Learner
I just wanted to just really affirm what you were saying, Dave, about learning and the importance of learning. And I think that's kind of the key of being a good leader is that you're always learning and you're always having to grow to be an effective leader.
I think most leaders in professional services have a really strong foundation in a specific area. So, if you're in IT maybe you have a really strong foundation in infrastructure or in databases or in data analysis or data management. If you're coming from operations, maybe you have a strong foundation in project management or in financial management. I think a lot of leaders in nonprofit organizations start their career in a particular area and build an incredibly strong foundation. But the leadership path is all about adding new skills and adding new competencies that you build on top of that initial foundation. And so, if you don't have an IT background but you've been given some leadership over IT, then you can rely on whatever your foundational background is, but you're going to have to learn IT at some level.
In the same way that if you're coming from an IT background and you're moving into a director role or a CIO or CTO role, you're going to have to learn how to read a financial statement, To be an effective business leader, nonprofit leader, you have to understand the finance side of the organization. So, that's something you're going to have to teach yourself.
But in the same way, if you're coming from a financial background, you're going to have to learn IT. It's possible to learn it at a level sufficient enough to be able to lead and oversee it.
David Deal: Certainly Johan, thank you for the comment, and I've learned a ton from you as well. And I feel like certainly Chris Chang, who founded our parent company back in the day, was an early sort of mentor for me in being an entrepreneur and being a technology consultant. I think over the years, the peer learning I talked about has been such an important resource to supplement the book learning, the webinar learning as well, because that's where you can really wrestle with, here's what I'm trying to do in my current management or director or leadership role. Here's what's working and here's what's not. And here's similar things from your peers who are in similar positions facing similar challenges. I think that's part of the lifetime learning experience. You learn something, you try to apply it, you wrestle with it, something new comes up that you weren't learning about, that you have to deal with and then you work through it with others.
One other thing that came to mind as we're thinking about this. Looking at it from the senior leader's perspective, as we were preparing for this you talked a little bit about cultivating leaders and cultivating managers, and that really landed for me. It's not just about picking them, it's not just about people who have applied for the job and you've got to find the right one. I mean, that's part of it, but every manager and leader has room to grow. And so, how do you cultivate the skills and competencies for them to be better managers and better leaders?
Johan Hammerstrom: Yeah, one of the philosophies that always has really resonated with me is the strengths-based approach. Marcus Buckingham and Gallup put together this strengths finder assessment tool.
The basic principle behind the strengths-based approach is that you find out what people are strong at, what their natural strengths are, and then you focus on building up those strengths rather than identifying weaknesses and trying to get them to make their weaknesses better. And ultimately, leaders have to compensate for their weaknesses. No one's good at everything. Everybody has certain things that they're good at and certain things that they're not great at, but that's the value of a team approach.
If you clearly understand, I'm really good at communicating to users, I'm not great at business process, I'm not great at managing projects, then you can bring in someone to do project management and you're providing the vision for the project, and then the other person is compensating, doing something that they're good at.
That's the beauty of a team-based approach. So, if you're cultivating leadership and management potential in IT, it's really important to understand where people are strong and also where their weaknesses are. Because I think one of the big challenges that I've seen over the years in IT is that if someone with an IT background is interested in moving into a leadership role, but they're not really completely aware of the things that they may not be strong at the leadership level, they'll tend to subconsciously compensate for it by just going back to what they're familiar with, which is the technical. And they'll end up just going back and doing all the technical work and kind of falling back on that because of the uncertainty they feel with a lot of the new leadership responsibilities that they've taken on.
So, it's both a combination of being aware of that in yourself, maybe seeing it in other leaders that you're helping to cultivate and bring up. And then also telling people it's okay to be outside of your comfort zone. If you're going to move into leadership roles, you're going to be given responsibilities that you've never had experience with before. That can make you feel really uncomfortable.
But if you're bringing someone into that role or if you yourself are moving into that role, the more honest you are about it the better chance you have of dealing with it effectively.
David Deal: There's some great points. Johan, I just want to chime in with a couple of supporting points. I think one of the most common challenges I'll see for a new manager is exactly what you were saying about how they'll fall back on what they're comfortable with, which is the technical.
Really, when you start managing other people, the big question that comes up is, what do I do and what do I delegate or lead someone else in doing? And that's a tension. It's such a difficult path to walk for some managers to figure out that right balance, because most managers are going to need to be hands-on with some things, but they also need to know where to be hands off.
The second thing, and this is a shout out to Carolyn, some of what you're posting in chat there I see you posted to Clifton strengths, but think to this: understand your team, understand yourself, kind of that train of thought.
At Build, we use Clifton strengths and really believe in that. But things like the Enneagram or Myers-Briggs or the DiSC assessment, lots of different things out there to help you understand what you and what your teammates are good at and what they're not good at. Highly recommend it.
Learning to Match the Business Needs with the IT Needs
Carolyn Woodard: That's great. Thanks a lot for those resources. Moving along to the second learning objective of our talk today and understanding the importance of IT leaders learning to match the business needs with the IT needs. Johan, you were going to start us off on this one too.
This webinar transcript has an IT Roadmap example in a spreadsheet. https://communityit.com/webinar-creating-value-and-saving-money-on-nonprofit-tech/
Johan Hammerstrom: Yeah. This is probably one of the most important responsibilities for an IT leader, particularly at more senior levels, is really aligning the IT solutions and the IT needs with the business needs of the organization. And this is one of the areas where people run into the biggest challenges.
At the end of the day, the organizational strategy has to drive the IT strategy. There's some parts of an IT roadmap that exist somewhat in isolation. If you have aging equipment that needs to be replaced, your organization doesn't need to tell you that equipment needs to be replaced, but what do you replace it with? That starts getting into an area where making plans about how to upgrade and modernize technology really requires an understanding of where the organization is going and what the organization's needs are.
And so, that requires communicating with the leadership and the rest of the organization, understanding what their priorities are, and then connecting the dots between their priorities and the wide range of potential IT solutions that are out there. It also refers to the impact that IT solutions are going to have on the staff of an organization.
We were having an initial call with a nonprofit last week and they were talking about bringing us on as their new managed services provider. And we were talking about the timeframe for that, and they said, well, we're building a new website right now, and then we're rolling out a CRM after that and we don't want to throw everything at our staff at once.
And we said, yeah, we're glad you're thinking about things in those ways because every change you make in IT takes time for the organization to really absorb and adjust to.
So, even something as simple as changing your website, you may think, well, that doesn't impact a lot of people, but at the end of the day, it has an impact on the organization as a whole and it takes up people's time. So, just thinking about the impact that IT initiatives and the IT roadmap itself is going to have on the organization is really important.
The one other area that I'll just mention as an illustration is cybersecurity. There's sort of a misconception and I think this has been somewhat perpetrated by the cybersecurity tools industry. There's a lot of fancy cybersecurity tools out there. Some of them are very expensive, and there's this misconception that just buy this technology and you'll be safe.
The reality is, developing a cybersecurity program is a really complex endeavor, and it touches on all aspects of the organization. What is your organization's liability? What compliance requirements, regulatory compliance, is the organization required to follow? How much cybersecurity insurance does the organization have? What are the potential costs of a breach, what's the impact of that? And then how does that impact how much the organization should be investing in cybersecurity? What organizational policies need to be developed in order for those cybersecurity solutions to be effective? So, right there I just talked about legal, finance, operations, HR. It's not just IT, IT is just one part of a much larger whole.
Our Cybersecurity Playbook for nonprofits, which includes best practices for leaders. https://communityit.com/cybersecurity-readiness-for-nonprofits-playbook/
It's important for IT to understand that though, because if it doesn't, then you run the risk of the IT leader or the IT department just coming to the executive team with a solution and saying, hey, we need to buy this solution to be protected. And then they're missing the much larger picture that needs to be addressed.
David Deal: Johan, I think you just brought us something really important. IT leaders have to be conversant in the organization's work, in the organization's business, in the organization's processes. It's vital for IT leaders and technology leaders and data leaders to not just view their roles as technology roles, because technology does not live in a silo.
Effective technology requires leadership and governance and process. And if you've ever listened to a Build webinar or you're a Build client, you hear this a lot, but it's related to all of those things. So, it's so important for a leader to be conversant in what the organization does, how, why, what the objectives are, and to remain closely in touch with that. One of the things that we'll do if we're playing an interim or part-time CIO role for organizations at Build is try to make sure we build in a routine for check-ins with the different business leaders in the organization.
And some of that routine is driven by an annual planning and coming out of the annual planning, you want to understand what are the organizational priorities for the year? What are the work plans for the year? But then also you want to stay synced up throughout the course of the year to understand what's working, what's not working. Those are really important, making sure that your relationship with the business units is not just a help desk relationship, if you will.
Just to add a couple of examples of how organizational strategy drives IT strategy, I thought the cybersecurity topic was a great example, Johan. Just a couple of other quick ones.
If the organization is anticipating this is going to be a tougher year on the revenue side, that's the way in which the organizational strategy to minimize cost this year is going to inform your technology strategy.
If the organization's starting a new program, do we know how we're going to measure success? What data do we need to capture to measure that success? How are we going to capture it? Where are we going to capture it? That's a way that the organization strategy has to drive technology decisions and data governance decisions.
Or if there are especially ambitious fundraising goals for the year, what does that mean for what we need to do with the CRM or our digital engagement capabilities?
Business needs and IT needs; it's such a close relationship. And the final thing I'll say, if anyone's here who's not in IT, and I guess that's a third of the audience, it is important for IT to have a voice at that table while the planning is going on. There is a very iterative relationship between plans and technology and how those things work together for the organization.
Johan Hammerstrom: Yeah, it really needs to be a collaborative relationship. And that's why we have this arrow going both ways on the title of this slide, because I think oftentimes the rest of the leadership of the organization sort of feels like: I don't understand IT. I don't really know technology, that's not my background. Just tell us what to do or just tell us what we need.
It kind of goes both ways. On the one hand, IT too often is oblivious to the business needs of the organization, but in the same way, oftentimes organizational leadership doesn't recognize the impact that IT has on the rest of the organization. It does need to be a dialogue and the IT needs to be sort of feathered into the overall organizational plan.
And that can go wrong in multiple ways. The last thing you want to do is give IT a blank check. Don't say, here's the amount of money that you have, go do what you want with it. Because you'll run the risk of getting technology solutions that don't really meet the needs of the organization.
But by the same token, you don't want to limit IT without understanding it's part of the organization's budget development process. There should be budgetary input from the IT department, but those budget requests have to be justified. That justification begins a process of dialogue to help the senior leadership understand that it's important that we replace this equipment this year, or it's important that we move to this new solution this year, and here's why. Here's how it affects the rest of the organization's goals.
Because if that dialogue isn't happening, then it's just costs and nonprofits are often in the position of having to really monitor their costs and in many cases cut costs, restrict costs because they have very real resource constraints. And so, if IT is not having that dialogue with the rest of the business, then it just appears as a cost center and there's no value associated with what should be an investment in the core foundation of the organization.
Three Leadership Traits to Cultivate
Carolyn Woodard: Thank you, Johan. That's great. I remember you saying once that if you show me your budget, you'll know your priorities. And I feel like that's a good way to put it. I want to make sure we have time to talk about the three leadership traits to cultivate.
People are here in this presentation looking for some things that they can work on. And I know, David, you had talked about these traits and I wondered if you wanted to kick us off in talking more about them.
David Deal: Yeah, sure thing. And maybe it would help to take them one at a time.
Ability to Prioritize
I think one of the most important things for a leader to be able to do is to figure out what's important. And that's what we're talking about here with the prioritized topic, but separating the meaningful from the noise, finding the information in the noise, finding the stuff that we really need to focus on, hone in on.
I emphasize this because almost everyone I meet, certainly almost all the leaders I meet, feel like there's more to do than there are resources, or team members, or time to do.
I think one of the tendencies of a leader is to add to team members' responsibilities without seriously thinking about what can team members stop doing.
And I think that's one of the most difficult things for all of us to learn, and especially leaders to learn. That's a vital, vital competency to cultivate. And I'll just say one more thing, and then, Johan, I'm interested in your thoughts.
One of the things that Build will do, thank you for the shout out Carolyn in the chat for some of the change management templates, but one of the tools we'll use is a change readiness assessment.
And one of the things that we look at in there is what are all the initiatives going on right now in an organization? Can an organization take on a new change? And I think that's really important to have that big perspective as a leader when you're trying to figure out can we add something else and what can we not do or what can we delay?
Johan Hammerstrom: Yeah, I think working on your ability to prioritize is great. If you're interested in moving into leadership roles, if you're in a leadership role and you're growing, focusing on your ability to prioritize is really important because it's really about your ability to make decisions, which is one of the essential things that a leader does. So, if you're the manager of a team, you're prioritizing what that team is focusing on, and you're basically making a decision about what the team is going to do. If you're the director of a department, it's the same thing. You're making decisions about what the department is going to do, and the ability to make good decisions is something that you're not just born with. You learn that over time because you're not going to make good decisions all the time. There are times when you're going to make decisions that maybe weren't the best.
But learning how to make decisions is a really important part of becoming a leader. Gathering all of the information and understanding the trade-offs. If there weren't trade-offs involved, it wouldn't actually require a decision. So, anytime you're making a decision, anytime you're having to prioritize, what you're doing is you're making a trade-off between two courses of action. And that is a difficult position to be in. But that's kind of at the heart of what leaders are doing.
And that helps with that IT roadmap discussion, because basically when you're providing the IT roadmap, you're providing a prioritized list of IT initiatives, and you're telling the organization these things need to be prioritized in our time and in our expenses.
In order to make the case, you have to understand the trade-off that the organization is making to pick that roadmap over not doing that roadmap. So, really gaining facility with trade-offs and how to make decisions around trade-offs is a key leadership trait. And we all make decisions in our own individual lives. We make decisions in our professional lives. And just being more aware of that is a good way of cultivating that trait.
David Deal: I'm going to quickly add something to that as well, which is there is an art or a competency to decision making around how much time should I invest and how long can I take to make a decision? In some decisions, you're best served to make a quick decision, maybe because people are waiting on it and things are going to stop until you can point people in the right direction.
And when does a decision really warrant a lot of participation? Maybe it's necessary to gain buy-in for a big decision that's going to affect everyone. So, I think that's something to cultivate and to reflect on if you're a leader trying to figure out what are the different ways I need to make decisions, and how quickly do I need to make decisions?
Setting the Example
The second point here is around setting the example. And the main thing I wanted to say here is that projects work best and initiatives work best and leadership works best, in my opinion, when leaders do what they're asking others to do.
Just a couple of weeks ago, I was talking with a client. Believe it or not, there are some organizations that do still meet in person and do use conference rooms. And we were talking about the reservation system for a conference room. And I can't tell you how many times I'll see an organization that will go to the effort to set up something like that. It's never too easy to set up. And then once they set it up and people start using it, a senior person in the organization will come kick people out of a conference room that they reserved. This is not an uncommon situation, but it's the prime example of leadership undermining themselves and not setting the example of what they want staff to do.
But I think it's also true in other scenarios that may be a little more common, like tracking constituent interactions in a CRM. If it's really important for your organization to start using data from the CRM to make decisions, and you're asking everyone else to track certain interactions there, then as a leader, you absolutely need to be doing that too. For leaders who don't feel like they can do that or don't find a way to do that, even if it's through an assistant or something like that, you're really undermining your effectiveness as a leader. And so, a shout out to those leaders who do realize the importance of setting the example for the behavior they want in their organization.
Johan Hammerstrom: Yeah, that's so important. Lead by example. That's a great example of how leaders can undermine themselves and what they're trying to accomplish by the example that they set. I think another thing that leaders can do well is not feel like they have to have all the answers.
One of the things that we talked about earlier is the importance of learning and that being an effective leader is being a lifelong learner. And it's great to demonstrate that to the people around you. If the other members of your team, other leaders in your organization, see you learning, then it represents that aspect of leadership really well. And some of the absolute best contacts that I've worked with over the years, the best leaders are the ones who ask the most questions.
I'll explain a technical concept to them and they say, I don't get it. Explain it to me again. Okay, well, I don't understand that. What does that mean? And just pushing me to really explain it in a way that is understandable by operations and finance professionals. And there was a fearlessness and they'd even say like, look, I'm dumb when it comes to IT. And the reality was by asking the questions and continually asking the questions and wanting to learn and demonstrating that they wanted to learn, they did. And as a result, they ended up making really good decisions related to IT for the organization.
Accountability
David Deal: I think our last point here was around accountability. I think one of the key things it's saying here is the importance of accountability. It's about making sure that other people are doing what they're supposed to. And it's also about making sure that we as leaders are also doing what we're supposed to. Am I holding myself accountable to doing the training, the cybersecurity training, for example, going back to an earlier topic that I'm asking my colleagues in the organization to do. Am I entering that interaction with the contact in the CRM?
I also wanted to say something different about accountability, which is that first people have to understand what they're being held accountable to.
And so, the onus is on the leader to really clearly communicate the vision and expectations to make time to make sure that those things are clear. To act as a champion for that vision, those expectations to make sure that it continues to be communicated.
Then it's really important to build in ways to see if it's working. To use a business systems example and going back to the CRM example, if it's that we're going to start to use a CRM to track our interaction with constituents, what are the ways that we're building in to see if that's actually happening and what are the ways that we're building in to get useful actionable data from that?
I think that's part of accountability, finding ways to put to use those things that you're implementing. Build it into your weekly meeting. If you're reviewing prospective major donors, make some time to show a dashboard at your team meeting and build in that accountability to the group around, look, this needs to be a live dynamic, real-time tool that we're using because we're all going to be looking at it at the team meeting. It's not something that we do later and catch up on.
Johan Hammerstrom: I love those examples, Dave, because I think oftentimes when people hear the word accountability, they immediately think of uncomfortable conversations and I don't want to have an uncomfortable conversation. Nobody really does. But accountability is so much more than that.
And you really need accountability structures and accountability systems. And that's what I hear you saying in the examples that you were using. An example from my world is a ticketing system. Having all of the IT issues that need to be solved for an organization in one place. And having those issues documented and then assigned to somebody to resolve is a system. That's a system of accountability.
And then having a weekly meeting to go through those tickets and check on the status of their resolution is an accountability structure. That's a very simple example, but ultimately, leaders are responsible for building and maintaining those systems and structures of accountability. And hopefully if you're getting started in your career as an IT leader, you're moving into a role where some of those systems and structures are already in place, but oftentimes they have to be changed. They evolve over time, and sometimes they have to be created from scratch as well.
Carolyn Woodward: I wanted to jump in and make sure to say that accountability doesn't have to always be somebody who wasn't doing what they were supposed to be doing. If you don't have a way to check that things are being done, you don't have a way to praise the staff who took the training and are doing the thing the new way that they're supposed to be doing it.
So, it's really important from that standpoint as well to make sure that people know when they're doing a good job.
I'm going to go back and revisit our learning objectives; I think we did a pretty good job.
We wanted to discuss career paths and identify new leaders of IT at nonprofits.
We talked a lot about if you're an IT person, how to find resources to grow into a management role.
If you're a manager or director, even a C level or leader, ways to be able to improve your IT understanding and be able to manage that as well.
Understanding the importance of IT leaders learning to match real business needs with your IT roadmap and your strategy. I think you guys both touched on that in great ways.
And then learning the importance of prioritizing, setting the example and holding yourself accountable and having those accountability systems.
So, that was a really good conversation there. David and Johan, did you have any last words you wanted to talk about?
David Deal: I just had one resource to share. For people looking for webinars to supplement their journey to becoming managers and leaders, or just online training courses and pre-recorded materials, then LinkedIn Learning is certainly a good resource. I'm sure everyone's heard of that one. There's another one called Udemy, U-D-E-M-Y for people who aren't familiar with it, that also has some good resources as well. There are many sources out there, but I just wanted to give a shout out to a couple in case people just need a place to start.
Johan Hammerstrom: Yeah, some final thoughts.
If you didn't come from an IT background, but you're in a leadership position at a nonprofit, I strongly encourage you to do what you can to learn more about IT.
The more you learn about IT, the more effective a leader you're going to be for your nonprofit. And if you're in IT and you're thinking about moving or you're thinking about exploring a possible leadership role, I strongly encourage you to do that. There's a desperate need in my experience for strong IT leaders at nonprofit organizations. And you don't necessarily have to have the manager title to start working on your leadership skills.
So, I hope that we've given you some good ideas today of things you can look at and pursue. And if you're thinking about going the leadership route as an IT person, I encourage you to do that.
Carolyn Woodward: Thank you so much. And I think both of you are very willing to take questions offline as well, so people can find you on your websites and contact you with maybe some further ideas or information that they would like to ask you about.
Thank you, David and Johan, for sharing your time with us today. What a wonderful conversation. I feel like this was very helpful to me personally, but also I feel like this is going to be very helpful to the people who can see it on our website. So, thank you again for your time.