Transcript below.
View Video
Listen to Podcast
Like podcasts? Find our full archive here or anywhere you listen to podcasts: search Community IT Innovators Nonprofit Technology Topics on Apple, Google, Stitcher, Pandora, and more. Or ask your smart speaker.
Staffing IT Positions at Nonprofits
CEO Johan Hammerstrom and Senior Engineer Nura Aboki discuss hiring IT positions at nonprofits when you are not necessarily an IT person.
How do you know what requirements to ask for? What kind of skill set is required for an entry-level position? An information manager? Other roles? An IT Director? A CIO?
When does it make sense to outsource some or all of these positions, and when is it crucial to keep this role in-house?
Do you need a full-time IT strategist in a leadership role, or can a consultant help you out once a year at budget time? Can outsourced IT really help you develop your strategic roadmap?
How does the size or growth stage of your nonprofit make a difference in the types of IT staff or providers you need?
In this webinar, Johan and Nura answered your questions on staffing IT positions at nonprofits and shared their expertise and insights from decades of experience in this field.
The nonprofit IT sector has changed a lot in the 20+ years Community IT has been serving nonprofits. While many smaller and start-up nonprofits may still have a place for an "accidental techie" on staff, on the whole the sector has professionalized IT support over time, whether through staffing up or outsourcing.
If you are having trouble hiring for tech positions, or wondering about the value of outsourcing IT or hiring a part-time CIO, this webinar discussion could help you sort out your priorities and learn how to think about qualifications and interviewing, providing professional development, or working with an MSP to co-manage your nonprofit tech, or outsource completely. If your MSP just takes a break-fix approach, please tune in to explore alternatives and learn how to build valuable long-term technology partnerships with your providers.
---
Presenters: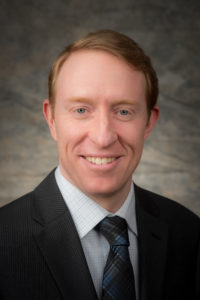 Johan Hammerstrom's focus and expertise are in nonprofit IT leadership, governance practices, and nonprofit IT strategy. In addition to deep experience supporting hundreds of nonprofit clients for over 20 years, Johan has a technical background as a computer engineer and a strong servant-leadership style as the head of an employee-owned small service business. After advising and strategizing with nonprofit clients over the years, he has gained a wealth of insight into the budget and decision-making culture at nonprofits – a culture that enables creative IT management but can place constraints on strategies and implementation.
As CEO, Johan provides high-level direction and leadership in client partnerships. He also guides Community IT's relationship to its Board and ESOP employee-owners. Johan is also instrumental in building a Community IT value of giving back to the sector by sharing resources and knowledge through free website materials, monthly webinars, and external speaking engagements.
Johan graduated with Honors and a BS in Chemistry from Stanford University and received a master's degree in Biophysics from Johns Hopkins University.
Johan enjoys talking with webinar attendees about all aspects of nonprofit technology. Given the staffing shortages and current labor market, he was excited to share insights on staffing IT positions at Nonprofits in this webinar.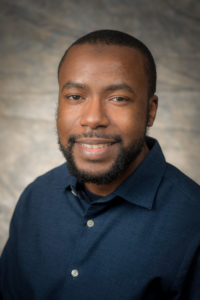 Nura is a Senior Engineer and IT Business Manager at Community IT Innovators. In that role, he proactively oversees technology infrastructure for clients. Nura started his career at Community IT as a Network Administrator in 2009. In 2012, he was promoted to Network Engineer and assumed a supervisory role in IT service operations.
As an IT Business Manager (ITBM), Nura guides some of our largest clients through complex implementation of effective technology investments and utilizing efficient IT services in direct support of their missions.
The ITBM makes recommendations on IT investments, training programs, maintenance, and licenses. They help the client be forward-looking, and act as a vendor-agnostic, trusted advisor with deep knowledge of the nonprofit IT software and platforms available. Because Community IT works in partnership with clients to manage long-term IT needs, the ITBM relationship with the client makes them a true asset.
Prior to joining Community IT Innovators, Nura served as a member of the technical support team at George Washington University where he provided incident management to over 20,000 end users on computer hardware, software, and networking issues. Nura also held a Network Specialist role at the Economic Community of West African States (ECOWAS) Parliament in Abuja, Nigeria.
Nura holds a Bachelor of Science in Computer Engineering and Master of Science in Electrical Engineering, both from George Washington University. He continues development of his professional competence through continuing studies in Technology Management.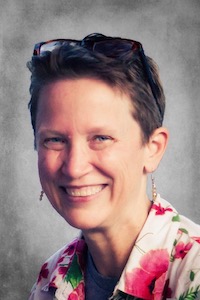 Carolyn Woodard (moderator) is currently head of Marketing at Community IT Innovators. She has served many roles at Community IT, from client to project manager to marketing. With over twenty years of experience in the nonprofit world, including as a nonprofit technology project manager and Director of IT at both large and small organizations, Carolyn knows the frustrations and delights of working with technology professionals, accidental techies, executives, and staff to deliver your organization's mission and keep your IT infrastructure operating. She has a master's degree in Nonprofit Management from Johns Hopkins University and received her undergraduate degree in English Literature from Williams College. She was happy to be moderating this webinar on staffing IT positions at nonprofits.
Transcript
Carolyn: Welcome everyone, to the Community IT Innovators' webinar on Staffing IT Positions at Nonprofits.
We get a lot of questions from our clients and from non-profits in general about
how to find good IT staff,
how to write job descriptions,
how to know what staff positions you need,
when it makes sense to build an in-house IT department,
And when it makes sense to outsource some or all of your IT support.
We also get questions about specialized IT roles and whether you must have an IT background to be able to manage non-profit IT.
So, I'm excited today to moderate this conversation and try to tackle all of those questions.
Learning Objectives
Our learning objectives for this session are that after this session you should be able to
be familiar with typical IT descriptions and roles at non-profits,
learn typical experience and qualifications for non-profit IT roles,
understand in general when to outsource and when to build talent in-house and when to hire
and be able to describe the VCIO role pros and cons. (Virtual Chief Information Officer)[We did not have time to talk about this learning objective! Here is a blog post about it.]
Please stay to the end to take our survey after the webinar today. It really helps us improve and one lucky person will win a $25 gift certificate. The person is chosen at random from the survey respondents.
I just want to remind everyone today that Community IT is vendor agnostic. This presentation is to discuss how non-profits are approaching staffing and outsourcing. We only make recommendations to our clients based on specific business needs.
We know staffing is an often pressing need and there are a lot of questions around it. So if that is where you are, please submit your questions and comments through the Q and A feature today. We hope we'll be giving you some good resources and links to help you out. We're going to do our best to save 10 minutes at the end to answer questions. So please put them in the Q and A tab at any time.
I also need to mention that we're going to be sending out a link to this recording and releasing this as a podcast, and we'll also post the transcript on the Community IT website. So don't worry too much about taking notes while we have this conversation. If you miss a link or a resource, you'll be able to look it up later.
If you happen to be watching on YouTube right now, we encourage you to subscribe to our email list from our website. We don't send a lot of emails, we just send updates on the webinars that we offer every month, so you can attend in real time and ask your questions at registration or during the webinar.
And now I am happy to introduce our CEO, Johan Hammerstrom, who is joining us today, Johan.
Johan Hammerstrom: Hi. Good afternoon Carolyn. And, good afternoon to everyone who's joining us today. Thank you so much for being with us. My name's Johan Hammerstrom, I'm the CEO at Community IT. I've been with Community IT for about 23 years. I started off on the technical side and then moved over into management and became the CEO when we became an employee owned company in 2015.
I've continued to spend a lot of my time talking with non-profit organizations about their IT needs and helping them think about the best way to use technology to accomplish their missions. And I'm grateful for all of the non-profit organizations that we've had the privilege of working with over the years, and for all of you who are joining us today. And I'll hand it over to Nura, if you want to introduce yourself.
Nura: Thank you Johan. Hello everyone. My name is Nura Aboki. I'm an IT business manager and a senior consultant at Community IT. I've been at Community IT for 13 years, and I started as an entry level tech, moved up to become an operations manager and then, later on to be a network manager and engineer and became an IT business manager.
Today I'm a senior consultant. So I've seen those levels in my 13 year journey. Currently, I advise our clients on best practices for managing technology infrastructure. I also conduct technology assessments, develop IT plans and build strategic IT roadmaps, including IT budgeting for our clients. I'm very grateful to be with you and look forward to having an exciting conversation about staffing IT positions. Carolyn?
Carolyn: Thank you Nura. I'm so glad you both are with us, too. My name is Carolyn Woodard. I'm in charge of outreach at Community IT, and I'm going to be helping Johan and Nura today and monitoring the Q and A.
I'm excited to dig into this topic with you and share some of our experiences. But before we begin, if you're not familiar with Community IT, a little bit about us. We are 100% employee-owned, managed services provider. We provide outsourced IT support. We work exclusively with non-profit organizations. And our mission is to help non-profits accomplish their missions through the effective use of technology.
We serve non-profits across the United States. We've been doing this for over 20 years, and we are technology experts. We're consistently given the MSP 501 recognition for being a top MSP, which is an honor that we received again in 2022.
And now, we like to begin with a poll to get to know something about you, after you've heard about us.
Poll
One of the major factors in what kind of IT staff you need to have is the size of your organization. So I'm going to start this poll.
Johan Hammerstrom:
Level one, if your organization has between one and 10 staff,
Level two is if you have between 11 and 25 staff.
Level three is if you have between 26 and 50 staff.
Level four is between 51 and 100 staff.
Level five is if you have over 100 staff.
And if this question doesn't apply to you, you can pick option number six.
Carolyn: All right, and I think just about everybody has answered, thank you for getting those answers in. So I'm going to go ahead and share the results.
I think that's pretty interesting. We kind of have a range here.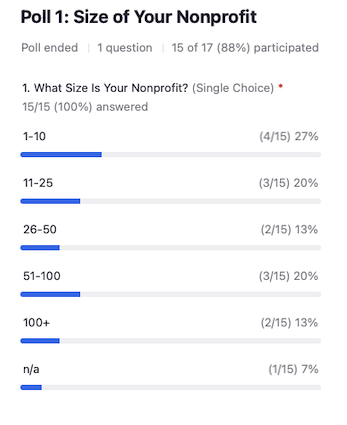 So we had pretty even distribution, it's not really a bell curve at all.
About a third, 27%, in the small one to 10,
20% in the 11 to 25,
13% in 26 to 50, kind of medium size there,
20% in between 51 and a hundred. So getting larger and
13%, answered a hundred plus.
And 1% said this doesn't really apply.
So that is really good to know. Thank you all so much. And, actually we have another poll for you that I'm going to go ahead and launch because in addition to how large you are, there could be different varieties across different sizes of organizations.
Another Poll
So we also wanted to find out from you how integral IT is to your mission and business needs. Johan, would you mind reading the questions again so that people can respond?
Johan Hammerstrom: Sure. Happy to.
Level one is, if you use IT for basic office support, you use it to send emails, print reports, but all of your business tools are online and you manage them yourselves.
Level two is basic office support, but a little bit more. You have some business critical platforms that you need an IT expert to support like a CRM or database financial tools or more than what one office uses.
Level three is if you deliver services using IT in addition to basic office support. So like, if you have a charter school that's using Chromebooks, if you're a healthcare provider that has iPads for field work.
Level four is if you're using IT in sort of innovative and disruptive ways, you're sort of on the cutting edge and that IT is central to your mission and the work that you're doing.
It's kind of meant to be a continuum of how central IT is to the work and program of your organization.
Carolyn: Which helps us get at the question of what level of IT staff you may need and what level of support, and also how comfortable as an organization you may be taking on IT roles or making it central to your organization.
Or, if you are more leery of IT, maybe you don't have a lot of IT expertise on your staff and so you need some outside assistance to run that.
This one is a little bit more like a bell curve.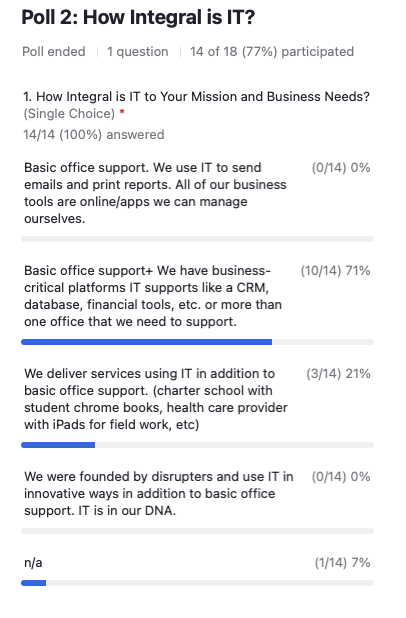 We had a whole bunch of people who fell in that basic office support plus (71%).
We have business critical platforms IT supports, more than one office perhaps that needs support. And that was about 71% of people on the webinar.
And then a few people (21%) said that they are also using IT to deliver services. So that might be, as you said, Johan, having Chromebooks in an education setting or something like that.
One person answered that it was not applicable. I think this gives us a really good feel for where people are in the attendees. We also had a bunch of questions that came in at registration, so we're going to be answering those as well. Johan, I want to turn it over to you, for our first part of this discussion about IT roles and staffing.
Johan Hammerstrom: Yeah, thanks Carolyn.
We wanted to start today by talking about some of the typical IT staff roles that you might find at a non-profit organization. These may apply to you, some of the roles that we're going to talk about here may sound very familiar to you. We do appreciate everybody taking the time to answer those poll questions because one of the factors that plays into the types of IT staff roles that make sense at a non-profit organization is the size of the organization.
The larger an organization is, the more likely it is that it needs to specialize in having dedicated IT staff. And in the same way, the more central IT is to the work that the non-profit is doing, the more likely it is that it makes sense for the non-profit to have dedicated IT staff.
It was very helpful to get those answers and we'll do our best to gear our comments towards the environments of the attendees of the webinar today.
So we'll start with some of the roles that we see most commonly at non-profit organizations. And maybe the best place to start is the accidental techie. That's probably a term that most of you're familiar with. If you're not, it basically means someone who did not come from a tech background, did not intend to get into technology, but through a variety of circumstances ended up having responsibility for the IT at an organization.
So what kinds of things does an accidental techie take responsibility for?
Nura: Good question. Johan, and I say accidental techie because by nature they do not have that IT background. They may be interested in maybe solving their own problems and eventually able to maybe provide some end user support.
For instance, my word processing application isn't working properly. They may be able to sort of troubleshoot some basic end user issues there. That's mostly where it starts. So you have a colleague in the office that is having a problem with the web browser. You might have experienced it before as an accidental techie and that may be something that you would want to assist your colleague on and troubleshoot. And then the word spreads in the office that we have, it wouldn't be an accidental techie, but someone that knows IT or that can assist. And so it starts with really the end user support. And that's where we begin to see interests that develop for an accidental techie at a nonprofit organization.
Johan Hammerstrom: If I'm not mistaken, that can be a very valuable role, particularly for smaller non-profit organizations. Maybe non-profit organizations who have staff that aren't as tech savvy. Having someone in the organization who can assist with basic IT issues can be valuable, right?
Nura: Yes. Certainly, it's a role, as you mentioned, the size of the organization can benefit from having someone in house that actually can assist. That person is likely going to have a quick way of resolving an issue and they may actually build the skill set, even though it's by accident, that may end up being highly valuable at the organization later as the organization grows. That accidental techie could actually lead IT at the organization eventually.
Johan Hammerstrom: Yeah, it can become something that's a little more formalized. And in fact, in our experience, it's helpful to formalize that role. I think that the term accidental comes from the fact that, over the last 10 or 15 years as IT became more common in non-profit office environments, people would naturally gravitate towards the person who could solve their IT problems. But formalizing that responsibility, recognizing that there's a need for that in the organization, and then formally identifying the person who is responsible for that important organizational responsibility is an important part of supporting people who are in that accidental techie role.
Nura: That's exactly true, Johan.
Johan Hammerstrom: What other things can an organization do to support their accidental techie?
At what point should they start to think about maybe getting some more professional help to assist with their IT needs?
Nura: Fortunately, there are non-profit organizations today that are using high end technology because of its accessibility and affordability. There are donation programs that make this new cutting edge technology accessible to non-profit organizations.
When an accidental techie within an organization begins to show potential, certainly empowering and creating the capacity for that accidental techie to take on more of a deliberate approach to learning what technologies non-profit organizations are using that can be brought into that non-profit organization will be highly valuable.Create and be deliberate about empowering that individual or individuals at the non-profit organization to not only be accidental techies, but to actually look at an IT role within the organization.
Johan Hammerstrom: Being intentional about it, as you say, being deliberate about it is very important and recognizing that IT is a critical area of business responsibility that needs to be formalized is really important.
And then on the next slide we'll talk a little bit more about some of the management positions. A natural evolution for somebody in an accidental techie role is getting to the point where they may take on more IT management responsibilities for the organization.
I did want to talk a little bit about more technical roles. So there's the accidental techie role.
What are some of the entry level positions especially larger organizations may find valuable to staff?
Nura: Oftentimes, we see entry level positions start out with a title called Systems Administrator. Some may train as IT administrators.
[for job descriptions for any of the technical roles we discuss in this webinar, a good place to start looking for up-to-date examples and tips on writing good job descriptions is on this post from Indeed: https://www.indeed.com/hire/how-to-write-a-job-description]
Essentially that entry level role is providing intentional end-user support to the client or the nonprofit organization. Sometimes, that IT administrator or system administrator is not just only responsible for the IT infrastructure. They may be also overseeing some of the applications that the organization may be using, information systems as well.
Another entry level role for larger organizations we hear about is the help desk or the IT help desk and that is also for organizations that actually want to route or might already have an IT department and the staff in the IT department has an IT entry level role for help desk. Those are the first line of defense or providing the first line support for the staff at the nonprofit organization. So those are the two popular ones that we see across nonprofits organizations.
3 Factors
Johan Hammerstrom: For me, there's three factors that go into deciding whether or not it makes sense to hire someone full-time to provide basic, entry level IT support to the rest of the organization.
One factor is the volume of support requests, which could be related to size, but not always. You could have a very large organization with not many support requests. You could have a smaller organization because of the nature of the work they do that has a high ticket volume. But you want to make sure that the support volume is such that it justifies having one person full-time. In general, organizations will find that it's less expensive to hire someone in house to provide full-time help desk support than it is to outsource that function provided that there's enough support volume to keep that person busy for that entire time.
The second factor is keeping in mind that someone will need to manage that person. So, it's kind of like the free puppy old adage. If you do hire technical staff, keep in mind that you'll need to manage those technical staff, which is different from managing non-technical staff. And, it's not that it can't be done. Obviously that's something we have a lot of experience with. But just something to keep in mind. That person will need to be managed.
Also, technical staff, they're seeking peer connections and relationships. They're interested in technical professional development. So there's a host of issues that go along with that to keep in mind.
And then the third is the degree to which the organization needs custom support. So if an organization has its own proprietary software package, it might make sense to bring on someone in an entry level position to help provide support for that package. If an organization has specific customer service requirements or just wants someone who's a part of the organization to provide support to the rest of the staff, then there can also be great value in having someone in an entry level position.
Those are the three factors that I think are worth keeping in mind as organizations consider hiring into the entry level.
What about more advanced technical staff?
Are there times where it makes sense to create in-house positions for advanced technical work?
Nura: Yes. There are certainly opportunities for that for some organizations. Going just a little bit back to the entry level role. System administrators may sometimes wear the hat or have the technical competency to actually work on advanced engineering roles. But having an individual wear multiple hats is not the best approach to solving some of the challenges in managing IT or providing good IT support. So some organization may want to delineate that. Especially if they are tech heavy organizations where they are implementing a lot of projects, building applications, replacing network infrastructure upgrades and overseeing partner or volunteer databases. There may be a need for a highly technical role to be brought in to manage and oversee that. So that's why we see some titles like the systems engineer, the network engineer and some senior titles associated with those type of engineering roles.
Johan Hammerstrom: I really appreciate your comment, Nura, about the multiple hats problem. And I think we'll come back to that on the next slide when we talk about the management roles. But the various types of technical work that need to get done in an organization and the various levels of management and planning that are required for those technical roles to be successful are very difficult to give to a single person. And if you're lucky enough to find that person, they can be hard to hold onto and then it can be hard to replace them.
So keep the fact that every bullet point on this slide represents a different position. And while it can be tempting to want to combine them, that can also create a lot of challenges.
One of the things that we're seeing more and more is what we're calling tech adjacent roles. They're really infrastructure-adjacent roles. Increasingly, organizations that are smaller than they once were for this are starting to add roles that are specific to the needs of the organization.
So a database manager, for example. If an organization is using a database pretty heavily to do its work reporting on data in that database, they might have someone in house who specializes in that. If more technical social media engagement, online marketing, is something that's very central to the work that the organization is doing, they'll have someone in that role who's going to have some level of responsibility for IT. Is that something that you're seeing in the organizations that you work with as well, Nura?
Nura: Yes. The adoption of technology has spun up this tech-adjacent role. So it's very common. It's becoming popular these days. And organizations don't want to be left behind in their social media and marketing campaigns. They want to be on the forefront using technology and they are. I've seen a more deliberate approach to hiring someone that has expertise to manage that aspect of that business or mission.
Similarly a database manager, an information manager, these are roles because of the advent and adoption of new technology, cloud technology, data cloud-based software as a service, solutions, we have seen dedicated tech adjacent roles. Some small organizations can get away with having overlaps, but depending on what they do, even if you are small and you are providing a tech-heavy mission to the world, certainly you may want to consider having these tech-adjacent roles to help you be effective in using technology there.
Johan Hammerstrom: We've got a lot to cover and we could probably spend the whole webinar talking about these IT staff roles.
IT Management Roles at Nonprofits
But other very important roles that we've seen more of over the last five to 10 years are the IT management roles.
There's a growing recognition that for IT to be successful, it has to be well managed. And in order for it to be well managed, someone needs to take responsibility for that. You, Nura, have a lot of experience in your role as an IT business manager for a number of non-profit organizations.
What are the main responsibilities of someone at the IT manager level? What is that position responsible for and why is it important to have someone taking care of those responsibilities at an organization?
Nura: Well, that's a great question. Thank you, Johan. Certainly in my role as an IT business manager, as the title indicates, this IT business manager role really is central to the management of the technology infrastructure of that client's network. And by that I mean ensuring that all the aspects of the infrastructure, whether its networking or software, end user support, is healthy and running smoothly. That is one metric that can be used to judge whether an IT manager is successful at delivering service or not.
Now, an IT manager for a small organization can be just one person. Some larger organizations have multi structure IT departments with IT managers and even maybe not a single IT manager. Could be an IT manager for infrastructure and an IT manager for cyber security. So depending on the type of organization you have, having an IT manager on the IT infrastructure, on the information system, would be beneficial for your organization.
And when I say on, they have a seat in addressing the most complex IT issues that you have. Whether they seek help with external partners or they build out an IT department to support them, it's up to that IT manager to make sure that the health of the network is in a good state. So that's primarily what I see as an IT manager.
There are some day to day activities that we engage in, but in the interest of time I want to allow for us to talk about the other roles as well.
Johan Hammerstrom:
In an organization where the IT manager is the most senior IT position in the organization, who are they typically reporting to?
Nura: Certainly the executive director or someone in the C-suite or the executive team or senior leaders at the organization, decision makers, that's the kind of interaction that we see. There are times where it could be the chief financial officer or the director of finance, but who has the listening ear of the executive director, if the executive director isn't available. So those are the kind of top level collaboration partnerships that we have with our clients to be able to sit with senior leadership and to drive initiatives and to ensure that there is buy-in at that senior executive level.
Johan Hammerstrom: Yeah. So they might be reporting up through finance for large organizations. For smaller organizations, maybe it would be a director of finance or for larger organizations, maybe someone more senior. And, I think also operations. Some organizations have split operations from finance.
Nura: Yes. Johan, that's also true. Operations is central to what an IT manager does. So you can find the IT manager reporting to a VP of operations, making sure that there's good oversight and all the initiatives that the IT manager sets out. It's communicated effectively to that VP of operations who has a seat at the table with the executive team. Sometimes that IT manager wears multiple hats.
Johan, I will be interested to hear your views on the multiple hat problem, where the IT operations manager is the IT manager. How do you reconcile that?
Johan Hammerstrom: The most common version of the multiple hats problem I see with IT management is organizations trying to be resourceful and frugal, which is good, but hoping that the person in the management role can also handle the day to day support needs of the organization. And that is a very difficult person to try to go out and hire.
What we've found is that if you hire someone who's strong technically on day to day support, they will end up gravitating towards that and the management responsibilities will suffer. Or if you find someone who is strong at IT management and focuses on that, they won't have enough time to handle the day to day support needs. So it's important when thinking about creating or establishing these roles at your organization that you really ensure that they have the focus and the purpose of managing IT for the organization, and not trying to fill the role up with too many responsibilities that might end up coming into conflict with each other.
Carolyn: I just wanted to jump back in. We got a couple good questions in the chat, but we're going to save them until the end because I think that you're going to get to them.
But one question that's related, while we're still talking about roles and hiring people…
If you are in a situation where you have some kind of catastrophe: a person has left, there's some kind of issue and you need somebody fast, do you guys have any thoughts on what your next step is at that point when you've identified there's a pretty big problem around your IT staff, what you do next?
Johan Hammerstrom: Well, there's two answers to that question. There's the how do you plant the tree today answer, and there's the here's what you could have done to plant the tree 20 years ago answer.
I'll start with the latter and that kind of leads into the former.
IT continuity is something that is vital to think about as you're working on positions and responsibilities in your organization in the same way that you would think about financial management continuity.
So if your key finance staff were to leave, how would you cover for their departure? Hopefully, you would have some other resources you could rely on that could cover for you. And you'd probably look at outsourcing, at least on an interim basis. If you had a relationship already with a financial management firm, with an accountant, with the firm that's doing your audits, you might be able to have those firms come in and provide the bridge that you need.
For really large organizations, hopefully you have multiple IT staff and the departure of a key staff person can be covered by the other staff until that position is replaced.
If you don't, it is a good reminder of the value of establishing a partnership with an external IT support provider who knows the systems and the network and can step up on short notice to provide more support.
If you're in the situation now, that would probably be the best move to make. You'll probably be able to get an IT support provider to come in a little bit more quickly than you would be able to hire and staff the position, depending on how the job market is at that point in time.
And then once you've established that relationship, depending on the nature of the agreement, that might be something that would add value over a long period of time and provide greater continuity and stability.
The IT manager role reporting out of IT and up to someone in an operations or finance role makes sense for a little while in the life of an organization because basically what you're expecting in that arrangement is that the director level responsibilities, which are more around budgeting and planning and developing the long term roadmap, that the director or vice president, whoever the IT manager is reporting to, they're able to handle the director level responsibilities as it regards IT. That should be built into their job description if they're supervising an IT manager. And that should be a clear and acceptable expectation of the work that they're doing.
At some point, whether the organization gets large enough or whether the role of IT gets important enough that may no longer be feasible, it may not make sense at some point for someone in a finance or operations role to be responsible for IT at that director level, developing IT policies.
That's the point at which you need to start thinking about creating an IT director position because you've got enough IT responsibilities at a senior enough level that it requires its own dedicated position.
We probably see that in organizations that have over a hundred staff or organizations that are under a hundred staff, but for whom IT is a central part of the work that they do. They're collecting data; part of their mission revolves around data collection and management. Those are the sorts of scenarios where we see real value in having an in-house IT director position established.
Nura: Yes, I certainly agree with you from recent experience. And, then for the IT manager and IT director.
Depending on how large the organization is, they may have an IT department that has a structure where there's a
systems administrator,
a network engineer,
an IT manager,
an IT director.
So you have that chain of hierarchy. Everyone has a responsible role within the organization in terms of IT. And then the IT director does interface and work on big picture thinking, planning, working on strategy for the organization.
So what about the CIO role? What does it even mean? What is it to you, Johan?
Johan Hammerstrom: Yeah, the CIO role. You can push the analogy to the next level as you think about the CIO role. So your IT director is probably reporting to the COO, VP of operations. The title can be different depending on how the organization is structured, but ideally the IT director is reporting to someone at an executive level who's on the senior leadership team. Technology is not their sole responsibility. They're probably also responsible for operations. They may be responsible for finance as well.
If it makes sense for IT to be represented at the senior most level of the company as part of a portfolio of responsibilities that includes finance and operations, then you don't really need a CIO. But at some point, if technology becomes so central to the requirements of the organization that it needs to have its own unique and specific voice and representation at the senior most levels of the company, that's where it makes sense to start bringing in a CIO.
Another way to think about it is how central is IT to the business strategy of the organization? Should IT be centrally incorporated into the strategic planning that the organization does? Or, does the strategic planning happen and then that plan is given to IT? Then IT is expected to support the execution of that strategic plan through technology, which is completely valid.
Both are valid ways of, of doing it. And it really depends on both the needs and the size of the organization. We've worked with organizations that have several thousand staff, and in our experience, those types of organizations need to have a CIO. There's so much complexity of managing IT for thousands of people in multiple regions and multiple offices and so forth that a CIO is vital. It can be a critical role at smaller organizations, 100 to 500 staff, but not always.
I think one of the things we would caution against is, and this doesn't seem to happen as much anymore, but for a long time, we saw this CIO title being given out as an incentive to keep IT staff from leaving.
An IT director may feel like I need to advance in my career. And I think it's time for me to get the CIO title. I think it's important that CIO title be reserved for that specific situation where the IT responsibility is operating at the senior most executive level of the non-profit.
Carolyn: That makes so much sense. Thank you. I want to make sure that we have time at the end for questions. So I'm going to hurry you a little bit along, but I think that's a great segue into strategy and roadmap.
Johan Hammerstrom: Yes. Thank you, Carolyn.
So Nura, does everyone need an IT roadmap? Is that essential ?
Nura: I would say, yes. But it depends, as most consultants will argue, that it depends. However, in today's world, having a roadmap really gives you an idea of the types of technology solutions that you need currently and in the future. And, it gives you a way to think about all the possible growth potential of the organization, adoption of the technology itself, at what point you should roll them out or introduce them to your organization.
So having a roadmap, if an organization has a capacity to develop one, certainly they should go and find the capacity. If they have the capacity, develop one, develop that IT roadmap.
So to answer your question, I started with yes, it depends, but I'm back to yes. Everyone should have a roadmap.
Johan Hammerstrom: At what point should an organization reach out to an IT support company or a consultant to help them with the roadmap?
At what point is this something that organizations can do on their own? And when does it make sense for them to bring in third party support?
Nura: So to answer the latter question, bring in a third party: the size of the organization, the need of the organization in terms of being technology heavy, they look at each of their business units or departments and realize that if we don't have a good handle, we're going to have every department running their technology without any guidance or direction.
We want to harmonize. We want to provide some leadership in the type of solutions that the organization should be rolling out. If you have departments or business units or teams using their own technology without any oversight, without any guidance, that could be very difficult to manage.
Even before then, if you are in that bucket of organizations that are having this kind of challenge right now, reach out to an IT consultant. IT consulting companies can bring their experience to help you develop a roadmap, that will address the issue, possibly assess the current IT technologies and solutions that you have in place and work with you to ask you about your business mission, vision, goals as well as to help you develop that IT roadmap.
But for the former, if you want to develop it yourself, you must have the understanding of your business and the technical background to actually put together that roadmap.
It requires really knowing what is the next big thing? Where is the industry going? What are some of the technological improvements that can help your organization achieve your mission better and more effectively?
I would say, if you have the capacity, fine. But we find organizations reaching out to IT consultants because that's their space to actually bring in the experience to help build out the IT roadmap.
Johan Hammerstrom: That's a great way to put it. I think what you're describing, Nura, is that IT roadmap and planning is a collaborative process and it can't happen without the technical expertise. But it also can't happen without an understanding of what the organization needs, the business needs of the organization. Good IT roadmap creation and IT planning and strategy development synthesizes those two factors.
And so in terms of this last question,
What skill set and background does someone need? They need both. They need both a business understanding of what the organization needs. They also need a technical understanding and in our experience, it works well when it's a collaborative process.
Carolyn: That seems like a great point to go to the next slide with an example of what a roadmap might look like so people can know it's not a 200 pages long dissertation about your IT strategy.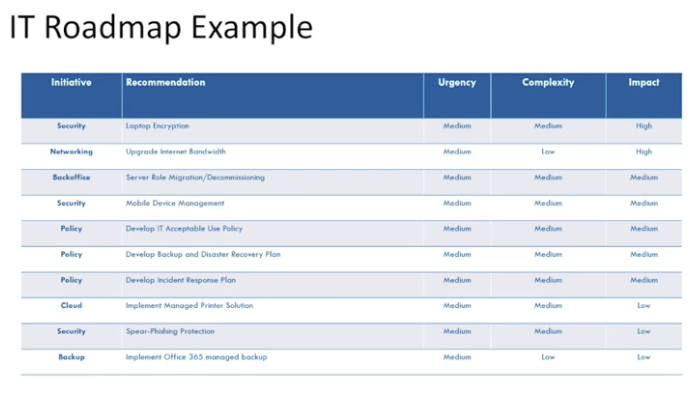 It can be a pretty simple document, as you can see across this as an example:
an initiative
recommendation,
the urgency,
the complexity,
and what the impact is going to be.
Then you have more of a visual way to set your priorities and maybe talk about your budget and how you're going to do the things that need to happen.
Can you go to the next slide with when you should outsource? There's a couple questions about that.
Johan Hammerstrom: Yeah, we've tried to touch on that a little bit, about the times when it makes sense to outsource IT.
Some rules of thumb that we have are that the smaller you are as an organization, the more cost effective it is to outsource your IT. And that's really because there are a wide range of skills that are required in order for it to be successful.
There's IT management expertise, there's technical expertise at both a basic as well as an advanced technical level. It's just very hard to create that expertise in a scalable way inside the organization.
So for smaller organizations the ideal arrangement is you have an accidental techie who is familiar enough with IT that they can manage the support relationship and hold the vendor accountable, but that they're not really expected to do most of the work themselves. And, the outsourced provider is able to provide that work in a really scalable way.
And then as organizations start to get larger, one hundred is sort of a magic tipping point for organizations where they move from being what we call SMB, small and medium size businesses into what's known as the mid-market. There's a fundamental change that happens in the nature of organizations at that size. They just take on greater complexity and that is reflected in their IT needs and it can start to become challenging to meet those greater complexities effectively solely through an outsourced provider.
So somewhere on that journey, somewhere between 10 and 100, you're starting to create in-house IT capacity. And I think ideally you're doing it in a way as an organization that is closely aligned with your strategic plan and your fundamental needs to accomplish your mission.
Carolyn: That's a great answer. And I think, because we do have a couple good questions in the Q and A, I'm going to ask you to skip the next slide and if we have time we'll come back to talk about the VCIO. [We didn't have time!] I promised everyone earlier on that we would talk about it and I know you have some opinions. [You can find our opinions at this blog post What is a Nonprofit vCIO]
Q and A
Our first question in the Q and A was,
Our accidental techie does not have the expertise to continue in this direction, but we do not have a big enough or consistent enough need to hire a tech employee. So what is the next best step?
And I feel like you just mentioned it.
Johan Hammerstrom: Yeah, depending on the size, I think outsourcing makes the most sense. If that's something that the accidental techie is on board with and supportive of, then they will gladly welcome that and they can actually be ideally given a lead responsibility in identifying and helping to onboard the outsourced provider.
Carolyn: And so then does that accidental techie, whatever their role actually is or their job description, often the person who is maintaining that relationship or hiring the outsourced IT support would be the CFO or some other director. So then the accidental techie is kind of an intermediary? Is that how it can work?
Johan Hammerstrom: Yeah, what we prefer in our engagements is that there be two points of contact. There's the day to day point of contact, the person who's interfacing directly with the IT business manager.
It's good to have somebody within the organization who staff can go to if they're running into any issues, if they have questions. Like, I forgot where… who do I call to get help? That sort of thing. And especially if the accidental techie has skills to handle really basic and simple technical needs, they can continue to resolve those if they have time to do it in their workload.
And then you would have the business point of contact, the person who's managing the contract and the relationship and is engaged in occasional long-term planning discussions as well.
Nura: Yes, that's really more effective. As you mentioned earlier, Johan, having someone to help with that planning and collaborate on any strategic IT roadmaps that they would be interested in building. Those two tiers, I've seen those as a win-win situation, rather than just having someone not really engaging with the outsourced IT.
Carolyn: That is a great segue into the next question which is,
I'm a couple of years into working at a non-profit and there's a big difference between leadership prioritizing IT in comparison with corporate. However, what guidance do you have to help gain support from leadership on the importance of IT and prioritizing vital projects for organizational improvement?
I feel like this could be its own webinar, but if you have a couple of thoughts.
Johan Hammerstrom: Yeah, this is a tough one. This is a question that comes up a lot. Part of it is how do you influence leadership at your organization? And that's different for every organization and that's kind of a universal challenge, like figuring out how to manage up is something that is needed in all different areas, not just IT.
I won't weigh in on the specifics of that cause. It varies widely from organization to organization. I do think that when it comes to IT, one of the things you can do is demystify it. Oftentimes, senior leadership doesn't understand IT or they feel like it's all technical and it's confusing and maybe it frightens them. It makes them feel inadequate as leaders potentially.
So demystify IT and get out of the jargon. I'm a firm believer that every IT concept can be explained in a way that anybody can understand it and can be connected to the priorities that leaders have for the organization. That's really the challenge. You should work with an IT support provider who's able to assist you with that process. Don't let them talk to you in jargon. Don't let them hide behind technical concepts.
Everything that was on that roadmap slide should connect back to a business priority. And if you can frame those needs in terms of business priorities, you might have more luck with your leadership, not a guarantee because of the unique factors that we all know exist in every organization.
Carolyn: That's a great answer. I want to make sure we get to the slide with the next webinar, so I can invite everyone back. We are taking the month off in December with our webinars. We hope all of your holiday galas are wonderful and your fundraising goals are met.
Our next webinar will be our traditional Tech Trends Round Table, which is always one of our most popular webinars and we're splitting it into two parts.
In January, our panel of executives and experts will be taking your questions and discussing tech trends that every non-profit needs to know about. So we'll talk about the way our offices work now, cybersecurity and just some basics that we expect to continue shaping our sector. Really, every non-profit, no matter how tech savvy you are or not tech savvy you are, you need to have these fundamentals in place and understand how these trends are working.
And as we usually do, we're going to look back on our predictions from 2022 and see what came true, which is always a fun exercise.
Johan, you'll be returning and our other experts, Matt Eshelman on cybersecurity and Steve Longenecker on cloud computing, will be talking about those aspects of modern offices.
In February, for part two, we're going to branch out and talk a little bit more about what's on the horizon or already arriving that nonprofits can be thinking about. What trends we see shaping the next three to five years, how you can maximize your investments, gear up your IT roadmap toward those emerging best practices and tools. And, this is such a packed and informative webinar, we split it into two parts.
I think Nura, you're coming back for February and Johan, as well.
Those are going to be on January 18th at 3:00 PM Eastern, noon Pacific. The one in February will be on the 15th. 
I think I can read through our learning objectives. We didn't quite have time to hit the last one about the virtual CIO, but I hope that you're all 
familiar with typical IT job descriptions and roles.
You learned about some of the experience and qualifications. If you need more information about that, we have a couple of resources I'm going to share in the transcript.
Understanding when to outsource, when to build your talent in-house, when to hire. Finding, as we said and I put in the photo, the unicorns – the people who can do the technology and the management and strategy. It's really hard to find those people. So as Johan said sometimes you just need to find an outsource partner that's going to learn your business over time with you and be able to be a trusted resource to you.
So I want to remind everybody, when you leave the webinar, it will prompt you to take the survey and we do choose someone at random from people who fill out the survey to receive a $25 gift certificate. [Congratulations Steve!]
I want to thank you Johan and Nura so much for being with us today and sharing your years of experience on this. I want to thank everybody who attended. Thank you for spending an hour with us to learn about this and I hope you have a great rest of your afternoon. Thank you.
Additional resources:

https://www.indeed.com/hire/how-to-write-a-job-description
https://communityit.com/how-do-i-know-if-an-msp-is-right-for-my-organization/

https://communityit.com/the-nonprofit-guide-to-vetting-a-managed-it-service-provider/

https://communityit.com/building-the-foundation-for-it-innovation-download-this-guide/
https://communityit.com/video-cybersecurity-basics-for-nonprofits/