Transcription below
View Video
Subscribe to our Youtube Channel here
Listen to Podcast
Like podcasts? Find our full archive here or anywhere you listen to podcasts: search Community IT Innovators Nonprofit Technology Topics on Apple, Google, Stitcher, Pandora, and more. Or ask your smart speaker.
Nonprofit IT a Look Ahead for forward looking nonprofits
Three Community IT Innovators executives held an "ask the experts" discussion and Q&A on the direction nonprofit IT innovation is heading in the next 2-3 years and how your organization can invest in these growing trends.
Looking forward and want to be sure you are looking at the right IT that's going to last?
Is your nonprofit looking to use IT in innovative ways to deliver your mission?
Has your office changed to such an extent you need new tools and ways to work?
We discussed the innovative nonprofit technology trends we expect to be relevant to our sector in the next few years.
This is always one of our most popular webinars, and this year's was no exception. We shared some insights on the best practices of your nonprofit peers and forward-thinking nonprofits.
Where should you invest your bandwidth and budget? What technology tools are coming, and where should you hold off and wait for the market to catch up? How do you know when your organization is ready to invest in forward-looking technology that will give you an advantage in your sector and as you deliver your mission? Why is it important to stay current, even if your organization is not the most tech-savvy nonprofit out there?
With recent hacks and breeches, even small nonprofits are learning that the need for Cybersecurity is growing and evolving as these attacks become bigger and bigger business. As the cybersecurity community continues to look to out-pace the development of new attacks and respond to new vulnerabilities, what are the innovations in prevention that are emerging? Community IT Innovators' CTO and cybersecurity expert Matt Eshleman answered your questions on emerging threats, emerging ideas and tools on prevention, and best practices on staff cybersecurity training. Does your organization need a cybersecurity assessment or cybersecurity insurance? Have you taken our free self-quiz to see where you stand in cybersecurity readiness?
Senior Consultant Nura Aboki weighed in with his observations on what nonprofits with IT bandwidth and expertise are investing in. What are the exciting new technologies nonprofits can expect to impact our sector, such as ChatGPT and other Artificial Intelligence applications, donations in Crypto, or training through Virtual Reality/Augmented Reality that could be the next big thing? Remembering how the iPhone/iPad, social media (remember the ice bucket challenge?), or data management have changed nonprofit operations in the blink of an eye, we're going to look into the future to think about where nonprofit IT is ripe for disruption.
Patrick Sprehe is our IT Business Manager Team Lead, managing the team that guides our clients' IT roadmaps and provides help with overcoming nonprofit technology challenges. Patrick brings a deep knowledge of technical support, an interest in new technology uses at nonprofits, and experience implementing and maintaining established platforms and systems for large and mid-sized nonprofit clients. He was featured in our webinar on Building Foundations for Innovation and is always on the lookout for the next tech tools and new IT ideas.
As with all our webinars, this presentation is appropriate for an audience of varied IT experience.
Community IT is proudly vendor-agnostic and our webinars cover a range of topics and discussions. Webinars are never a sales pitch, always a way to share our knowledge with our community.
---
Presenters: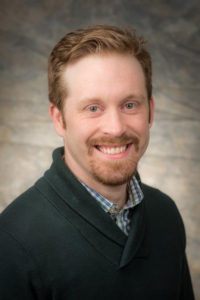 As the Chief Technology Officer at Community IT, Matthew Eshleman leads the team responsible for strategic planning, research, and implementation of the technology platforms used by nonprofit organization clients to be secure and productive. With a deep background in network infrastructure, he fundamentally understands how nonprofit tech works and interoperates both in the office and in the cloud. With extensive experience serving nonprofits, Matt also understands nonprofit culture and constraints, and has a history of implementing cost-effective and secure solutions at the enterprise level.
Matt has over 22 years of expertise in cybersecurity, IT support, team leadership, software selection and research, and client support. Matt is a frequent speaker on cybersecurity topics for nonprofits and has presented at NTEN events, the Inside NGO conference, Nonprofit Risk Management Summit and Credit Builders Alliance Symposium, LGBT MAP Finance Conference, and Tech Forward Conference. He is also the session designer and trainer for TechSoup's Digital Security course, and our resident Cybersecurity expert
Matt holds dual degrees in Computer Science and Computer Information Systems from Eastern Mennonite University, and an MBA from the Carey School of Business at Johns Hopkins University.
He is available as a speaker on cybersecurity topics affecting nonprofits, including cyber insurance compliance, staff training, and incident response.
---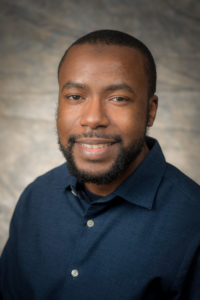 Nura Aboki is a Senior Engineer and IT Business Manager at Community IT Innovators. In that role, he proactively oversees technology infrastructure for clients. Nura started his career at Community IT as a Network Administrator in 2009. In 2012, he was promoted to Network Engineer and assumed a supervisory role in IT service operations.
As an IT Business Manager (ITBM), Nura guides some of our largest clients through complex implementation of effective technology investments and utilizing efficient IT services in direct support of their missions.
The ITBM makes recommendations on IT investments, training programs, maintenance, and licenses. They help the client be forward-looking, and act as a vendor-agnostic, trusted advisor with deep knowledge of the nonprofit IT software and platforms available. Because Community IT works in partnership with clients to manage long-term IT needs, the ITBM relationship with the client makes them a true asset.
Prior to joining Community IT Innovators, Nura served as a member of the technical support team at George Washington University where he provided incident management to over 20,000 end users on computer hardware, software, and networking issues. Nura also held a Network Specialist role at the Economic Community of West African States (ECOWAS) Parliament in Abuja, Nigeria.
Nura holds a Bachelor of Science in Computer Engineering and Master of Science in Electrical Engineering, both from George Washington University. He continues development of his professional competence through continuing studies in Technology Management.
---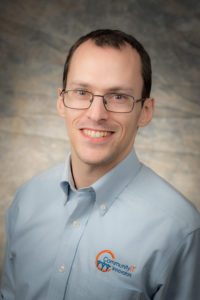 Patrick Sprehe is IT Business Manager Team Lead, managing the team that guides our clients' IT roadmaps and provides help with overcoming nonprofit technology challenges. Patrick brings a deep knowledge of technical support, an interest in new technology uses at nonprofits, and experience implementing and maintaining established platforms and systems for large and mid-sized nonprofit clients.
Patrick joined Community IT in 2010 and has provided technical support to a variety of clients on a variety of issues. His capable approach helps the ITBM team tackle strategic planning with clients with calm expertise.
Patrick graduated from University of Maryland, University College with a B.S. in Information Technology. Patrick is also a certified BRM (Business Relationship Management) Professional.
---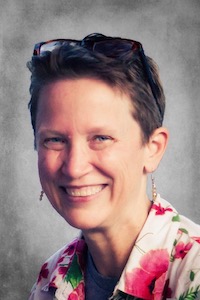 Carolyn Woodard (moderator) is currently head of Marketing at Community IT Innovators. She has served many roles at Community IT, from client to project manager to marketing. With over twenty years of experience in the nonprofit world, including as a nonprofit technology project manager and Director of IT at both large and small organizations, Carolyn knows the frustrations and delights of working with technology professionals, accidental techies, executives, and staff to deliver your organization's mission and keep your IT infrastructure operating. She has a master's degree in Nonprofit Management from Johns Hopkins University and received her undergraduate degree in English Literature from Williams College. She was happy to moderate this nonprofit IT a look ahead expert panel webinar.
---
Transcription
Carolyn Woodard: I want to welcome everyone to the Community IT Innovators' webinar, Nonprofit IT a Look Ahead. This is always one of our most popular webinars every year, and we have a panel today of our senior staff to talk about cutting edge and future trends in tech and what that means for nonprofits.
They're going to talk about some fun stuff like AI, crypto, cybersecurity, supply chain, and long term labor changes, geopolitics as it relates to tech companies and products, and how any of this might impact your nonprofit and the tech that you use and will use five and 10 years in the future.
My name is Carolyn Woodard, I'm the Outreach Director for Community IT, and I'll be the moderator today. I'm very happy to hear from our experts. Matt, would you like to introduce yourself?
Matthew Eshleman: Great. Thanks for the introduction Carolyn, and I'm looking forward to our session today as well. As was mentioned, my name is Matthew Eshelman and I'm the Chief Technology Officer here at Community IT. I'm happy to have celebrated my 21st year of service with the company. And also, I'm coming up on about 10 years in the role of CTO, where I focus primarily on cybersecurity, more sophisticated solutions architecture and overseeing the platform we use to support our nearly 7,000 managed endpoints.
Nura Aboki: Thank you, Matt. My name is Nura Aboki. I'm a Senior Consultant at Community IT. I've been with Community IT for 13 years, and currently I advise our clients on best practices for managing their technology infrastructure. I also conduct technology assessments to develop IT plans and build strategic roadmaps for our clients. I'm very grateful to be with you all and excited to talk about the future trends.
Patrick Sprehe: Hello everybody, I'm Patrick Sprehe. Up until the end of 2022, I was the business IT manager and led our team of IT managers focused around client IT management, IT road mapping and IT consulting, and then just recently I was promoted to be the Director of Information Systems and Technology. I'm also looking ahead and looking to plan for Community ITs internal IT for the next few years as well. So I'm speaking about this, but I'm also learning about this as well.
Carolyn Woodard: Thank you, Pat. Before we begin, if you're not familiar with Community IT, a little bit about us. We are a 100% employee owned, managed services provider. We provide outsourced IT support and we work exclusively with nonprofit organizations. Our mission is to help nonprofits accomplish their missions through the effective use of technology. We are big fans of well managed IT and what that can do for your nonprofit. We serve nonprofits across the United States, and we've been doing this for over 20 years. We are technology experts. We are consistently given an MSP501 recognition for being a top MSP, which is an honor we received again in 2022.
Learning Objectives
Last month, our panel talked about trends in essential IT and basics that in our observation all nonprofits should be doing. Supporting remote workers, improving cybersecurity over the long haul, using cloud platforms effectively for collaboration. So if you miss that, you can go back and check out the video.
But this month, we're going to talk more about forward-looking trends and opportunities that tech-savvy nonprofits might want to pursue. And we're going to talk about the ways we expect nonprofit IT and IT generally to evolve over the next few years.
So our learning objectives for today are, that we hope at the end of the session you will
understand the 2023 cutting edge and future IT trends for nonprofits,
that you'll learn how to keep up with tech trends and why it's important for nonprofits to stay current. Even if your nonprofit doesn't deal with technology, per se. Technology is so pervasive in the way that we work and how our organizations operate.
And then we're going to enjoy a wide discussion of nonprofits of the future and how they will work.
I want to remind everyone today that for these webinars, Community IT is vendor agnostic. We only make recommendations to our clients and we only do that based on their specific business needs.
Poll 1
We are going to start off with a poll to get to know you a little bit and get you to think about the role of technology at your organization. So I know everyone uses technology at their organization, but we wanted to see a little bit more about how IT works in your nonprofit. Is it something that you use because you have to, or is it something that it's in your DNA; you were founded by disruptors and you use IT in innovative ways. So I'm just going to go through these options for you before launching the poll.
Option one would be basic office support. You use IT to send emails, print reports, use business tools online but you manage mostly everything yourself. You just need basic office support.
Basic office support plus is the second option. You have business critical platforms that IT supports like a CRM database, financial tools, you might have more than one office that you're supporting.
Option three is that you deliver services using IT in addition to basic office support. So it could be an education setting where you're supporting devices that the students are using, or a healthcare situation where the people who work for you or volunteers are using devices that you provide.
And then the fourth option is you are founded by disruptors. You use IT in innovative ways and it's just in your DNA.
Option five would be that it doesn't really apply to you.
Looks like we have a pretty good response. Matt, would you mind reading the responses?
Matthew Eshleman: Sure. The majority of the respondents are in that basic office support plus category followed by folks who are delivering services using IT. And then bookended by organizations that are using it in an innovative way or a transformational way with those organizations that are still functioning at a very basic level. So little bell curve distribution there with the majority in those middle categories.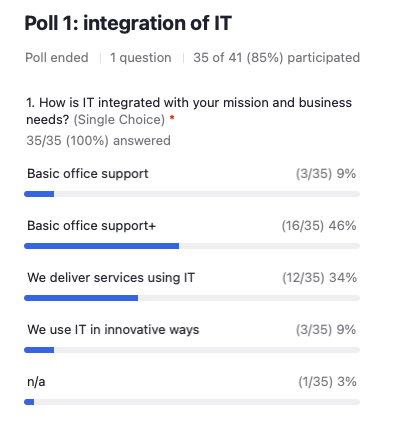 Carolyn Woodard: I was just going to say that it looked like a great bell curve.
I want to make sure to say there's no judgment here. So if you are using IT in really basic ways, or if you're using IT in really innovative ways, I think the most important thing is to know yourself and know your organization, your organizational culture, because that's going to help you plan for the IT that you need and that you want to implement. You don't want to take something really cutting edge and try to implement it at an organization that has a much more traditional approach to IT that would not be successful. But the opposite is true too, right? If you went the other way. So that was really very helpful. Thank you.
Poll 2
We are going to do a second poll, which helps us know more about you.
Where is your organization in terms of your size?
from one to 10,
11 to 25,
26 to 100,
101 plus,
it doesn't apply
Of course, your size is only one indicator of your organizational structure. It could be a large organization that still acts like a startup. It could be a small organization that's growing very quickly. So it's just one aspect. But I think we have a pretty good response here. Pat, would you mind reading the results?
Patrick Sprehe: Sure. So 32% of our respondents have 26 to a hundred staff. We actually have two groups of 24%, so 11 to 25 staff and more than a hundred staff. And then 16% have one to 10 staff, and then we had 3% that reported that it's not applicable.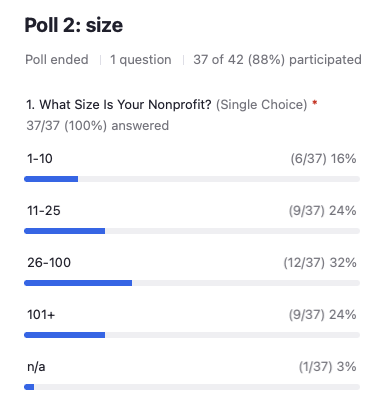 Carolyn Woodard: All right. Another bell curve. So thank you all. That really helps us.
This is something that we talked a lot about when we were preparing for this. We agreed that technology and work are always changing, but we are living through a sea change right now, and no one really knows what nonprofit work and technology will be like in the future. In the big picture, we know that we've lived through a global shock over the past few years with the pandemic. And I hope this is not a spoiler for anyone, but we know that's not the last global shock that we will experience in our lifetimes, and perhaps not even in the next decade or so. There will be other things that happen that have a global impact.
Those global disruptions and events will of course impact technology. We could see that in the way the pandemic interrupted supply chains. You know, we couldn't get the chips, so then there weren't any cars, all of those types of issues. And it also, of course, changed the way that we work.
A lot of organizations went to working remotely and are still either working remotely or hybrid or coming back into the offices now. So if we think about 10 years in the future, it doesn't seem that far away. Ten years ago, it doesn't seem like it was that long ago, but if you think about it, 10 years ago, Obama had just been reelected. And I think, no matter what your politics are, that feels like a different era to me. And if you think about United States elections in terms of the next 10 years, there will have been three more elections between now and 2033.
So the pandemic, the next global illness, wars that we're living through right now that are very disruptive, climate crisis, water shortages, all of these are going to have an impact on the way we live and work. And of course, IT is intertwined into the ways that we live and work. And one of the things that's interesting about thinking of a future like this and how IT impacts us all personally and how we work and where we work, is that the nonprofit sector is also right in the middle of those changes.
Our organizations are deeply involved in serving and advocating in those sectors such as environment, health, global advocacy, local advocacy, labor, justice, education, all of these different aspects that are touched by a global shock to the system. So before we start thinking and talking about IT in this webinar, I want you all to kind of close your eyes and think about what you think is going to happen in the next five to 10 years.
I would love it if you would chat in your responses to the questions I'm going to ask, and I'm also going to ask our panelists to weigh in a little bit. We're going to talk about IT specifics in a few minutes, but for now, we wanted to just get our juices flowing and think about the big picture. One question that comes up a lot in science fiction is
Will corporations or countries hold power in the future?
You can use the Q&A to put in your responses. And I'm going to ask the panel as well to weigh in on this. Do you think like in Star Wars or Star Trek, there will be governments of the future that will have a senate or that sort of thing? Or do you think that it will be more like Aliens where the corporation is in charge? So do you have opinions?
Matthew Eshleman: I don't know. I'm looking through the questions here and it seems like maybe our audience is evenly divided between the two, and I think it is hard to pick one. I think it is clear that corporations themselves have been exerting much more power than maybe they traditionally have. But I think at the end of the day, they're still beholden to government regulations and restrictions to take over things. We see that particularly as it relates to China in terms of what technology is available there and how corporations have really had to change their operating model to fit within that operating structure. If you're an Office 365 customer, there's a whole separate Chinese tenant. If you have a Meraki firewall, there's a whole Meraki entity for those organizations.
Patrick Sprehe: I think that here in the U.S., corporations have certainly invested a lot more money in politics in an attempt to control or to manage the impact of regulations and taxes and that kind of thing. But I do think that whenever Congress gets their dander up about technology and big corporations, those same companies scramble to respond as well. So I think, there's still going to be a very strong influence that corporations will have in government, especially since they have a lot of money. But I do still think the government is going to hold the reins ultimately. And who knows what the political winds will be, which way they'll blow 10 years from now, when it comes to corporations?
Nura Aboki: I'll add that the government has come to realize that corporations actually are required these days to advance in technology. Investments in government-only run researchers have not yielded results as fast enough. So they are not falling behind. Governments are collaborating in with private corporations to ensure that they still have a foothold and can guide where that technology is going, especially when we live in a world where there's so much competition out there. So in the United States, I'm seeing a lot more investment in Silicon Valley collaboration with the government.
Carolyn Woodard: All great answers. So my next question is, Nura, you had remarked that there were some nonprofits that are concerned about not just the special metals in laptops, but the plastics as well. When you're replacing your laptops every three to four years environmentally, what is that doing? And then there's a bunch of other environmental questions. So this is another big question, big picture question,
Will technology accelerate the climate crisis or be able to help slow it?
Audience, you can put in the Q&A your response. What do you think about technology and the environmental crisis?
Patrick Sprehe: I know one thing we talked about was the whole bitcoin mining and cryptocurrency mining and how that was really contributing to a lot of ecological damage. Some currencies had actually shifted their model so they would be less ecologically damaging and require less resources and computing power.
Carolyn Woodard: Anyone else on the panel want to weigh in? I'm seeing in the Q&A optimistically people are saying, I hope it slows.
Matthew Eshleman: I think we have no choice but to be optimistic that technology is going to solve some of the problems that previous technology has created. We could also all choose to separate ourselves from society and get a horse and buggy and go back to the farm. But I think that's not a realistic option for many folks. And I do think that macro trends related to energy efficiency are really positive. Solar is now overtaking maybe coal or natural gas in lower cost to produce in cost per kilowatt hour. Those shifts toward renewable sources of energy are going to be dramatic. However, the vast majority of the world hasn't gone through the same carbon use cycle that the United States has. And so there's a lot of people that need to have that increase in earning potential that energy consumption drives. And so I'm optimistic, but it's going to take a while to get there.
Nura Aboki: I agree with Matt, it's going to take a while to get there. It's just coming to light that a lot of nonprofit organizations have to use technology to actually achieve their missions. And for that primary reason they may not be necessarily focused on the environment, but thankfully there are advocates for the environment and globally we are seeing countries sign agreements to save the earth. So for that reason, I think this climate change awareness, it's going to keep going across the globe and we are likely going to see a positive outcome from it.
Patrick Sprehe: I think one of the challenges of predicting the future is that we're predicting it based on the present. We expect trends that we see today to continue and improve, but what often happens in the future is that there's some innovation or some paradigm shift that completely changes the way we live or the way that we communicate with each other.
We may see this change in energy production and maybe, fusion technology will suddenly become a thing and we'll completely just stop using non-renewable sources of energy. You know, it's not something that can really be predicted, but I'm hopeful that kind of thing will happen someday.
I mean, 60 years ago people predicted the future as being flying cars and their food being delivered in pill form and nobody really predicted that there'd be the internet or how the internet would be used and how we would all interconnect and communicate together on the internet. So it's just hard to predict the future. But, I'm certainly hopeful that in the long-term, we will overcome the climate crisis.
Carolyn Woodard: All right, so cautiously hopeful. I have another question that's another unpredictable one, but the continued impact on work. We have robots, we have AI.
Are robots and AI going to be performing more jobs in the future?
One of the things I feel like the pandemic brought home was that there are some jobs that can be done remotely, and there are many jobs that have to be done in person. I'm wondering about your thoughts on work of the future.
I can jump in for a quick second. I was at a presentation last week about farms of the future, and a lot of innovative stuff that Microsoft is doing with farming, including drones and GPS powered tractors that can drive around the field by themselves and know exactly where they are. AI knows when to fertilize, when to harvest, all of those pieces, which I just found fascinating. Then they were talking about how you get broadband to all of the places where people are growing the food that we need to eat.
If anyone wants to weigh in on work of the future, what do you think?
Patrick Sprehe: It's been really interesting to read the news and watch the news coming in all about ChatGPT and open AI. You know, traditionally robots and computers have been used to replace people for repetitive monotonous work. It'll be interesting to see, as AI takes on something of a creative role, where computers end up being used, not necessarily to replace people, but to supplement what people are doing now instead.
Matthew Eshleman: There's certainly no question that these technology tools are going to be used to increase overall efficiency. Even look at Community IT. We have a team of effectively three techs that manage 7,000 endpoints. And to think of the work that they do and how much efficiency that represents from using our tools to install patches and do reporting and do all of this stuff. If you were one person, or if that was divided amongst a much smaller set that didn't have the tools in place, how much time that would take. The augmentation of staffing with robots and automation is certainly going to continue.
The question of should we, or how should we do that is certainly trailing the technical capability of what certainly is possible. Having some discussions around what does this mean? What does this look like? How's this impacting us as a society, as a culture, as a community? We're way behind that conversation.
Nura Aboki: I think this is where nonprofit leaders have to think about the risks and advantages of technologies to come. They're going to be advanced, they will be effective, but there could be ethical issues, there could be privacy issues there. Knowing exactly what will work for you and understanding the risks will be very important.
Carolyn Woodard: That's a perfect segue to my last question, which was about surveillance. We were all fascinated by the balloon. Many people have pointed out, compared to one balloon, the number of our devices that are keeping an eye on us.
I don't know how much in the nonprofit sector, but definitely there were a lot of stories when remote work started, about different apps that you could put on your employee's computer so you could see if their eyes were looking at the screen while they were supposed to be working.
I know in education they have remote school cheating [prevention apps] – how much time are you looking? Where are you looking? You can't look down. It'll flag it if you're trying to cheat on your test.
Where's the surveillance state going and what will be the impact of that type of big picture IT?
All of our devices, keeping an eye on all of us, all the time on a lot of things that nonprofits work on like injustice, accountability, secrecy, privacy. What do you think? Matt, you're the cybersecurity guy, you want to talk about it?
Matthew Eshleman: I feel like in this case I'm so much more of a Luddite because my initial reaction when we get this question is, what are the tools that we can deploy to do this? And I think the answer is that you don't. I think the human touch and the relationships that people have with managers, that really should be where the focus is on optimizing work.
And the idea that you're going to deploy some tool that's going to analyze somebody's keystrokes and figure out if they're being a good employee or not takes us down a path of a society that I don't want to really participate in building.
I do think it's that ethical framework that we need to have to ensure that the technology tools that we're adopting are in service to that greater end and not subverting that. Matt Eshleman
We see that particularly when it comes to some of the failings that technology has had, particularly in virtual schooling. I'm the parent of two elementary school kids and I have a flexible job. I was able to be there and be present, but virtual learning for us and many other people was a real failure, because reliance on the technology wasn't what was needed. For many kids, test data is now showing that we really need to be focused on building foundations of relationships and the tactical skills. And we can always have technology later.
Patrick Sprehe: I think about this in the context of 10, 20 years ago, you would sign up for a service, you would sign up for a Facebook account and nobody reads those policies you have to agree to when you sign up. Nobody reads the software and uses your license agreements when you are installing something. More and more, I don't want to give out my email address to have to sign into things, partly because I don't want the spam marketing materials, but I also don't want my email address to be given out to these data collection agencies that are going to collate all this information about me so people can target market me as well.
I think people are becoming more aware that that's going on and are trying to avoid it. On the other side, there is a tension from forces that want to control us, whether that's government or corporations that want more information about us, so that they can sell more stuff to us.
Nura Aboki: This is where the choice comes for the end user, the person that's using that technology. It has been traditional for most developers or software companies to not disclose their privacy information or what they do with our data. But more and more we are requesting that information and choosing to use vendors that actually protect our privacy. Because of that choice, I think some other companies may be left out and a lot of companies don't want to be left out. So they may be forced to begin to be transparent about what they do with our information. Only time will tell, but I think we have the power and hopefully we will be able to exercise it.
Patrick Sprehe: One other thing to think about is, speaking as if you're a nonprofit organization, you may want to install some mobile device management policies on your staff's personal mobile phone to help secure your data, if your staff is using their phones to access the company email or files. You may want the ability to delete that data. Your staff may say, well, I don't want your policies on my phone. I don't want you controlling or having any access to my phone. And so there is some tension there as well, which I think everybody's still kind of figuring out and companies are approaching in different ways.
Carolyn Woodard: I had left cybersecurity off because we're going to talk about it a little bit later, but right now I'm going to move to our next poll.
Poll 3
How cutting edge are you?
You could say:
We accept crypto donations, option one.
Option two, we use AI tools or are starting to use them this year as they become more and more in the news.
Option three, we start using cybersecurity tools as soon as they come on the market. So we're very cybersecurity forward.
Four is, we love open source platforms and custom apps. So we're building our own stuff.
Option five, we are on all the social media platforms you've never heard of, but your kids use. So we're very forward in social.
option six is not applicable or we are Luddites and we admit it.
I'm firmly in that Luddite camp in my own technology and I'm happy to admit it. How cutting edge is your organization? I don't know if that's how cutting edge do you want to be, but how cutting edge are you now? Nura, would you mind reading the results?
Nura Aboki: 50% of our respondents are Luddites, so you are not alone. And we do have 27% actually use cybersecurity tools. They start using cybersecurity tools as soon as they're on the market. So they're early adopters. We then followed by 19%, we have two in that category. Some use AI tools and/or are starting to use them this year. And then some use open source platforms and custom apps. Then we move on to 12% that are on social media platforms you never heard of. And then lastly there, there's 4% that actually accept crypto donations. So that's quite a revelation here.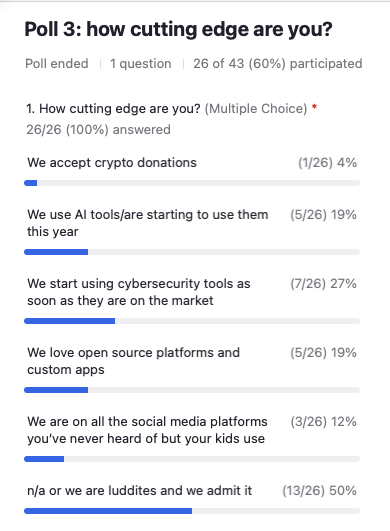 Carolyn Woodard: So now, we're going to move on and talk a little bit more about some more specifics about IT. So again, if you have questions, I know a lot of you submitted questions at registration, but feel free to put questions in the Q&A option.
We're going to spend about five minutes on each of these topics taking questions and talking about how IT and nonprofits now relate to these different topics. We have about six topics and three speakers.
Matt, if you would like to go first, I promised we would talk about some more cybersecurity issues. So we have two topics for you,
Crypto and blockchain, and cyber.
Matthew Eshleman: Great. And I'll try to be concise because I think there's lots of other great stuff here. I do think cybersecurity continues to challenge organizations, due to the ongoing rise in cybercrime and the associated spike in cyber liability insurance. I know we're dealing with that as a company having our renewal rate triple. Now, we'll talk a little bit more in detail about some cyber.
Part of our incident report that we're currently working on, that webinar will be in April. On the crypto side or the cybersecurity side, we are seeing the impact of tool adoption helping to reduce the overall number of incidents.
That's clear as we get more clients on more of the advanced email security tools, that really drops the number of things that are getting reported into us.
Multi-factor authentication, that adoption has really been impactful in terms of reducing the amount of compromised accounts that we're seeing.
Overall, wire fraud and financially based crime is up at least for our organizations year over year.
On cybersecurity, there's many, many different elements to that discussion. The big trends that we see are really cyber liability insurance and the associated cybercrime really driving technology tool adoption as a way to help reduce costs and help protect the organization.
The implementation of more tools really is effective in providing protection and reducing risk.
In the blockchain or cryptocurrency world of things, the sheen of that as a platform has really started to wear off with the implosion of FTX. In general, cryptocurrency prices collapsing, it's clear that it's not a hedge against inflation. And so I think the idea of cryptocurrency really has worn off. The economic impact or the consumption to generate it, people are looking at that with a lot more critical eye.
For most organizations that we work with that represent the small to mid-size non-profit space, the idea that you're going to build something on blockchain is just not the right tool. You need a good database. You need an effective online engagement platform that can do donations and you're not going to gain anything by building that all on blockchain.
I do think that some of the concepts and ideals of this decentralization are really appealing, especially as we see trends overall toward people being in big corporate platforms. You're in Google Workspace, you're in Office 365, that's the choice. We don't see organizations in third party or open source or community developed solutions for email as much. We're maybe starting to see a little bit more example of that for organizations or maybe privacy first to use some of those solutions. But those effective big platforms have really taken the vast majority of the marketplace, and that's driving a lot of the tech innovation and enabling tremendous efficiency and capacity for organizations to not have to worry about their tech stock and be able to focus on doing their job.
Those are just a couple of insights that I would share as it relates to the cybersecurity world. And then also, crypto, ransomware, blockchain, it's all kind of tied together. Unfortunately that does seem to be the biggest use case is receiving funds, so that you can decrypt your ransomware files.
Carolyn Woodard: We have a question that came in on the chat, which was to discuss
Hardware keys and passwordless login
Matthew Eshleman: That is a big trend that the big vendors are really pushing in shifting away from passwords. I think in 2016, Microsoft published an article that said, Hey, you don't need to change your password every 90 days. But that was in 2016, and here I still see it on cyber reliability insurance applications. Do you change your password every 90 days?
Yes, the market and the big vendors are going towards this concept of passwordless login, using physical security keys or using your phone to sign in. That is a way that you can make good security easy to use, so you don't have to think of a crazy complex pass. You don't have to change it, you're able to authenticate using tools that you have. And so, certainly I'm a big fan of that as a way.
Carolyn Woodard: And I think you are going to talk more about those two issues in April when you talk about our incident report?
Matthew Eshleman: Yeah, that's a welcome trend.
Patrick Sprehe: I think we had a question about password managers. Password managers are a way to manage passwords in the organization. An alternative and a step up from that is single sign-on where your staff would log into a service like Okta is a very popular one. And then by logging in there, they would be authenticated into the different applications. So instead of managing passwords for everywhere, they just sign in in one place. And SSO is always going to be more secure because it's built to be secure. It's a single place to monitor and manage the user's identities. Password managers can be a stop gap to organize and to some degree share passwords more securely. But, you still have all those different passwords, each of those is a vulnerability as well.
Carolyn Woodard: Thank you. I want to make sure that we get to some of the other topics as well. If you have more questions please go ahead and use the Q&A option. If we don't get to all of the questions, we will include them in the transcript.
I wanted to turn a little bit to this central heart of creating community. We talked a little bit earlier about corporations and how you can just be a Microsoft office. But then, what if they discontinue a platform that you've been using or that your nonprofit is using to communicate with your volunteers? How can it impact the nonprofit sector? Nura, you had some thoughts on
Creating community and the role of technology in that.
Nura Aboki: Yes, thank you Carolyn. On creating communities over the years, a lot of nonprofit organizations have leveraged on the big tech companies' solutions that are available to them. For instance, Amazon had a Smile donation program that a lot of nonprofits took advantage of, but then all of a sudden it disappeared. You can equally talk about some of the services that Google offers on its platform that it modestly just shuts down. The more you invest in building a community through some of these platforms, there is a potential that some platforms may actually go away.
Changes that came into Twitter – you may have built workflows, processes, and outreach programs through Twitter. But Twitter with the change of leadership has brought in new approaches and ways to do things. So that might have impacted your nonprofit organization.
So it begs the question, does a nonprofit then invest in building its own custom tool that allows it to build communities or should the communities look for tools that are reliable, that are sustainable over the long-term? These are some of the tough questions that we are seeing.
I would even mention TikTok. TikTok is one popular platform that is available and some nonprofits are using it. Maybe several of them are using it. The trendiest platform of the time gives you the most outreach to your potential donors or your potential customers. So it's quite interesting how nonprofits take advantage of the big corporations' solutions for building communities. But there's that concern that it may not be sustainable over time. Nonprofits need to be forward thinking about the next tool that may be available that is sustainable that they could take full advantage of.
Carolyn Woodard: Thank you so much, Nura. I feel like this is a good segue into something that Pat wanted to talk about, which is
The tension between corporate tools and building your own tools (DIY).
As you were saying, does your community find the tool that fits how your community works, or do you adapt to the tool that you have? Pat, did you want to talk a little bit more about that?
Patrick Sprehe: Yeah. A couple decades ago, if you wanted a solution, like a CRM, it was a toss up between hiring a developer or trying to find an off-the-shelf solution, then customize it. Then these corporate solutions became specialized so different industries would have different CRMs. Then they also became better and better and more customizable and you could integrate them with other solutions. And then especially with just everybody spreading out with COVID, it became very easy within the past few years to build out your own solutions.
Our recommendation has for a long time been to get a standard solution. These typically have the best practices built in. They tend to be industry standard.
But you know, now you have nonprofits where you'll have a team of people who are siloed, doing their own thing and trying to get their work done. And so they reach out and do their own research and find their own solution or cobble something together using, maybe some no code or low code solutions and APIs to integrate things.
Power Automate is a great example of something where you can create these custom workflows to help you do your work. But then you're left with this cobbled together solution that you've got, maybe one person who set it up and knows everything that's going on, and they are responsible for supporting it. And if they leave the organization, who knows what's going to happen if it breaks.
And so, that's something you want to make sure that you're preparing for. I don't think there's necessarily a wrong answer when it comes to doing the DIY, or getting the off the shelf solution.
I think some of it can depend on what you need or what you want. And to some degree, there's also the hybrid option where you get an off-the-shelf solution and then you get a developer who can help you customize it, kind of what Salesforce is based around.
It'll be interesting also to see, and I think we'll talk about this more as well, how these off-the-shelf solutions integrate automation and AI and help customize the solution as well.
Carolyn Woodard: Thank you so much. While we have you, do you want to talk a little bit more about
Supply chain issues
If you are using a corporate platform, you're dependent on them and if you're using IT, you're dependent on the supply chain. So can you talk a little bit about what you see happening with supply chain issues in the future?
Patrick Sprehe: Yeah. We serve a lot of different clients and we want our clients to use good, solid IT hardware. And so we try to encourage them to buy just from a few vendors that we're familiar with and that we know provide really good stuff.
But, recently one of the vendors we like to use for networking equipment, Cisco Meraki, you can't get their firewalls or their access points right now, because they're going through supply chain disruptions they've been hit with now and again since the pandemic. You know, speaking of COVID, COVID is still a factor. China only just loosened their COVID policies back in December. It is still around.
And in addition to that, this brings to mind that we don't really know what's coming next when it comes to the next great disaster. It could be a new virus, environmental catastrophe, political shocks. We're just entering the 2024 election cycle here in the U.S. and we've already got pundits who are predicting civil unrest.
In addition to that, during COVID, a lot of organizations switched to going a hundred percent remote. And then after the pandemic ended, they either stayed remote or they went hybrid.
One thing to think about is how are you responding to that in the sense of, how are you updating your policies and your procedures? One non-IT thing to think about also is, how are you maintaining your organization's culture, if you're hiring new staff who are out of the area and maybe you've been working with for months and have never met face-to-face? How do you keep that strong culture at your organization? A lot of our clients have really great cultures which is one of the draws that brings people to work there.
Carolyn Woodard: That's great. We've got a couple of more questions that came in. And I know Nura, you're ready to talk about AI anytime we ask you those questions.
I just wanted to go quickly to our learning objectives for today, which were to
understand cutting edge and future IT trends for our nonprofits.
Maybe I should have reworded that because we've really, really scratched just the very tip of the surface. We had several questions that came in. It's hard to understand how a lot of these issues are going to impact me personally, but also my organization going forward. So I would just say reach out to your trusted IT provider. There's a big community of people online as well.
Just stay as current as you can, which was our second learning objective. It's important to keep up with tech trends, even if you are not necessarily a techy person. Your organization might not be the most techy organization, but all of these issues, these wide ranging issues have such an impact on how we work and how our organizations work and what we're able to do to achieve our missions.
I think we did really well in the last objective of having a wide discussion of nonprofits of the future.
Now I want to turn it back over to Nura. I think you wanted to talk a little bit more about
Artificial intelligence.
Nura Aboki: Yeah. Quickly though. Artificial intelligence has been trending for the past few years. We've seen in the nonprofit sector AI driven fundraising solutions that integrate with existing CRM whether it's Salesforce or whichever CRM you use. AI can actually do some machine learning of your existing CRM data and churn out some good insights to help you with your email campaigns.
In the past three months though, we have seen an evolution of AI in having conversation with an AI, asking questions and getting responses. One solution from open AI called ChatGPT, has been quite impressive. Even though we know that it's still in its primitive stage, it has shown some great potential. I've heard stories of students actually doing their homework using ChatGPT, some people writing their resignation letters with ChatGPT composing the entire letter, some sending out marketing emails, ChatGPT has its limitations. It only has data up until 2001.
Microsoft blew our minds just a few weeks ago with the integration of ChatGPT in the search solution Bing. And that actually has more real time or real life interactions. If you're searching for anything, just type a question and it presents an answer for you in a concise format, unlike the way we've traditionally used chat.
So AI has shown growing potential in actually being a disruptor over the years, and even up until now, we are seeing that it may actually change the way we do our research using search engines. But I would be worried about the ethical use of AI as it's going to be part of our lives and part of the way we work. Maybe some of you in offices, I already have seen some AI insights to you, the way you do your work and so on. So more to come on AI. I think we will have more sessions about the evolution of AI, but it's definitely here to stay.
Carolyn Woodard: All right. Well, I thank you all. Thank you so much Nura for that. And I know you're going to give a couple more webinars going forward on AI specifically for nonprofits. Those will be on our website. You can find more about that later.
You can always contact us and get in touch with us about any of the topics that you heard today. There were a couple of questions that we didn't get to answer, one great one about creating situations where organizations can share solutions with other communities and if you found a tool that really works or maybe a suite of tools that is helping you do what you want to do and being better able to share that with other nonprofits. I think that's a great question. We didn't quite have time to answer it today.
I'm going to let everyone go. I just really appreciate your time today. Thank you, Matt. Thank you, Pat. And thank you Nura, for sharing these forward-looking ideas with us. And as you said, Nura, you've blown my mind. I think we might have blown some other people's minds, but hopefully we were able to give you some good information and some ideas on what you need to look at in terms of IT and nonprofits. So thank you everyone.