Community IT Innovators is happy to announce that we have been included again on the 2022 MSP 501 list. The 2022 ranked list is the most competitive list to date. One of the most prestigious annual lists in global tech industries, the MSP 501 list identifies innovative and influential market leaders providing managed services to today's most demanding customers around the world. Channel Futures MSP501 once again honored Community IT in 2022.
We have been recognized this year as one of the top managed service providers in the world, against an astounding number of applicants who pride themselves on their technical talent, growth-oriented business models and strategic partnerships with industry-leading vendors and tech suppliers.
Congratulations to our entire Community IT team on this achievement!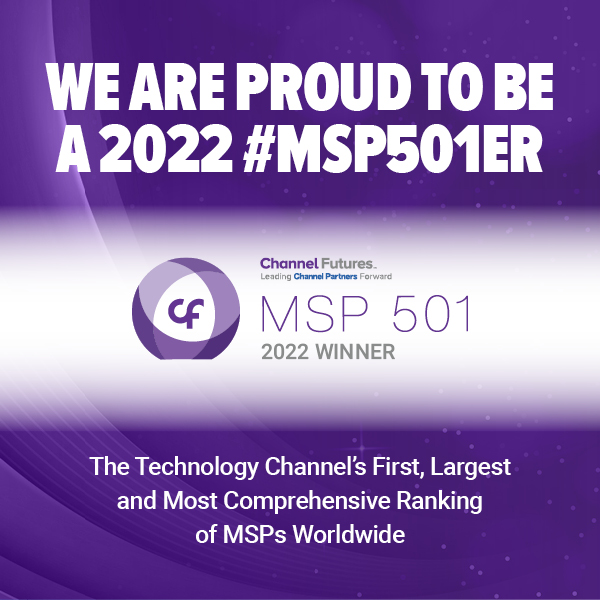 This is the fifth year we have received this recognition. Community IT is proud to be a top-ranked MSP, one of the only MSPs to receive this award working exclusively with nonprofit organizations.
For the past 16 years, MSPs from around the globe have submitted applications to be included on this prestigious and definitive listing. The 2022 Channel Futures MSP 501 attracted the most applications submitted since 2017. The Channel Futures MSP 501 survey examines organizational performance based on annual sales, recurring revenue, profit margins, revenue mix, growth opportunities, innovation, technology solutions supported, and company and customer demographics. 
MSPs that qualify for the list must pass a rigorous review conducted by the research team and editors of Channel Futures. It ranks applicants using a unique methodology that weighs financial performance according to long-term health and viability, commitment to recurring revenue and operational efficiency. 
Since its inception, the MSP 501 has evolved from a competitive ranking into a vibrant group of innovators focused on high levels of customer satisfaction at small, medium, and large organizations in public and private sectors. Today, many of their services and technology offerings focus on growing customer needs in the areas of cloud, security, collaboration, and support of hybrid work forces.
"The 2022 Channel Futures MSP 501 winners are the highest-performing and most innovative IT providers in the industry today. The 501 has truly evolved with the MSP market, as showcased by this year's crop of winners. This is also the fifth consecutive year of application pool growth, making this year's list one of the best on record."

Allison Francis, senior news editor for Channel Futures
Ready for IT support you can depend on?
We've found that many nonprofit organizations deal with more IT issues than they should have to. Resources are tight. Systems are unreliable, responses are too slow, and repairs are too expensive. Sometimes nonprofits don't even realize how bad things are until something big breaks and their mission is derailed.
Our process is based on 25 years of exclusively serving nonprofits. Our technicians have certifications across all major platforms, and we constantly research and evaluate new solutions to ensure that you get cutting-edge solutions that are tailored to the needs of your organization.
We regularly present webinars at Community IT about nonprofit technology issues, and we work hard to keep our nonprofit technology community informed and engaged in best practices, including this IT support for nonprofits guide. And thank you again to MSP501 who honored Community IT in 2022.
You might be interested in our free downloads How Do I Know If an MSP Is Right For My Organization? and our download and webinar 12 Questions Nonprofits Should Ask to Evaluate a Managed Service Provider (MSP). We created them to help our industry understand the MSP model and when it is a good fit for nonprofits.
If you're ready to gain peace of mind about your nonprofit IT, let's talk.