Transcript below
View Video
Listen to Podcast
Like podcasts? Find our full archive here or anywhere you listen to podcasts: search Community IT Innovators Nonprofit Technology Topics on Apple, Spotify, Google, Stitcher, Pandora, and more. Or ask your smart speaker.
Switching the Office Phone System to Microsoft Teams Telephony for Nonprofits
Would you like ONE communication and collaboration system for calling, chat and video conferencing? If you use Office 365, you already have it.
Easily route calls to the right person
Switch between video and audio calls
Add new members to an on-going call
Access voicemail from any device
Community IT has assisted several clients switch to Microsoft Teams for all their telephone needs. In this free webinar, Sarah Wolfe talks with Community IT CTO Matt Eshleman on
Benefits
Best practices for changing over
Avoiding downtime
Training staff on this useful tool you probably already have
Learn how Microsoft Teams features work for nonprofit office phones and how to switch securely and easily.
Should your nonprofit consider a switch to Microsoft Teams telephony?
Join Community IT's CTO Matt Eshleman and Sarah Wolfe for an in-depth discussion of the pros and cons of ditching your physical office phones system to use Microsoft Teams for staff phones, and how to handle the change over if you decide to switch.
As with all our webinars, this presentation is appropriate for an audience of varied IT experience.
There is (slightly) more to the change management than just asking everyone to use Teams now to make all phone calls. Learn how Microsoft Teams features work for nonprofit office phones and how to switch securely and easily.
Community IT is proudly vendor-agnostic and our webinars cover a range of topics and discussions. This conversation will feature a realistic look at the main virtual telephony tool available – but will also discuss the options for your nonprofit if you are not using Microsoft Teams or don't have the Microsoft Office 365 package. Webinars are never a sales pitch, always a way to share our knowledge with our community.
---
Presenters: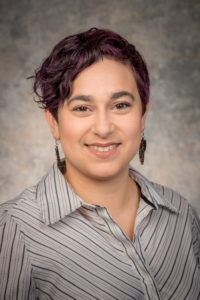 A DC Area native, Sarah Wolfe joined Community IT Innovators in March 2018. As the Associate Account Manager she is responsible for ensuring our partner organizations are receiving the right combination of IT support services to meet their organizational needs and goals.
Prior to joining Community IT, Sarah was a science teacher at various schools in Maryland. She attended Oberlin College in Ohio, graduating in 2008 with a Bachelor of Arts in Biology.
Sarah is excited to interview Matt on the topic of Microsoft Teams telephony for nonprofits, having dealt with a number of office phone set ups as a staff person in prior organizations, and also in her role as a Community IT account manager for clients with questions about best practices and saving budget on expensive office telephony they no longer need.
---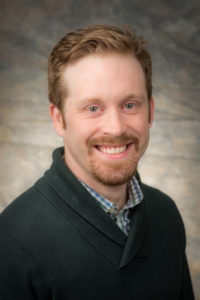 As the Chief Technology Officer at Community IT and our resident cybersecurity expert, Matthew Eshleman is responsible for shaping Community IT's strategy around the technology platforms used by organizations to be secure and productive. With a deep background in network infrastructure, he fundamentally understands how technology works and interoperates both in the office and in the cloud.
Matt holds dual degrees in Computer Science and Computer Information Systems at Eastern Mennonite University, and an MBA from the Carey School of Business at Johns Hopkins University.
Matt is a frequent speaker at NTEN events and has presented at the Inside NGO conference, Non-Profit Risk Management Summit and Credit Builders Alliance Symposium. He is also the session designer and trainer for TechSoup's Digital Security course.
---
Transcript
Johan Hammerstrom: Thank you all for joining us today. Welcome to the June 2021, Community IT Innovators webinar. We hope that your summer is off to a good start, and we're really happy that you could join us today.
Today, the webinar is going to be on Microsoft Business Voice. And we're going to hear about the telephony services that are available in Microsoft 365 and how nonprofit organizations of all sizes are starting to leverage these services to help meet their telephone needs.
My name is Johan Hammerstrom. I'm the CEO of Community IT, and I'm the moderator for this webinar series. The slides and recording for today's webinar are going to be available on our website and YouTube channel later this week. And we'll send out those links if you registered for the webinar. If you happen to be watching this pre-recorded webinar on YouTube right now, please subscribe to our channel and you'll receive automatic updates whenever we post new webinar recordings. You can use the chat feature throughout the webinar to ask questions, and we'll do our best to answer those questions.
Now before we begin, I'd like to tell you a little bit more about our company. Community IT is a 100% employee-owned company. Our team of 36 staff is dedicated to helping nonprofit organizations advance their missions through the effective use of technology. We're technology experts, and we've been consistently named a top 501 Managed Services Provider by Channel Futures, and we received that honor again in 2020. And now, without further ado, it's my pleasure to welcome today's presenters, Sarah and Matt. Hello.
Matthew Eshleman: Hey Johan, thanks for the introduction. It's always great to hear about that employee ownership and the fact that we've been recognized as a top MSP for the past couple of years. So as you see, my name is Matthew Eshelman. I'm the Chief Technology Officer here at Community IT and looking forward to talking about Microsoft Business Voice today, maybe a more focused content than we've given before, and happy to be joined by my colleague, Sarah Wolfe.
Sarah Wolfe: Hi, I'm a new face here. I'm a Sales Associate at Community IT and so, I work a lot with Johan and Matt, and it is great to be here.
Okay, so today we're going to be talking about Business Voice as Johan said. We're going to first talk about the
product, and then
how in the world licensing works,
get to see a demo. And then
getting started if you wanted to continue using Business Voice.
Matthew Eshleman: Great. So as we are just getting the webinar started, I'd love to get a sense of the folks that are on and your current use. So Johan, if you could just bring up that first poll in terms of asking a question: Are people using Voice over IP phone systems now?
Just a quick poll, go ahead and get in your response. And we'll get a sense for where current organizations are at.
Johan Hammerstrom: All right. We got about three quarters of the audience voting, so I'm going to go ahead and end the poll. Thank you for responding. And we got a few more votes just coming in here.
About 60% currently have a VoIP phone system, about 40% don't. I'll just share the results, do you want to see that?
Matthew Eshleman: All right. Yeah, that's good. Good to see. And then maybe as a follow on, since we're talking specifically about Microsoft Teams, which is part of Office 365, I'd love to get a sense for how many folks are already using that part of their productivity platform.
So again, two questions: Are you using Office 365? And are you using Teams? So there's two things, if you're already on Office 365, it makes the use of Microsoft Business Voice a lot easier.
If you're a Google Workplace customer, there may be some better integrated VoIP solutions for you. If you're already in Microsoft 365, there's some real benefits to using and adopting that telephony piece that Microsoft has built in and made it a lot easier to deploy here. So we'll take a look at that. It's good numbers to see in terms of the use and adoption of Microsoft 365 and Teams.
As part of the session today, you'll learn a little bit more specifically about what Microsoft Business Voice is, and how you may be able to implement it at your organization.
So Sarah, what are some of the questions that folks had when we were preparing for this webinar about this topic?
Some Initial Questions about Microsoft Teams Telephony
Sarah Wolfe: I know that some people were wondering: How does it differ from the normal VoIP experience and how often do you end up using it, as opposed to just using the Team's messaging and chat?
Matthew Eshleman: Yeah. Microsoft's take on this, as with many of their products, they keep trying, they keep trying, and eventually, they get it right. And so for folks that maybe are familiar with Skype, Microsoft has had an integrated phone system as part of their communication platform for quite a while. And I do think now is the time when they've gotten it right. It's really easy to deploy and it's really easy to manage. So again, Microsoft's perspective is really around bringing it all together. The features that are included in this Microsoft Business Voice, is really pretty comprehensive.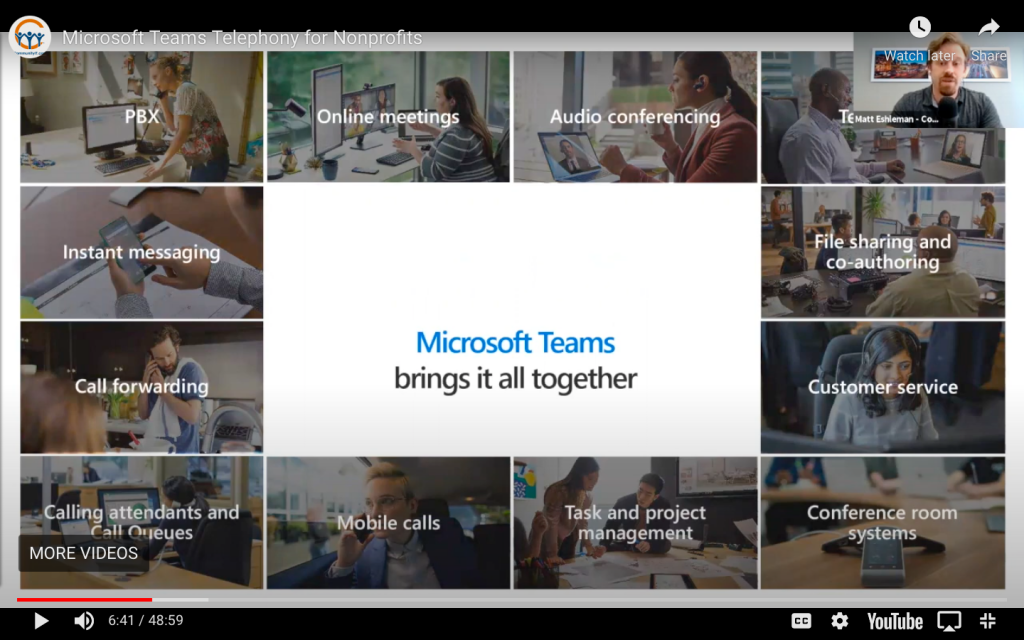 So as you see in the graphic here, they have the traditional what we call
PBX or Public Branch Exchange, your traditional telephony system.
For those that are using Teams already a lot, you may be using it quite a bit for online meetings. I know that that's a feature that I'm using quite a bit, maybe feels like too much, being in six hours of Teams meetings a day.
But then also, the audio conferencing piece is included as part of that,
along with instant messaging. So I think, there's a lot that's baked into the Microsoft Teams platform and
with the addition of the Microsoft Business Voice, means that you can essentially make phone calls from the Teams app.
That's the short answer, in terms of what Microsoft is providing with the Microsoft Business Voice platform.
So we can see, Microsoft's view really is around having calling, having chat, having meetings, all in a single app that is built on top of the Microsoft Cloud.
One of the benefits that I can see in terms of administering it, whenever we're supporting organizations that have Voice over IP phone systems, there's typically a whole separate deployment process that we need to go through in terms of setting up new users, deploying a desktop application. All of those things are separate and alongside. But now with Microsoft adding telephony service into the Teams application, it makes it a lot simpler. So we don't need to have a separate directory or create separate deployment apps.
That's some of the features. From that simplicity standpoint, I find it really convenient to have all of my meeting and phone information within one platform. So for organizations that are already using Teams pretty heavily, the fact that you can go in, see the Teams Dialpad option right within the Teams application, means that it's pretty easy to reach out and to connect to people.
For organizations that are using Teams as part of the collaboration quite a bit, it's easy to have that audio dial-in conferencing to let people get connected, and you're not having to switch back and forth between applications. Meetings are integrated. There's just a real expediency in terms of access and management that's included as part of the Teams platform in general and being able to call from anywhere from any device.
Remote Telephony Needs and Advantages
Sarah Wolfe: With all of these new integrations, and the big push to go remote with the pandemic, how has that really affected how organizations think about telephony and these services?
Matthew Eshleman: I think, it's really shifted quite a lot. I'd say pre-COVID and 100% work remote, there was a really strong sense of: "We need a phone system. I need a phone on my desk that I can pick up and push some numbers on a physical device, and make those phone calls," but that has really shifted a lot.
People realized: one, they're probably not getting that many phone calls directly that they want to receive.
And then, with the shift to a lot of these online meeting platforms and collaboration platforms, all of that has made these Voice over IP virtual meeting people a lot more comfortable. So, I got my headphones on, Sarah has her headset on and it's just really easy to do that without picking up a handset.
Sarah Wolfe: Personally, I do sales and I do some non-technical account management. I end up talking to one or two people on the phone every week or so. I have a lot of interactions within our team internally. But with organizations in the past year, there has been a huge move to talking about things online.
We do have a question that came in about what limitations this new Teams telephony has in comparison to Voice over IP or other competitor items?
Matthew Eshleman: We jumped right into the use of the acronym without doing some of the traditional definitions. Voice over IP is just basically making phone calls using internet or IP protocols. And so, there's lots of different Voice over IP solutions out there and available. Microsoft Teams is just one product.
And I think we'll talk a little bit about some of the licensing and integrations and some pros and cons later. But I think, from a straightforward perspective, being able to make and receive phone calls from your computer, it's very easy to do.
And in terms of features and benefits, I would say the integration and the fact that it's an application that you're already using, makes the deployment, makes the management and makes the support a lot easier.
You don't have to deal with a whole separate application. You don't have to worry about deploying and updating and managing a whole other desktop application, dealing with a whole other set of usernames and passwords. It can really help you to streamline and consolidate into one system that allows you to do all of that from one admin console, from one username and password perspective. And so, it really streamlines the use and adoption through that single platform.
Licensing and Pricing
Sarah Wolfe: Got you. So we have a couple questions that came in with the submissions and a couple of people in chat that are wanting to know about licensing, how that's going to work and pricing? What is the pricing? Is it going to lower at some point? Is there special nonprofit pricing? How does all that work?
Matthew Eshleman: The good news, especially for nonprofit organizations, is that Microsoft has applied the discounting that they're able to, to the Business Voice Teams pricing. So what you see here is the licensing for Microsoft 365 Business Voice; that's the official term. A lot of different terms get thrown around here, but it's essentially Microsoft 365 Business Voice, and the nonprofit pricing is $14 per user, per month. And so, that's a good number to look at.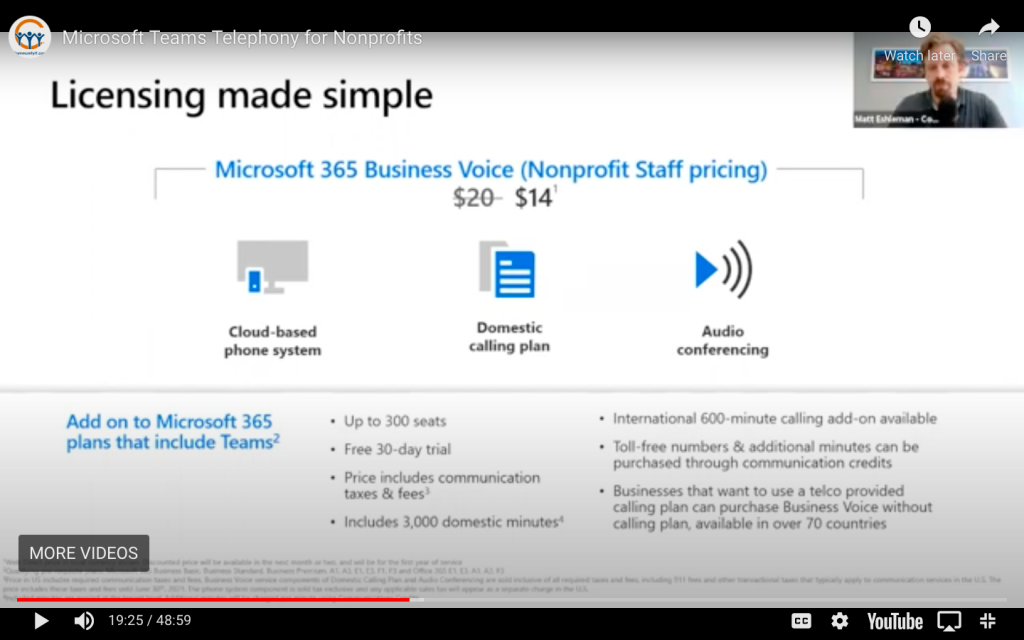 If you're currently a Voice over IP customer, we've seen most of our customers, in the range of 20 to maybe 30 dollars per month, per seat for Voice over IP pricing. So you can see this as a pretty affordable option to transition to.
In terms of the limits that are set by this Microsoft Business Voice, this is something that is scaled for up to 300 users. If you're larger than that, Microsoft does have some telephony options that are available to you. But the Microsoft Business Voice product offering is really tailored to those organizations that are 300 seats and under and I think that would be the place to start.
So if you're under 300 users, I think it's a good thing to look for. The nice thing is that there's a free 30 day trial. So if you're thinking about Voice over IP, or want to evaluate it, it's something that you can do as a self-service here in Office 365. You can search and add the Microsoft Business Voice user trial, and it'll work for 30 days, and so you can test it out. You can make and receive phone calls, you can do the whole nine yards.
And so it's really easy for organizations to test out and see if it's going to work for them. The pricing does include all the taxes and fees. So that's the price that you pay. And then finally, it includes 3000 domestic minutes per line. Those minutes are all pooled. This may be an area where you need to figure out how much calling you're doing.
My assumption is that as an organization, there's no way people are using 3000 minutes. At Community IT, we're looking at our metrics, and across the 35 staff we have, we were using less than 5000 minutes of outbound calling from our traditional phone system. By that metric, we have over 100,000 minutes available to us. We were using less than 5000. So I think that gives some sense of the scale of how organizations are using their traditional phones. My analysis is that, it's not that much.
As an organization, we do have a separate call center. We have a help desk, its staff, we have call queues and integration with our CRM and all kinds of sophisticated things. That's not something that we're doing with Microsoft business voice right now. So if you're in that category, if you're an organization that has sophisticated IVR systems, or you need to have integration with your CRM, or you need to have really detailed call logging and metrics and analytics, that might not be the best fit for you.
But if as an organization you need to make and receive phone calls, you need to have a basic auto-attendant, maybe need to have call queue and ring a group of people in a department, sales or marketing or communications team, it's a really compelling offering, The ease of use, the deployment, and also the cost. A lot of organizations, whenever they look at their Voice over IP bill and then compare it to what they're going to see with Microsoft Business Voice getting nonprofit pricing, it's going to be a really positive change for a lot of organizations.
Sarah Wolfe: So, we've talked about the licensing, we've talked about all the things that it can do. A majority of the people listening right now and possibly who are watching later on with YouTube, are already using Office 365, and a lot of them are already using Microsoft Teams. I know that we use Microsoft Teams a lot with the channel and things. How is it going to feel different than what we're already familiar with?
Free Demo
Matthew Eshleman: The good news is, it's not going to be very different at all. So what we can see here is just the demo scenario, (19:47) where we've got what is the pretty familiar Microsoft Teams app.
So along the left-hand side, you've got your activity, you've got your chat Teams, and then, there's just going to be this addition, once you're licensed, a little phone number, or a little phone icon which is calls.
You're able to bounce back and forth. So we can see here, we're going to call our user, Adele, you have a dial pad. You're able to connect, make the phone call. It's going to connect using the attached audio devices and those can be customized. And you'll be able to make and receive phone calls directly from the Teams application.
There are a couple of additional nice to have things that Microsoft has added in here. I think one of the nice things about having a physical phone is that it can ring and you can pick it up and hear it. If you're on your computer and you just have it plugged into your headset, maybe your headset's not on; you could potentially miss a call.
In Teams, you are able to add a secondary ringer, for example. So if you're always on your headset, that could be your primary device. But then, you could also add in a secondary speaker so that if you put down your headset or you're not wearing it, you can have it ring your computer speaker, for example, or some other device so that you can make sure you don't miss any calls.
Sarah Wolfe: Thinking about everybody working remotely, or occasional outages at the office, would you be able to set it to maybe ring to your phone, so you could still get your phone calls and services even if the internet goes down?
Matthew Eshleman: Yeah. This is a full service Voice over IP phone system. You can set your own call rules to have it ring your phone. You can also have it forward to cell phones or implement other call routing rules that would be relatively straightforward. If you don't answer in a certain amount of time, have it call your cell phone, call another device, call a colleague, you can even redirect calls to external numbers. So it is really flexible in terms of the management and deployment and gives a lot of flexibility in how the calls are routed.
Security
Sarah Wolfe: Okay. Excellent. Now, before we find out about actually getting it all deployed and everything, I know one of the big things on everybody's mind lately has been security. Just want to hammer home, how secure is Microsoft Teams telephony?
Matthew Eshleman: It would have the same potential weaknesses that other Voice over IP phone systems would. It's accessible over the internet and so it's predicated on a username and password. From that regard, there are a lot of benefits to security because this is tied into your organization's Office 365 account. So hopefully, you've already taken the steps to implement Multi-Factor Authentication. If you've implemented Multi-Factor Authentication, we know it has provided a lot of security against most of the automated attacks that are out there.
And so in terms of the risk of somebody hacking into the phone system to make and receive calls or update settings, or hack and mess around with the system, the risk is very low. I would compare that to other Voice over IP phone systems, that have been a little bit behind in terms of user setup and configuration and integration.
Those other Voice over IP phone systems represent another username, another password, potentially another Multi-Factor Authentication or another single sign on integration to implement. And so I think, from a security perspective, because it's a lot simpler, that helps the organization's security because it's one less thing to think about and to have to worry about.
Free Trial
Sarah Wolfe: Yeah, absolutely. You mentioned a free 30 day trial earlier, for people wanting to check stuff out, if you're already integrated.
Matthew Eshleman: Yeah, I just went back.
Sarah Wolfe: What do people need for getting started?
Matthew Eshleman: It is easy to get started. There's a free 30 day trial that is available through the Office 365 licensing portal. [When logged in to your Office 365 account] You can go and search for the Microsoft Business Voice product offering and that will come up. You'll be able to add a 30 day free trial.
In addition, you'll need two things. You'll need the business voice trial. That's the actual phone system licensing.
And then, they also provide 25 free numbers, as well. So you can go and pick phone numbers in whatever area code you want. If you're in DC or San Francisco or Chicago, you can find phone numbers to use as part of the trial process.
Assign users both the Business Voice License and a phone number. And then they would be able to make and receive phone calls to anybody from the Teams application.
As soon as the license is assigned to the user, that little phone icon is going to pop-up in their Teams application. And whenever you assign the number, the phone number will be there as well. So that's pretty straightforward.
For organizations, if all of that looks good, and the system checks off all the boxes in terms of your evaluation, Microsoft has a very straightforward process in order to port your existing phone numbers. If you are already in a phone system which has all of your phone numbers in it that are on your website, you don't want to change that for obvious reasons. You are able to bring those phone numbers along into Microsoft.
You don't need to get new phone numbers as part of migrating into Microsoft Business Voice for phones.
Sarah Wolfe: That is absolutely what was going to be my next question: do we need all new numbers? With porting from another provider, it sounds like it's going to be relatively straightforward, instead of pulling teeth or anything like that?
Matthew Eshleman: Yeah. I think the process is pretty straightforward. This is a procedure that is an industry standard. So porting numbers from one carrier to another is a supportive process. And so, there's a couple of steps that you have to go through in order to assign, understand where your numbers are, have an approved contact, have a verification, you have to notify. You may need to work with your existing Voice over IP providers to say, "Hey, we're going to port our numbers."
We've worked with a couple of organizations and even though it's one organization, sometimes the number blocks are actually associated with different carriers. You may have to make multiple number port requests to bring all the phone numbers across.
But, that process of getting numbers and scheduling a port, would take a couple weeks. So again, it's not like you'd be able to set up a phone system and port numbers over the next day. It's something you need to plan out. We're typically seeing three to four weeks to plan and migrate phone numbers from one carrier to another.
Q&A
Sarah Wolfe: Awesome. I do see a couple questions have popped up about how it's used and what Business Voice can do, or cannot do. So I'm going to bounce over to see if we can answer a couple of these questions live. Davon Mason asks, is there a caller ID feature? And I do believe the answer is yes.
And then, Andy asks, does it have any spam blocking services for like, against robocalls or allow for an API plugin to work with for that spam and robocall blocking?
Matthew Eshleman: Yeah, that's a good question. So on the spam robocall blocking, I'm not sure off the top of my head if that's something that Microsoft has built into their platform in the way that iPhone has done it. I will do a little bit more research and maybe have a follow up blog post, where we'll answer some of those questions associated with the Business Voice phone questions.
[Update: Microsoft Business Voice easily allows call blocking at the administrator and individual level]
Sarah Wolfe: In terms of getting these phone calls and everything done, some people really are connected to their desktop phones. I know some people really, really want those. Is there an option for those people who really want one to still have one?
Matthew Eshleman: Yeah. So if you're one of those folks that really loves your desktop phone, there are Microsoft Teams certified phones available. They have a link on their website where you can search through and find Microsoft Teams certified phones. They're newer. If you have an older style Voice over IP phone, that might not be something that you can bring along into Microsoft Teams. You may need to get a new phone. The same thing for, if you have a conference phone and it's the one of the Spaceship Polycom that's really ubiquitous; those may not be supported with Microsoft Teams in the same way. So there may be some hardware replacement that's needed, in order to support the connectivity and licensing.
The other thing, actually, in terms of that, one of the downsides associated with the Microsoft Business Voice licensing is, it's a one size fits all plan.
If you have 25 staff and five interns, but the interns need to make a phone call, but they only need to make one or two, there's no intern phone option. Everybody needs to be licensed. And everybody basically has the same phone calling plan. So again, if you're an organization that has unique phone needs, or maybe you only have phone needs for a very select few, but everybody has to have numbers, it may not be the best fit if you need that degree of granularity and flexibility. So it is a one size fits all approach in terms of the licensing.
Again, I think, that'll probably work for most organizations, especially whenever they look at the total cost across all licensed users. But it does present some lack of flexibility.
A little bit, on the higher end, if you're a very large organization, maybe you have your own direct routing partner,you can bring other phone providers in that will provide the so-called telephony piece. And so in that case, you may end up just licensing the Microsoft Business Voice phone license, but then use a third party provider to actually do the calling.
If you're in that case, with more sophisticated requirements, it may be worth working with a partner that could evaluate those needs to make sure you're getting the right solution.
Sarah Wolfe: Okay. Shameless sales plug: Would we be a good partner for evaluating those things?
Matthew Eshleman: If you're an organization that has under 50 users that have relatively straightforward calling requirements, if you're an organization that's not using a call center, your call system isn't integrated with your CRM, and you have relatively straightforward needs of telephony, that's our expertise.
And especially, if you're an organization that calls a lot, so maybe you look at this and say, "3000 minutes per person? Our people are on the phone all the time; we need 10,000 minutes! That's not going to work for us!" There may be some other solutions that may be better suited to meet those needs.
We typically are working with one of our partners CNSG, in order to do phone system evaluations for organizations that have really sophisticated requirements that may not be met with a Microsoft Business Voice option.
Sarah Wolfe: Okay. Now, circling all the way back to the people who really like their phones, we had another question come in that was on the other end of the system. They're wondering can you eliminate plain old telephones? Does Teams handle auto-attendant and call tree processing well?
Matthew Eshleman: The short answer is yes, it can, it does at all. So you're able to program auto-attendants, and have different options. The big concepts with phone systems are auto attendants, where you can call in and have a menu and choose different options, and then call queues, where you're able to assign multiple users into a call queue.
So for example, if you wanted to have your fundraising department, you publish that number. "If you want to give, call this number;" you would be able to set up a call queue in Microsoft Teams that would ring all four members of the development department, so they could take donation requests.
So those are the two main concepts that are included and available within Microsoft Business Voice. If you're an organization that has the IVR voice recognition where you're typing in your account number or doing other kinds of navigation through the phone tree, then this isn't a good solution. But if you just need a call tree to get people to the right department, maybe some basic call queue information to make sure multiple people are having their phone ring, that could just be their Microsoft Teams ring. I think this could check off a lot of those options.
Sarah Wolfe: Now, I know that for us, I have my Community IT email and Teams and everything go to my personal phone. You don't necessarily need a company phone to be able to use this on your regular cell phone, do you? That's another question that came in.
Matthew Eshleman: Yeah. That's correct. So all of this does come through the Microsoft Teams app. So obviously, there's a desktop app that's included as part of Office 365. You can also install the Teams app on your phone. And then you'd be able to make and receive those Voice over IP calls through your Microsoft Teams app on your phone instead of using your cell phone.
So I know, that's a nice feature, especially if you're making calls to a vendor, you can call from your business number as opposed to calling from your personal cell phone, so you can protect that personal information a little bit more. Just make the call from the Teams app on your phone. The outbound caller ID will appear as your business number, and that would be the number that would show up on the inbound caller ID for whoever you're talking to.
Sarah Wolfe: Got you. We did have another question come in from Amir, how will QoS be handled?
Matthew Eshleman: So that's a good question. QoS stands for Quality of Service. And it's a networking concept that really deals with how the voice traffic is prioritized relative to everything else.
With a voice call, it's very apparent if there's data drops or traffic is slowed down a little bit in a way that's not the same if you're just downloading a big file. If there's a blip in your internet connection, nobody really can tell because the file just catches up, and maybe it downloads a second slower than it would, but if you're having a voice call and the QoS, or the call quality is very poor, that's because there are packets dropping, as you're calling.
So I think Microsoft has done a pretty good job of optimizing their traffic. A number of years ago, they upgraded their entire backbone within the Azure cloud platform where this traffic starts. So they are implementing the QoS quality. They have some networking guides that will help you if you're doing a big deployment, you can do some network location testing. And then the thing that I appreciate is there's integrated call metrics that are available through the admin dashboard that you can go and see which users are having the most call quality issues and what are some of the root cause analysis of that.
You can go into the dashboard and say, "Oh, yesterday, who had the poorest call quality? And then what was the problem?" And it'll actually go down and show you network latency on this side as the root cause. And so it is helpful in terms of troubleshooting that information is included as part of the dashboard.
Sarah Wolfe: Okay. Excellent. And then Carol asks, can several phone numbers be directed to one user? But the answer is yes, from what you described with the call queues.
Matthew Eshleman: It can be handled a couple ways. A call queue would be one way to do it. You could assign multiple phone numbers to a single user or a single call queue. If you need to have some essentially basic call routing support, that's something that's available within the platform.
Sarah Wolfe: Awesome. Well, that, I've hit the limit of my questions. And one of the questions that came in with registration, and has been a greater focus at Channel Futures for this year and things like that, is how does Microsoft Teams and Business Voice address accessibility concerns for people with disabilities, be they visual or auditory? Have we had the chance to test out how good their accommodations are?
Matthew Eshleman: No, that's a really good question. And that's not something that I've been able to do testing on. I do think Microsoft in general has done a pretty good job in terms of accessibility in Teams. And so, that's another thing we could add into that follow up post. We can provide some more information about Microsoft and their approach for responding to those accessibility issues within the Teams platform.
Sarah Wolfe: Yeah. Okay, well, our Q&A queue is empty. And I have, I believe, hit all the questions that people had going into this webinar.
Matthew Eshleman: Great. So, our contact information is up there. Please feel free to drop us a note, or you can schedule some time to talk about Microsoft Business Voice or other IT issues with Sarah.
We'll look forward to seeing everyone next month, (July 21) when we talk about Preparing your Laptops for Takeoff. This will be another focused session where we'll be talking about Microsoft Autopilot as a way to automatically deploy, set up and configure laptops and other computers for staff.
Johan Hammerstrom: Matt, do you mind going back to the resources slide?
Matthew Eshleman: Sure.
Product webpage: https://www.microsoft.com/en-us/microsoft-365/business-voice
Documentation hub: https://docs.microsoft.com/en-us/MicrosoftTeams/business-voice/
Sarah Wolfe: Oh, we didn't really give you time to share out those links?
[The links to the demo and free trial will work only for Office 365 Teams users who are signed in.]
Johan Hammerstrom: I wasn't fast enough. So this is, as Matt said, these are some very helpful links. I'm going to chat those out right now, so you don't have to type in the URLs. There's the link for the demo, I'll give everybody a moment to copy these as well.
Someone had asked earlier about the 30 day free trial, if you're interested in getting that going, here's the link, just click on it, copy it, follow it. And you'll be able to start your free trial.
And Matt, that brings to mind, we have a couple of clients that we work with that have sort of unusual telephony needs that have enabled us to think outside the box a little bit when it comes to telephony. In the old days, if you will, you had your telephony solution, your phone numbers, and making any changes to it was inconvenient, expensive, difficult to implement.
So if you were opening a field office, you didn't want to think about their telephone system, because all you could think about was all the headaches you were going to encounter trying to get them set up.
One of the things that I've been really impressed with this solution is the way in which you can just roll out phone numbers very quickly. You have a new field office opening up in another location, you have an office in another city, it's easy to just get those new staff set up with a phone number, right away without having to make any changes to your existing phone system. So that's been an interesting use case that I felt really saved this organization a lot of money and a lot of time to be able to do that.
Matthew Eshleman: Yeah, I think that's a great point. I think being able to add as little or as many user licenses as you want is really helpful. There's a free trial, it's limited to 25 users, but whenever you're ready to get started, you can get as few or as many licenses as you want.
And I would say the other thing to keep in mind is, with these cloud services, even though you're paying by the month, you're essentially buying an annual contract. Because there's no bulk price discount, there's no incentive, or there's no reason to buy any more licenses than you need right now.
So again, if you need phones for 10 people just buy 10 licenses. When that 11th person comes, you can buy a license for them at that point. So there's no need to try to buy a whole bunch of licenses to have them in reserve. You're able to cycle those on, those are a pool of licenses. They're not named. If somebody leaves, you can take their license and assign it to the next person. You don't need to buy a new license and associate it with each individual user. That flexibility is key. So you don't need to expand your big legacy on-prem system, you can just quickly adapt and add this one on.
Sarah Wolfe: Yeah. I know that the flexibility and the scalability of the licensing is really exciting for me, on the account management side. A lot of times I end up having to help some of our clients slim down their license counts. And they realize, "Oh, we've had this license bloat over the last five years," and then having to go in and clear those out in one big push, as opposed to just ramping up and ramping down as needed. It's great.
Johan Hammerstrom: There were a number of questions early on that were specific to an organization's unique needs. And one of the interesting things about telephony is that in some ways, even more so than other IT solutions, every organization has unique needs. Either you're using your phone system right now, you're not using it all, you don't know how your staff are making phone calls, or even if they need to, or you have handsets, and people need to be able to still use those.
I think what we found with telephony is that every organization has a unique set of requirements when it comes to telephony. And we've done our best to provide general answers, but we'd be more than happy to spend some time talking with you about your specific situation and how Microsoft Business Voice may be a good solution. It may not, there are cases where more traditional telephony solutions might still be more effective. But I think we're entering a new era, in that you now have other options. And it's really important to be aware of that and to evaluate those options relative to your business requirements.
And then next month, we've got Prepare Your Laptops for Takeoff. We're going to be talking about some new tools that Microsoft in particular has made available to provision laptops, basically the moment when they ship. When you order a new laptop from Dell, or CDW, or Lenovo, whoever, you now have the ability to have those laptops shipped to you ready for use by your organization pre-configured, ready to just basically turn it on and more or less start working on it.
There's some nuances and details that we're going to go over in this webinar, but it really is a game changer, especially in this day and age, when so many organizations are remote and dispersed. So, please join us next month for that webinar. If you're not familiar with Microsoft Autopilot, or Intune, or some of the new ways that exist for provisioning laptops more quickly and more efficiently. It's going to be really interesting. And we've had a lot of experience with this over the last year and a half and have been really impressed with this solution, and how much time it saves.
You'll be getting a notification by email with the link to register pretty soon, any day now. That's going to be Wednesday, July 21st. If you aren't available that day, it's the middle of your summer vacation, that's okay. We're going to record it, and we'll make the recording available afterwards, but it should be really interesting conversations, just like today's!
So thank you, Sarah. Thank you, Matt. Thank you to all the attendees for joining us today. We appreciate your time and look forward to you joining us next month.