Transcript below
View Video
Subscribe to our Youtube Channel here
Listen to Podcast
Like podcasts? Find our full archive here or anywhere you listen to podcasts: search Community IT Innovators Nonprofit Technology Topics on Apple, Spotify, Google, Stitcher, Pandora, and more. Or ask your smart speaker.
Community IT Voices: Robin Harris Update, Cloud Technology Engineer
Join us for our series featuring interviews with Community IT employees. In this series, we talk about nonprofit technology career paths, career resources, skills, and certifications. We will also touch on mentoring opportunities as you start out on your career and ways to give back if you are further along. If you are wondering what it is like to work at a place like Community IT, you can learn about it here.
In today's interview, Carolyn catches up with Robin Harris, who has been promoted to become a Cloud Technology Engineer, working on complex migrations to SharePoint file sharing. Robin shares her career path and how her managers at Community IT tapped her for this role based on the way she was interacting with clients and her experience. She works now within the cloud migrations practice and exploring new options for clients. She sees a continued need for further advances in cloud platforms and is excited to be mastering this for our clients.
"I love to investigate what makes things tick. When I was little my parents got me an Easy-Bake Oven and I might have baked one cake in it. The next day, I took it apart to see how that little cake was baking. So those kinds of things have always intrigued me. And even cloud technology right now, we love to experiment and try new things and see what else we can offer our clients by seeing what's under the hood, so to speak."

Robin Harris, Cloud Technology Engineer
---
Speakers: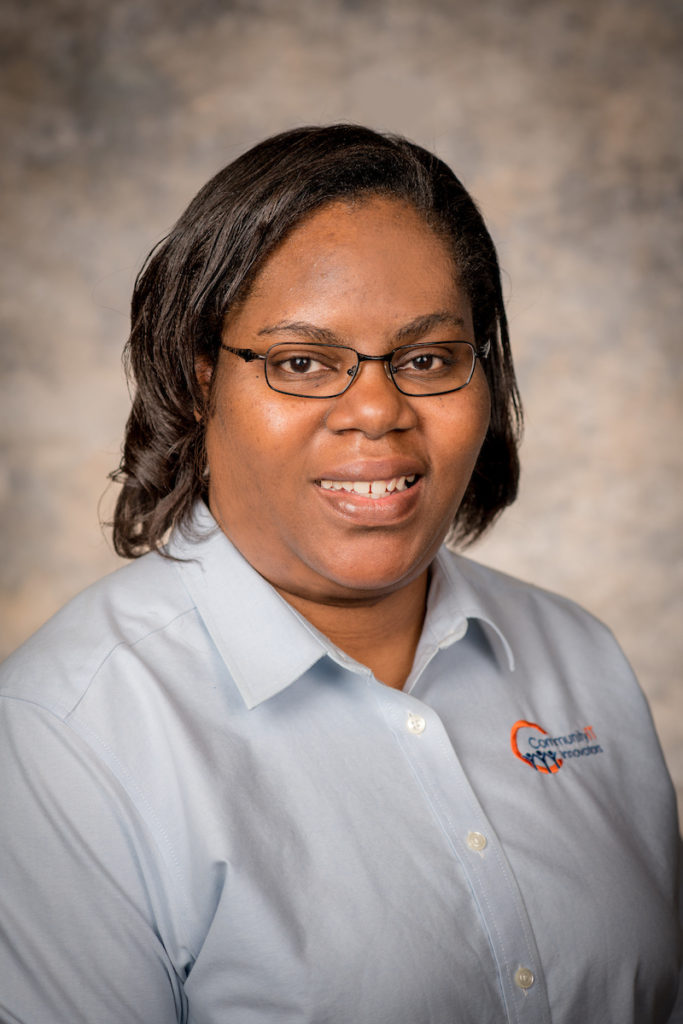 Robin Harris is the Cloud Technology Engineer working primarily on SharePoint migrations and other tech projects. Her mission is to help clients become more comfortable using cloud technology to work from anywhere. When problems arise, her approach is calm and caring and she aims to eliminate anxiety. Prior to joining Community IT Innovators, Robin worked at a local charter school for 10 years.
Robin enjoys being able to work in the Information Technology field while contributing to the overall missions held by nonprofits. Church, children, knitting and Star Trek occupies her time when she is not working. Robin has A+ certification, and is pursuing Microsoft Certified Professional certification.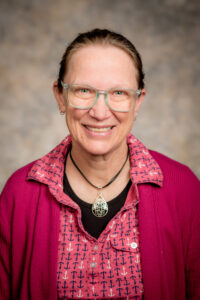 Carolyn Woodard has served many roles at Community IT Innovators, from client to project manager to marketing. With over twenty years of experience in the nonprofit world and marketing, including as a nonprofit technology project manager and Director of IT, Carolyn knows the frustrations and delights of working with technology professionals, accidental techies, executives, and staff to deliver your organization's mission and keep your IT infrastructure operating.
Carolyn is excited to help manage Marketing at Community IT Innovators and is always looking for new ways to tell stories and reach people. She has a master's degree in Nonprofit Management from Johns Hopkins University and received her undergraduate degree in English Literature from Williams College. She thinks the best thing about being with Community IT Innovators is the people.
---
Transcript
Carolyn Woodard: Welcome everyone to the Community IT Innovators Voices Interview series. My name is Carolyn Woodard. I am the Outreach Director for Community IT. And I'm very excited today to be interviewing Robin Harris, who since we last talk has received a promotion, and she is now a Cloud Technologies Engineer. So Robin, welcome. And would you like to tell us about your new position?
Robin Harris: Hi, thank you. Yes, my new position is, like you mentioned, as Cloud Technology Engineer. And what I primarily focus on right now is SharePoint Migrations. So it's my duty to assist our clients from one platform, whichever platform they're using, either their local file server or another service onto the Microsoft 365 file cloud sharing platform, which is SharePoint.
Carolyn Woodard: So I want to hear a little bit more about this. As I understand it, this is kind of a practice within Community IT, when we have clients who either come to us knowing that they want to do such a migration, or they come to us with kind of some existing issues with how they're doing file sharing and collaboration or storage. And so as part of our interaction with them, we may recommend, you already have Microsoft, you already have SharePoint, it makes sense for you to do a migration. So is that how it kind of works? And how do you interact with those clients?
Robin Harris: So far, I've had two types of migrations. One is from a file server that is usually nearing end of life, which means there's no longer any support available for that server. And rather than purchase a new server, everybody's moving to the cloud now because of the versatility it offers. So those clients are usually brand new to the platform and brand new to the concept of sharing their files, both amongst their colleagues as well as now they can share externally, which they couldn't before.
And then the other type of migration I've done is from platform to platform. So from Dropbox to SharePoint, which is a very similar almost lateral move. It just usually saves them some money because they're already paying for the cloud storage in Microsoft 365. So why not use that as opposed to paying Dropbox. So those two client types so far is all I've handled. In both cases, the client is usually extremely willing to embrace the new platform. So it's pretty cool.
Carolyn Woodard: I know that we work very collaboratively with our clients. So I don't know if this is even a question that you can answer, but is there a standard amount of time that it takes for a migration to happen? If we have someone out there thinking about, oh, I really need to move to SharePoint, are there parameters that you can give them for about how long it takes and how involved a process it is? What usually happens?
Robin Harris: For the most part, I would say on average, the migrations that I've done have taken about six weeks. And in some cases longer. The longer cases are usually for larger organizations. They usually have to work out different locations that their files are going to go to. They're also working out permissions to their files as well. So we actually walk the client through determining how many sites they'll need, and what permissions and permissions levels they need to have on their new sites.
Carolyn Woodard: Wow, that's amazing because I think just hearing about it, I would have assumed that it took like six months or a year to do a migration. So when you said six weeks, I was kind of like, wow. And that's including like the assessment and kind of like what you have to begin with that needs to move over to the new place?
Robin Harris: Well, so far, I have gotten my projects after the assessment has been done. So they've been assigned to me depending on what they need. And therefore, the six to eight week window is what it takes after someone has already assessed how much data they have, any content on their current platform, those types of issues are usually worked out before I get them.
Carolyn Woodard: Oh, I see. So when they come to you, the engineer, they're already ready to go and then you're helping with the technical aspect of changing platforms?
Robin Harris: Right. Mostly as I become more experienced, I probably will be involved more in the discovery stage as well.
Carolyn Woodard: That is a great segue for me to ask you about your background. So what made you interested in this type of engineering? And how did you prepare in your previous role?
Robin Harris: So far, well, I would say beginning in 2020, when everybody went home, it was necessary to investigate and learn more about cloud technology. And so I was already primed for what Microsoft 365 could do in that area, as well as just being able to consult clients. It's a strong suit of mine to be able to communicate with our clients and see where they're coming from and meet them there.
Carolyn Woodard: So you started working more in your previous role with clients who were just kind of suddenly moving to the cloud. Then did you study this, or did you shadow someone, or how did you gain more experience?
Robin Harris: I did take the Microsoft exam MS-100, which did prepare me for at least what Microsoft has to offer and how to manage it in the admin center. But as far as any further training, I've been working very closely with my colleagues, Henry and Steve, just to get up to par and every day I learn something new. So it's been really cool.
Carolyn Woodard: Where do you think this career will take you? I mean, I feel like we're going to be in the cloud for the foreseeable future. I'm sure there are still a few clients who are going to have to, as you said, move from a physical server into a cloud-based system and SharePoint is one of them. I mean, I assume there's going to be work for a long time, but do you have ideas about where you'd like to develop more?
Robin Harris: Well, right now we just do the basics as far as using SharePoint, but SharePoint is actually a very versatile tool. And what I envision and hope to move into is just some more of the higher level things that SharePoint has to offer as well as some of the other items in their stack like Streams.
Carolyn Woodard: We're going to be in the cloud for a while. I'm really interested in, you said that you kind of noticed it when we were all kind of plunged into this online world in 2020. Did you go to your managers at Community IT and say, "hey, there's this area I'm really interested in learning more about it and improving my skills there"? Or was it something where they said, "hey, Robin, you seem to be really doing a lot of these, would you like to learn more?" How did that happen?
Robin Harris: I was actually interacting with the clients more in a way that kind of gained the attention of my supervisor who thought this would be a good fit for me. And so far, I have loved it. I was a little nervous at first because it is a new way of doing things for me. But it's really, it's still more just meeting clients and helping clients, which is what I love to do about my job anyway.
Carolyn Woodard: I know that about you. I think our clients are lucky to have you calmly holding their hands through the migration and saying, "it's going to work out." Because I know for myself that would be, I'm sure very stressful, moving to a new platform, training your people on how they're going to be doing this now. And as you said, it's a platform that has so many different things you can do. So having someone like you lead them along, saying "this is what we are going to be doing and how you are going to be doing it," I'm sure is very reassuring for them as well.
Robin Harris: Right. And taking the simplistic approach to just offering the basic file storage is enough. It's usually all they need and then showing them what they can do within that, that's the easiest way and it takes a lot of pressure off for the client as well.
Carolyn Woodard: It feels like once you get into it, then you can explore more about what SharePoint can do instead of starting off with everything.
Robin Harris: Right.
Carolyn Woodard: So I'm interested also – you know we were talking a little bit before this about women in different careers and how a lot of careers are changing and women are finding more parity and more opportunities and more ability, being able to show their abilities more.
So when you were little did you think, "oh, one day I'm going to be a computer engineer!" and was that something that you had as a goal?
Robin Harris: No, because computers weren't as prominent as they are now when I was little, but I did know I wanted to be a scientist of some sort. I love to just investigate what makes things tick. When I was little, my parents got me an Easy Bake Oven and I might have baked one cake in it. And the next day I took it apart to see how that little cake was baking.
So those kinds of things have always intrigued me and even cloud technology right now is, we love to experiment and try new things and see what else we can offer to our clients, by seeing what's going on under the hood, so to speak.
Carolyn Woodard: Can you tell me a little bit more about your background? Did you grow up in the D.C. area?
Robin Harris: No, I grew up as a Navy brat. My dad served in the Navy for 26 years and we moved around to Japan. And mostly when I was in the United States, I was in the Southern United States, so Florida, Charleston. And when I was away, we were in Okinawa and mainland Japan, kind of intermittent, taking turns stateside versus being abroad.
And I guess growing up around the military, I also got to see many women doing many different career paths. So it was just always a given for me that my parents just, my mom told me she knew I was going to be an engineer and that just floors me. And she said she knew it from the Easy Bake Oven incident.
Carolyn Woodard: Well, thank you so, so much for catching us up on what you've been doing and where you came from. And I'm sure this role, I mean, it just seems like such a natural fit for you. It's so great to hear about the different times that Community IT can really support people internally with changing their role or taking on something new, figuring out how to do it. So it was just lovely to talk to you. And thank you again so much for sitting with me for this interview.
Robin Harris: Thank you.
Catch Robin's previous Voices interview here.
---
We hope you enjoyed this Community IT Voices interview with Robin Harris, Cloud Technology Engineer. Community IT is the right place for you if you find fulfillment in helping others succeed and want to work for a company that serves nonprofits.
Our employees stay and grow with us, and over half of our staff have been with us for over a decade. Community IT is an employee-owned company with a positive, sustainable workplace that promotes professional development and a healthy work/life balance. We have been 100% employee-owned since 2012. Check out careers with us here.