Diverse Perspectives on Thriving in Nonprofit Tech Careers:
Panel Webinar
View Video
Listen to Podcast
Like podcasts? Find our full archive here or anywhere you listen to podcasts: search Community IT Innovators Nonprofit Technology Topics on Apple, Spotify, Google, Stitcher, Pandora, and more. Or ask your smart speaker.
Community IT Innovators has long recognized the necessity of creating a workforce and an internal culture that values inclusion. Providing IT services exclusively to nonprofits for over two decades, we learned early on the importance of hiring technical staff who reflect the diversity of the organizations we serve: over 50% of management roles and 68% of staff are from traditionally under-represented communities. We've learned to seek out non-traditional applicants and support under-represented employees when they join our company. We always want to get better. We welcome the opportunity to learn from experts and understand a diversity of experiences. Following the murder of George Floyd in 2020 we have taken several steps to elevate anti-racism work within and without Community IT. You can view our progress report here.
We were really excited to present this group of amazing women working in various roles in nonprofit tech for a panel discussion of what it takes to thrive in nonprofit tech careers, and how you can create inclusion-focused workplaces in your organizations.
What support has helped you get where you are today in nonprofit tech? What experiences have shaped your career? What have you had to overcome?
Learn and listen! How can you be an ally? How can your workplace provide an environment where everyone thrives that helps your nonprofit mission take off and fly?
As with all our webinars, this presentation is appropriate for an audience of varied experience.
Community IT is proudly vendor-agnostic and our webinars cover a range of topics and discussions. Webinars are never a sales pitch, always a way to share our knowledge with our community.
Presenters: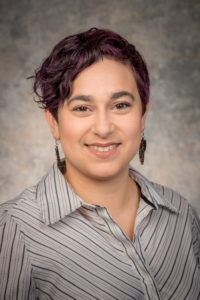 Sarah Wolfe, Moderator
A DC Area native, Sarah Wolfe joined Community IT Innovators in March 2018 as Account Associate before being promoted to Sales Manager. She is responsible for ensuring our partner organizations are receiving the right combination of IT support services to meet their organizational needs and goals. She is a founder of the internal BLM working group at Community IT.
Prior to joining Community IT, Sarah was a science teacher at various schools in Maryland. She attended Oberlin College in Ohio, graduating in 2008 with a Bachelor of Arts in Biology, and took classes at UMCP for her teaching certification. In her free time, Sarah enjoys gardening, crafting, and curling up with her menagerie to read a good book or science blog.
To learn more about what it is like working at Community IT, please see our interview Community IT Voices: Sarah Wolfe. Sarah was excited to moderate this panel on diverse perspectives on thriving in nonprofit tech careers.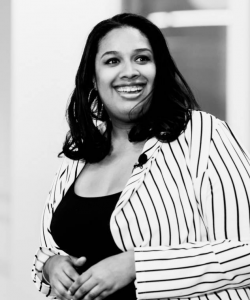 Stefanie Cruz
Stefanie Cruz is CEO and Founder of Digigeeks Collective and is a strategic communications professional with 15+ years' experience.
She was one of the first digital strategists on Capitol Hill. She worked in partnership with the Democratic task force to support and encourage Members of Congress and Committees to embrace digital and social media tools to share legislative updates and create online communities.
Most recently, Stef served as the Vice President of Marketing and Digital at America's Promise Alliance. You can learn more about Stef and her work listening to nonprofits here.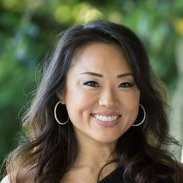 Angela Kim
With 13+ years of experience in the private and nonprofit sectors, Angela Kim brings significant operations, project management, and business intelligence expertise to the philanthropic sector. She is driven by mission, impact, and helping nonprofits to do more social good across our communities. She has been Director of Finance and Operations at Academy of Hope Public Adult Charter School in DC for two years, arriving just as the pandemic was changing their campus-based learning model for good.

She is a graduate of the Columbia University Nonprofit Management Masters program and has served on multiple nonprofit boards. To learn more about Angela's story, listen in to her The Heart of Giving Podcast episode to find out what motivated her to make an inspirational, life-changing, mid-career decision.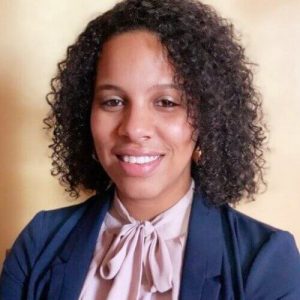 Sandy Martins
Sandy Martins serves as the Director of Information Technology at MENTOR. Raised in Boston by strong women, she's a proud first-generation Cape Verdean American who values hard work and perseverance. For Sandy, work reflects who she is: a leader, a collaborator, and a strategist. She's spent the last 16 years helping companies and organizations implement and improve business processes by managing complex, technology-driven projects while supporting their mission and strategic vision. Sandy has diverse expertise in the technology sector, including network technology, health IT, and software and application development.
As the Director of IT, Sandy guides the internal technology committee to assess and recommend organization-wide technology improvements at MENTOR while fostering an environment of collaboration, continuous improvement, and learning. Additionally, Sandy manages the organization's roadmap of enterprise initiatives, ensuring a plan for growth in alignment with MENTOR's mission, vision, and values.
Sandy, a life-long learner, holds a bachelor's degree in Computer Graphics and New Media from Johnson & Wales University (Providence, RI) and is on the path to complete her MBA program at Providence College in 2023. Learn more about Sandy Martins' work at MENTOR here. Learn more about MENTOR's free resources on race, inclusion, and cultural respect here.
---
Transcript below
The panelists shared several resources and links during the presentation, and in response to an audience question have forwarded more resources that they personally value.

From Sandy:
My organization, MENTOR, has a ton of resources on inclusion, race, cultural respect, and how mentoring can drive equity in the workplace. In particular, this free pdf on Why Workplace Mentoring Matters will be of interest to everyone looking for more actions to take on this topic.
Brené Brown – Unlocking Us Podcast – so many great insights.
There's also the podcast Innovating Leadership Co-creating our Future by Maureen Metcalf.
Dropping two links to these highly recommended self-help and leadership books:
From Angela:
I highly suggest this book to all leadership teams corporate, nonprofit or anything – Brené Brown's Dare to Lead. It's been hugely helpful for me and the entire leadership at Academy of Hope to get really comfortable with very uncomfortable, difficult conversations and to get really vulnerable. This has truly been a great catalyst for myself to look inward as a leader and influential member of the organization and also how I show up in life.
I am a huge fan of the HBR Women at Work podcast. They broach a lot of conversations that help give me a lot of perspective I didn't have before. I just heard an episode called Leading with Authenticity. Stef's comments during our presentation made me think of it. This podcast series is full of great information, research, and various perspectives.
From Sarah:
Check out the DEI resources from Nonprofit Learning Lab. You can spend a lot of time working through this list.
NTEN also has many member-driven resources available to address what is clearly a need in our sector: you can join the DEI and Equity committees and communities, and download their Equity Guide for Nonprofit Technology on the equity issues in nonprofit, tech, and nonprofit tech.
From Carolyn:
One of my absolute favorite blogs on nonprofits, nonprofit culture, assumptions about foundations and philanthropy, NonprofitAF by Vu Le, is a very funny, bracing, and honest conversation around all our inherent biases and the traditions of the nonprofit sector that work against equity, from a practitioner not a power-broker. It's a great place to start learning and feeling uncomfortable with your assumptions.

I also recommend this article on the problems with the term JEDI (Justice, Equity, Diversity and Inclusion) – as big Star Wars fans my family has an ongoing conversation about themes and difficult issues with the series, led by our teens – and this article pulls out a lot of those ideas and discomforts in one place.
Transcript
Carolyn Woodard: Welcome everyone, to the Community IT Innovators' webinar series. We're so happy that you could join us for today's webinar on diverse perspectives on thriving in nonprofit tech careers.
We're excited to partner with three women in technology today from three different career paths, who will have a conversation about building support and finding environments where women of color can thrive in our sector. This conversation will be moderated by Sarah Wolfe from Community IT. I want to say at the outset that in our prep meetings, we have been very clear with ourselves that if someone knew exactly how to create inclusive workplaces, we'd all be doing it already.
So we don't have all the answers in the session today. We're interested in exploring in this conversation where the women who are panelists have personally come from and where we can see our sector going. So Sarah, if you want to go to the learning objectives, I'm going to read it aloud as well.
Learning Objectives
Today the audience will be able to use anecdotes from the panelists personal experiences to
Describe organizational practices and individual behaviors that can contribute to a safer, more equitable and more inclusive nonprofit tech industry.
And to be able to identify organizational structures and individual behaviors that can create obstacles to that goal.
We encourage you to submit questions and comments through the Q&A feature today. And many of you submitted amazing questions at registration already and since this is such a big topic, we know that we can't cover everything today. You can contact us or the panelists after the webinar for follow up and suggestions for our next webinar on diversity in nonprofits and nonprofit tech. [Contact information at the end of the transcript] We are recording today's conversation and the video and podcast will be available on our website, so you don't have to worry about taking notes.
After the webinar, you'll also receive an email with a link and it will be posted to our YouTube channel as a webcast episode in two parts within a week. If you happen to be watching on YouTube right now, we encourage you to subscribe to our YouTube channel, to get the updates every time we post a new webinar and also subscribe to our email list from our website. We don't send a lot of emails. We send updates on the webinars we offer every month. You can attend in real time and ask your questions at registration, or during the webinar. We have lots of free resources and downloadable material on our website.
Before we begin, if you're not familiar with Community IT just a little bit about us. We are a 100% employee owned, managed services provider. We provide outsourced IT support. We work exclusively with nonprofit organizations and our mission is to help nonprofits accomplish your missions through the effective use of technology. We have about 40 staff. We started in the DC metropolitan area over 20 years ago, and we now serve nonprofits across the U.S. We're technology experts and we are consistently named a top 500 managed service provider by Channel Futures and that's an honor we received again in 2021.
So let's get started with this important conversation. I'll start by introducing myself. My name is Carolyn Woodard and I'm the marketing director at Community IT. I identify as a white, older cisgender woman. And I'm so excited that after talking about doing this webinar topic for about a year, we were able to bring together these panelists and I am here to listen. In a moment, I'm going to turn off my camera and I'll be monitoring the Q&A and helping Sarah as she participates in this conversation. So Sarah, do you want to introduce yourself?
Sarah Wolfe: Yes. Hi, Carolyn. I am very excited to be here today. My name is Sarah Wolfe. I'm the sales manager for Community IT, and I use she/her pronouns and I'm a cis, mixed Latina women who lives on Anacostia land. My journey here was not linear. I graduated with a BA in biology in the summer of 2008. I eventually found my way into education, where I spent the next decade teaching various science classes to middle school and high school students. After years of denial, I admitted to myself that I was in a toxic relationship with teaching and was burned out. At a loss of where to go and what to do next, a friend pointed me in the direction of Community IT. I joined in 2018 as an Accounts Associate, and since then I've helped found the Community IT Black Lives Matter Working Group and moved into sales management, September of last year.
As Carolyn mentioned, we've been very excited about hosting this webinar. Over the past few years Community IT has been more explicitly deliberate in our attempts to create an equitable and inclusive environment for our employee owners. We haven't always gotten it right, but we're trying to do our best and trying to learn from both our successes and our failures. One of the things I've taken away from the work I've done is that having open and honest discussions can often be the best way to learn and grow as an individual and as part of an organization. I'm not an expert in equity and inclusion, but I am excited to learn. Some of the things that you'll hear today may be new to you, or they may be things that you've heard many times before. We're hoping that this will be the start of a longer conversation.
Panelists
On that note, I would love to briefly introduce our panelists before they share their own stories. We wanted to gather people with a wide range of experiences since nonprofit and nonprofit tech is such a wide field.
Stefanie Cruz is a strategic communications professional with over 15 years of experience, mobilizing millions of individuals to action across national social movements including the Women's March, Families Belong Together and the March for our Lives. She was one of the first digital strategists on Capitol Hill. And most recently, Stef served as the vice president of marketing and digital at America's Promise Alliance.
Angela Kim has been the Director of Finance and Operations at Academy of Hope for two years and has over 13 years of experience in the private and nonprofit sectors. Angela is a graduate of the Columbia University, nonprofit management master's program and has served on multiple nonprofit boards.
Finally, we have Sandy Martins. She serves as the Director of Information Technology at MENTOR. She is a proud first generation Cape Verdean American with 16 years' diverse experience in the technology sector including network technology, health IT and software application development. She spent years helping manage complex and technology driven projects and holds a bachelor's degree in computer graphics and new media from Johnson and Wales university, and will be completing her MBA program at Providence college in 2023.
I would love to have Stef start us off if she can, if she's comfortable with sharing her story and her life experience.
Stef Cruz: Hi, welcome everyone. I'm super excited to be here with you all, I am based out of Arlington Virginia. I'm originally from New York city. I am Latina and my experience coming out of school, I was a poli-science sociology major at Pepperdine University and decided I wanted to both work on the Hill, understand government and also understand nonprofit and how the two work together. So I actually split my time. I ran a digital media program for girls and young women of color in Columbia Heights, D.C. straight out of college. And I also worked on Capitol Hill for a member of Congress. Transitioned to working full time on the Hill for about seven, eight years. I was on the Hill, helping members of Congress understand what digital and online strategies were before they knew what Facebook was, so back in 2006, before Obama really made people understand why digital was important.
My focus is on community building and organizing. So really utilizing online tools to help bridge the gap, when I was on the Hill for members of Congress and their constituents at home. I did that work and really enjoyed being a part of that pivotal moment where folks really began understanding technology, digital and the important role that it played in the work that they were doing.
After about seven years, I transitioned to the nonprofit sector. I worked at AARP for about two years working in the Public Policy Institute really utilizing online tools, again to mobilize individuals towards action.
Then, I transitioned to America's Promise Alliance, which is General Colin Powell's Education Foundation that he started a number of years ago. There, I was the VP of marketing and digital strategy and really thinking about how we leveraged online tools to mobilize 450 national partners, lifting up their work from the ground and really sort of creating more of a larger impact in the work that we did.
After doing that work for about four to five years, I decided to transition to consulting. So I left my full-time work and have been doing consulting full-time for about three years now. And it's allowed me to broaden the types of organizations that I work with, working both with corporate and nonprofit in the social impact space.
About a year ago, I launched my own agency. It's DigiGeeks Collective, slightly different from a traditional agency. We are a group of consulting partners, so every single one of my partners also does their own freelancing consulting and we come together for specific projects with nonprofits. We just hit a year this month and it was really exciting.
I've sort of been at the intersection of the transition and the centering of digital and online tools. And to this conversation that we're having today, really understanding my place as I've gone through entry level positions, middle management, executive level, at the vice president level, and now leading my own company. I think about what it means to be a black and brown young woman showing up in these spaces, and what type of space is created for me to flourish and grow and the decisions I've had to make, where there wasn't space for me. That's guided a lot of where I've gone and evolved and grown in my career. So I'm super pleased and grateful to be a part of this conversation. As Carolyn said, this is an evolving conversation, there's not a clear answer, but I do think together, through transparency, through conversations, we can come closer to helping to create more inclusive and diverse environments that are welcoming. So super excited to be part of this conversation. Thank you, Sarah.
Sarah Wolfe: Thank you, Stef. Angela, would you like to go next?
Angela Kim: Yeah, sure. Hi everybody. My name is Angela Kim. I'm with Academy of Hope Adult Public Charter School. My path was also not very linear and I'm from Arlington Virginia as well, like Stef. So that's interesting, I just learned that while she was talking. I'm a Korean American and like Carolyn first mentioned, I spent most of my career early in the corporate world in the tech space with tech organizations. After spending a long time there and spending a ton of time volunteering with my local Boys and Girls Clubs in the Washington DC area, I quickly became just engrossed and just so passionate about that work. And I found myself really gravitating towards that work, after-hours and on the weekends, nonstop.
Eventually that developed into creating a junior board, and then serving on the board for a little while. That experience actually brought me to a huge decision point in my life where I had one of those existential questions where I said, if I die tomorrow, am I going to be happy with what I've done with myself and what I've done with my strengths and gifts? And I decided I had three paths. One was to continue as a volunteer, second was to donate a bunch of money to nonprofits and causes that I cared about. And three, should I do that work every single day, day in and day out to cause the most amount of impact? And so I made the decision to finally move over to become a part of the nonprofit space as a staff member. And I really wanted to give what I thought were my strengths and to make a direct impact on a daily basis.
So I decided to quit my full-time job; people thought I was crazy. My friends questioned my sanity, but I made the very intentional change to switch over to nonprofit. And I went to grad school.
In 2009, I started with Academy of Hope Adult Public Charter school. We're located in both Northeast and Southeast [DC]. And our mission is to support our learners in our communities to give them a second chance at education and it's truly impacting and changing their lives and their families. It's a very, very diverse staff and learner population, which is one of the things I was really attracted to when I first started here. And since having started in 2019, I think the biggest, most impactful thing that we've done internally as staff was to take our organization from not really ever being virtual in any sort of the sense, and then being totally virtual in a matter of two to three months. Supporting a population of under 400 students in the field with computers in their hands when some have never touched and were really not tech literate. That was the biggest testament to seeing how a nonprofit works in this environment, under such stress and trying to meet that goal. So this conversation is definitely relevant and very timely. And it's something we all still continue to work through, even here and it's something we're continuing. It is part of our strategic goal to always be reflective of and mindful of. I'm really excited to be here. Thanks for inviting me.
Sarah Wolfe: Thank you. Sandy?
Sandy Martins: All right. Great afternoon, everyone. Sandy Martins. For any visually impaired folks joining us today, I am a Cape Verdean woman with curly hair wearing a white cream shirt. I was born and raised in Boston, currently living in Rhode Island. I've always had a fascination with technology. I felt that it was so dynamic and I love the fact that it had the power of connecting people and bringing people together.
Early on, I was into graphic designing. So I studied as an undergrad at Johnson and Wales and had a major in computer graphics in new media. Then at the start of my career, I gained this passion for project management. And I got into it further by joining a local chapter out here in Rhode Island, OSPMI or Ocean State Project Management Institute. I was a member for about two years and then I joined their board for two terms.
So for the last six years of that opportunity I really got to learn more about project management while still working towards my career path in managing projects in various fields of networking and unified communications, health IT, travel, software development. And now as a director IT for MENTOR, I am strategically working with everyone on moving the organization toward a more efficient way of managing projects, as well as having impactful change with technology.
Now, as much as I enjoy technology I have to be honest to say I had to learn how to disconnect from it and really create this balance to protect my mental space. So that involves journaling, being with my family, I'm a plant mom. I like to be outdoors. I also like to do biking and hiking and things like that. And when I'm not focused on doing those things, I am focused on my studies. As mentioned earlier, I'm pursuing my MBA; on track to graduate next year in May. So I'm super excited about that. That's a little bit about me. I'm really excited to be here, and I really appreciate you having myself and these ladies here to talk about this work on this wonderful topic.
Sarah Wolfe: Thank you so much and thank you all for sharing a little bit about yourselves to get us started. Now I would love to get an idea of who we are talking with today. And so we are sending out a poll. Please say how you identify, audience, so that we can know. And select anything that you are comfortable sharing because that's going to help direct some of the conversations and questions that we have.
So it looks like we are at
almost 50 – 50 split white versus by BIPOC or black, indigenous, people of color with some mixed race representation,
52% identifying as women,
14% as men,
and then some gender nonconforming and LGBTQIA plus people.
That is very exciting to hear and see. All right. So thank you so much for sharing.
Our first question that we're going to start off with is actually sort of targeting Sandy and Angela a little bit more.
How was transitioning into the nonprofit space, both on the positive and on the negative side?
Sandy Martins: I can start this off. I work for MENTOR who exists to expand the mentoring movement by developing and disseminating high quality research and evidence-based practices across the U.S. and Canada. Coming from a background in corporate space and moving on to nonprofit allowed me to really experience what it felt like to work with a diverse group of people. Close to 70% of white male make up the tech industry. So seeing that shift at my organization was truly impactful. It really impacted my experience in a very positive way.
I work with amazing women, women of color, men as well, at MENTOR. And also have the pleasure of working closely with a diverse tech team that supports my IT strategic vision. It is, however, a smaller organization, so people wear multiple hats. There's also the challenge of driving technology through change and really going through that. So I'm really getting a good lesson on the importance of human behavior and change management, but I'm certainly fortunate to be in this role where I'm learning to approach that area with more grace and developing creative ways to influence staff members in their comfort level with technology.
Angela Kim: And for me, because I spent so much of my career in the corporate world, I'm noticing that more recently, as I've been doing a lot of self-reflection to be much more self-aware these days. I didn't notice some of the changes at first, but being just this year more recently, just doing a lot of reflection.
I've seen a lot of changes, but coming from a corporate world, I didn't appreciate what it meant to have so much of the resources and the systems in manpower available. There would be entire teams and floors of tech people, a whole team just for help desk, a whole team just for development, a whole team just for R and D. Those are the things that you take advantage of and just don't appreciate. When I had an issue on the business side, I would stroll right down and I would talk to the entire team and I would say, "This is what I want," and then they would just go make things happen.
So definitely, the presence of the systems and resources and manpower were a huge difference that I saw from the corporate world and nonprofit side. I got this really ingrained in my mind coming from the corporate world, which was being extremely results driven, especially because I came from the sales side of things in the tech space. You're very much measured and evaluated purely based on outcomes and numbers. It's not as much about how are you feeling, how are you doing; what's your mental health look like?
And that wasn't quite as much part of the conversation. I'm really feeling like, especially in the last couple of years, really talking about that. And that is very much part of my conversation and really caring about the people. And that's one of the great positives that I noticed being in the nonprofit space and that transition. It struck me as odd when I came here to my first nonprofit organization and I kept hearing the word family and it was such a strange thing for me. At first, it was very uncomfortable because I hadn't been used to that. I got really comfortable with that and it's great to see. You can feel, especially having gone through all of the turmoil and things that have happened in the past couple years, it's been really challenging.
Mental health is always part of the conversation now. We constantly have to check in on one another, whereas that never happened in my corporate experience. That was really just not part of the environment.
So I think those are definitely some of the stark changes that I've seen and seeing the sheer commitment and the commitment to work, the mission of and the work that you're doing at your organization and the nonprofit space and caring about the results. Also how you get there is definitely much more of the equation. So that's definitely extremely refreshing. Giving each other grace and time and space to talk about the other things that are going on in addition to the work is a huge positive that I have really, really enjoyed.
Sarah Wolfe: That's awesome. So just to dig in a little bit more,
What was it like working in a very cis male dominated space? Sandy said that 70% of the tech industry is white men. How does that feel? What does that look like?
Angela Kim: Yeah. I can comment on that. I joined the tech industry pretty much out of college. So I was in my early twenties at the time on the sales team that I was working on. I was the first female. So it was kind of like joining a locker room, to be honest with you. For the most part, I was okay and comfortable, but there were many times where you definitely felt uncomfortable as a woman and you know that this is not okay and this is definitely probably an HR violation, things that we're all talking about or the conversations going around me. That happened on a very regular basis. And because I had been there for such a long time, the environment definitely morphed because a lot more women joined after me, but for a while it was highly uncomfortable.
I didn't feel as a younger professional, comfortable enough to voice my opinions nor push back or to say, hey, I don't feel comfortable with what you're saying and I don't feel good with that.
I didn't feel like I had a voice at that time in my life. I do now, but that definitely wasn't the case back then. And I will say that having had those experiences and knowing what I do now, as a more experienced professional, I really intentionally try to instill my lessons learned to the staff that I work with and my team, especially because they do have females. And to help empower them to say, if they're not feeling empowered by a certain situation or a certain person or a conversation, to let them know what I experienced and some of the lessons learned from my past.
Nobody ever told me that before, because I didn't have female managers in those tech jobs; it was all male. I really try to help bring that forward to the next generation to help out my staff members so that they don't have to go through the same experience because I know better.
Sandy Martins: Now I'll quickly add to that. At the start of my career, working in this space with cis males was actually great. I had a lot of support and mentoring from my peers and leadership. However it wasn't until I started to grow in my career that I noticed that it was difficult to kind of have that seat at the table. I was one of few, if not the only, black woman in project meetings or leadership meetings. And I recall moments where I feel like I didn't have a voice. My input didn't matter. I was clearly overshadowed by the next guy and similar to you, Angela, it was frustrating. It was also intimidating. And at times I started to recognize my core values and one of that is integrity.
So it was only right that I had to do the right thing and stand up for myself. Especially when I'm presented with those challenges and while it was uncomfortable and stressful, it was definitely important for me to not allow that toxic behavior to deter me from my goals and where I wanted to be in my career. And it is overwhelming and through the years you go through that, but you really just have to stick to that goal and really look forward to ensuring that you have a place that you want to be at and you just have to go through it and work through those challenges.
Angela Kim: Yeah. And I wanted to add too, that's absolutely correct. I also had a shift as well that I experienced as I grew because I was with those companies for a number of years. It took me a while to also get to a place where I could feel more confident.
I have suffered through imposter syndrome a lot in my life. So, sometimes there was no need for me to feel that way, but it took a while for me to develop my voice and feel like I could exercise my voice and feel like people respected me. And so later into my career in those tech organizations, I definitely felt much more supported and empowered and had a lot of agency and grew immensely and learned a lot.
Sarah Wolfe: That's awesome. And that actually dovetails really well with the next poll, which is asking,
Which of these best describes your role in your organization?
Being in leadership, being able to influence hiring and internal culture for the whole organization,
being in management, influencing hiring, and internal culture for your team,
being a staffer, learning what you can do to make your environment more inclusive and job seeking, seeking ways to identify an inclusive organization.
And we've got somebody who's in the other section, which is also very exciting.
So to go ahead and share these results:
38% are in leadership,
19 in management,
38 are staffers and we have one person who is other.
That is very exciting because my next question is going to be,
What kinds of power dynamics and organizational structures make a good space for a diverse and inclusive workplace?
Stef Cruz: I can jump in on this question. Thank you, Sarah.
We've been thinking about these questions as we've been preparing for this conversation and the words that really come to mind for me are shared power.
To the extent that organizations, especially traditional organizations, corporate nonprofits, that's a thing, right? Nonprofits that are huge and that function in a certain way versus smaller nonprofits.
And I think either way, there's a question around traditional power dynamics and hierarchy. In order to really create future forward diverse and inclusive environments, we have to think from a leadership perspective, how much are we willing to share and relinquish power and create space for more junior and mid-level staff to provide input?
It needs to be an iterative process, because no one has the blueprint of oh, this is how we create it. This is how we get it, right. It needs to be informed by people's experiences. And in order to do that well, you need to be willing to say, I didn't get this right. And I need to listen and I need to hear and I'm willing to share power and how we can create the environment and the dynamics that we have for really diverse environments?
Something that is really important to me as well, is understanding the different forms of leadership that exist, really thinking about quiet leadership and what that looks like. I have found in some of the nonprofit spaces that I've been in, when I did get a seat at the table, it's the person who's speaking the loudest, who's speaking the most, who gets the most respect, who gets heard, tends to be just white males or white females.
I think to be a really inclusive and thoughtful leader at the top, you have to be able to navigate. How do you create space for the person who processes differently?
For the person who might be scared because this is a new experience for them to have a seat at the table, to be moving into a more leadership/director type role. How do you create space so that you're hearing from the people who are super extroverted and have lots of ideas and are very comfortable owning space and also creating space for the people that this is new for? They're going to be silenced or they process differently.
To me, this is really important around being thoughtful and creating safe spaces, as well as that sharing of power. We have to be willing to say, we don't have all the answers. The way that our organization leads is not perfect and we're willing to take input, so that we can learn and help to co-create this safer, more diverse environment. That's my thoughts there.
Angela Kim: Yeah. I 100% agree with everything that Stef said. One of the things that really attracted me to the organization that I'm at right now, Academy of Hope, is looking at the top leadership I saw it was very diverse and I really love that. So I was immediately attracted to that.
In my initial conversations, I understood as part of our strategic plan and direction, DEI was always part of that conversation. So I knew the organization was very intentional about being more inclusive and supporting and uplifting diversity and really operationalizing that. One of the things we've had as a leadership team here, we do have a DEI task force. It's made up of a cross section of the organization. We're very intentional about always having open two-way communication about inclusion and listening to our staff members. We survey the staff to see where they're at. Are we making progress in different metrics that we've defined? Listening is a huge component of that.
What we've really done is to ensure that we have a definite framework for what that needs to look like and really help leadership with exact tools to support us.
I'll be totally honest, at certain times during especially Black Lives Matters, I raised my hand in leadership meetings and I said, "I have a very diverse team. I want to be respectful and mindful of the environment right now. I would like to have some tools about how to approach this. I don't know how to do this, right or wrong, but I would like to know more about how I should approach this and what some best practices might be." And in the initial moments when I didn't know exactly how it should be done, I quite honestly just gave my team space. I said, "I know there's a lot going on. I'm just going to frankly acknowledge that it's probably hard to focus on work because there's a lot happening in the world. So if you have anything to share, I would like to talk about things, then let's just put it out there."
Just starting with that and not assuming, and trying to be mindful of all of our differences. I actually, recently had a great conversation with one of my peers about one of my team members and she gave me a wonderful, great perspective about, maybe as a black young female, perhaps her perspective might be this. And I said, "You know what, thank you so much. I had not even considered that." And now that changes the way that I approach her.
And those types of different perspectives really help me to be a better leader and having those conversations openly across our leadership team has been really helpful for me.
Sarah Wolfe: That's awesome. I know that we're trying to pack a whole lot into not even a full hour of conversation, but I would love to move us into the next poll, which sort of dovetails on that a little bit.
How do work spaces deal with mental health?
It's a little bit of a shift, but if people feel comfortable answering, that would be great.
We're wondering if your workplace
prioritizes mental health,
if they value mental health or
if there's devaluing of mental health?
and that means, are they providing high quality, easily accessed benefits? Do they create the structures around healthy boundaries, work-life balance? Do they stick to things like that?
I know that there's a large variety of organizations in size and in need and ability, but it's something that we can all talk about.
Thank you to everybody who felt comfortable answering,
15% said that they work for organizations that really prioritize mental health, providing easy access, high quality resources,
69% say that they do work for someplace that values mental health and
15% say that they work for places that devalue mental health.
You know, one of those things that we talked about, seeing that mental health has become such a big deal, we've been checking in and being more cognizant about it.
People have talked about this being the great resignation. And I listened to an NPR article that said, no, it's not the great resignation. It's the great renegotiation. People are standing up for themselves and saying, in order to be able to work, I need X, Y, or Z things. And if you can't provide them, I'll find someplace else that does. So with burnout and self-care, not all self-care is bubble baths and massages.
How do you practice self-care professionally?
Sandy Martins: I can answer here. Although bubble baths and massages are good, too, I don't mind it, but I love this question.
And there's two things that I definitely practice for professional self-care, one of which is organizing and managing my time. There's this quote that I have every morning I look at and it says "For every minute spent organizing, an hour is earned." So the things that I do to manage my time are, at the end of the week, usually on a Friday, I look at the following week to see what my workflow looks like, where am I placed at for any meetings. If it's a really heavy meeting week, I definitely ensure that I have blocks of time I put in just to take a break or just to catch up or switch gears in between meetings.
I also reach out to meeting owners and ask, am I needed? Do I have to be there? Is it something I could just review as part of meeting notes and come up to speed on? If I can get that time back, great. If I don't, so be it. But definitely it doesn't hurt to ask that question.
And something that my organization does is that they support focus time or DNS, or do not schedule. So that's about two hour blocks that we have on our calendars. And it really is just a time to not have any meetings scheduled, really focus and get your accomplishments done.
The other thing that I do in honor is mental health days off. And I just want to preface this to say that, with your vacations and personal time and dependent on your organization's policy, you should never feel guilty to take those days off and really have a mental break from the workload.
I remember early on in my career and Angela, I'm pretty sure you can relate to this, is that I felt so guilty for even thinking about taking a day off. In my mind, I'm like, no, I need to work. I need to be there. I need to be on, I need to get things done.
I realized over time I was really burning myself up by doing that, which meant that I wasn't really working to my best ability. So years later I recognized that it is important to have a healthy balance between work and self-care for the sake of my sanity, for the sake of my health and even for the sake of my team members. I definitely want to show that there's a break in between and that I have the ability to have those mental health days off if and when I need them.
Angela Kim: Yeah. I definitely have experienced burnout many times in my life in various phases. I think one of the things I really love about Academy of Hope is we have a flex Friday benefit, which means we have every other Friday off. I didn't really realize how much it would help me, but I truly love that benefit. And I fully take advantage of that. And we really try hard not to send emails on that day when folks are taking off. And we try not to bother people with emails on the weekends, et cetera, or after hours. So that's one of the things that we do as an organization. I think the other thing and I've been focusing on this with my team and trying to model it as well is asking for help when needed, and saying no to things.
And I'm really helping my team to learn how to do that. Understand the power dynamic, as well. For some folks it's hard to say no. And some people are people pleasers, so it's even harder to say no. They feel like asking for help, as it relates to mental health, means that you can't do your job. And then you start having all these other questions. Should I not have my job, is my job at risk, et cetera.
I'm trying hard to model that for my team as well, to say, I need help. I definitely can't do all this. We need to reprioritize, we need to rethink about the work here. And I try to stop my team members as well. Say, okay, this is not realistic. Let's reprioritize and figure out what you really, really can do, so you don't burn yourself out.
And because I recognize folks that are people pleasers and folks that do have a hard time saying no, I have to really help them set boundaries and be realistic with that workload.
I'm a recent new mom. And for me being what I consider a very, very hard worker, for my sanity and my mental health, I had to really define and reset what my work output and what my expectations look like. And I had to redo that and that was really, really hard for me. I'm still working on that because I really couldn't perform at the same level and to be okay with "it's good enough," was huge, and I'm still working on it.
It was a huge thing for me to work on. So that in addition to delegating things and truly offloading things off of your plate is a huge task as well. If you have delegated it properly, you don't have to step in quite as much, and it can be off of your mind and your plate. So those are all things that have helped.
Sarah Wolfe: Awesome. There was a question asked in the Q&A; I'm paraphrasing a little bit.
How do you find ways to talk with colleagues or leadership, especially leadership that doesn't necessarily understand their own ignorance around DE and I issues? And when do you take the kid gloves off?
Stef Cruz: For me, just connecting a little bit to the previous question and connecting it to this question, there's this expectation within nonprofits that you're there to do good. We are passionate about the issue. We're passionate about making an impact. But to what extent is that? At the expense of your own wellbeing?
When I was working within nonprofits, it was easy for me to work 70, a hundred hours a week, which is physically impossible, right? It means I was not sleeping. But I was so committed to the cause; I was so committed to the work. So I pushed myself in that way.
I think there's something about the expectation around black and brown women, especially that they can get stuff done, right? So I had this idea that there's an insane amount of responsibility that was being put on me because I was capable and because they knew they could trust me to get it done.
And even at times some of my colleagues who were white, older men were given a task and given six months to work on it, and then I was given a week to fix it and get it done. But it all came at the expense of my personal wellbeing, of my personal time, of my mental health.
And so the answer to your question, Elizabeth, I'm probably pretty extreme in this, is that at some point I said, "Enough." I defined myself and my wellbeing as number one. And I was willing to push back as far as I had to because I refuse to work somewhere that does not value and respect me and does not value my own mental health.
And it's this interesting flip that happened for myself also of realizing, I have value. We all do, right? Like Angela, Sandy, Sarah, we are good at our jobs, right? So people need to feel lucky to have us on their teams and in exchange for that, you need to understand my lived experience. You need to understand how I feel when I come into meetings. You have to understand how my background makes me experience this meeting. This works slightly differently than everyone else. And why what's happening outside in the world – Angela, to your point – I can't work right now. I can't because my heart is broken; because I see myself, I see my son, I see my brother in George Floyd on the ground.
So understanding that humanizing piece, I personally have a very low tolerance for not being open to the conversation. And I voted with my feet and I quit my job because I refuse to be in spaces that don't honor this because it chips away at me personally, every single day. The intersection between our personal lives and our careers, especially those of us who are in the nonprofit sector, Angela left her corporate job, because this mattered to her. This is personal, where that intersection is.
A little bit militant, kids gloves completely off, we have to hold the line for ourselves at some point. And if we don't, it comes at an expense to us personally. It's been my personal experience.
Sarah Wolfe: Okay. Keeping an eye on time. You all know that I had three other questions lined up and we're not going to be able to get to them all. What do people need to invest in to retain talent? How do you as a manager help with equity and inclusivity? There's a whole bunch of things we haven't even been able to address yet today.
We've had a question come in on the Q&A and then maybe we'll do a third, quick 30 second closing thoughts. Somebody asked,
Do you have any thoughts on the acceptance of conscious code switching versus the recognition of falling into the system and how do you bring others into the difference between them?
Actually I'm unsure on the idea of conscious code switching versus falling into the system. Does anybody else have familiarity with this concept?
Angela Kim: I'm not sure either.
Stef Cruz: I think it's a little bit like doing what you have to do to get by to move forward in a space.
I'm from New York. You probably can't hear my super New York accent because I've whitewashed it over the years starting in college. I do show up in a very different way, depending on who I'm talking to, which of my colleagues. I think, unfortunately, it feels like it's something that we have to do in certain spaces to be taken seriously. But I do believe in radical authenticity and showing up as your full self.
I think it does require a certain level of comfort with yourself and also understanding that you might make others uncomfortable, but it takes time. I've definitely gotten closer, but I will not deny that I code switch quite a lot, depending on who I'm talking to, what room I'm in, which client I'm speaking to. And I think it's a matter of people who create space for you to be that authentic. I don't think it's the norm. Not right now, maybe later.
Unfortunately, I feel like I'm judged every time I open my mouth. It doesn't matter who I'm talking to, I have to be very careful. I have to choose my words very carefully, depending on who it is.
I'm sorry, Sandy, you were going to say something?
Sandy Martins: No, I was going to applaud you for even saying things like that, because I don't even think that when I started my career, I recognized that I was doing that code switching.
I'm from Boston, I'm a Cape Verdean woman. We speak fast, I use certain terms that people might not find to be as professional. So I definitely started to visualize how I was positioned in the workspace, especially in corporate, where I had to be careful about how I spoke. I had to be careful how I positioned myself, what I wore to work.
A lot of that really changed over the years. As I got older and grew into my career, I realized, what am I doing? I'm not being myself here. I'm trying to be someone that I'm not. When I really started to recognize that and really respect that space that I was in, at that point, I started to really be myself and use the terms that I would use if I'm hanging out with my girlfriends or if I'm going out.
And little by little people started to really recognize my personality and really like me for who I am. So, it's really interesting how I never realized I was doing that and years later I had to check myself and say, what are you doing here? Who are you trying to be? Just really be yourself and over time, people are going to get to learn that part of you.
Sarah Wolfe: I absolutely love that this is where this conversation has gone. Other people have asked some questions. We are definitely going to be following up with an email in terms of resources. If you do have any other questions to submit, please send them. I'll post them here or send a response email. We will be following up in the next week with resources and things.
I know Carolyn needs to jump in and do the closing. So I hate to stop the conversation here, but let's have Carolyn take over.
Carolyn Woodard: I do too, so sorry about that. I wanted to just jump in quickly and tell everyone that we have webinars every month. Our next webinar is April 20th. It's going to be on nonprofit incident response, a report of the types of threats and scams and stuff that's coming in. So it's a really interesting webinar that we're going to do next month.
If you didn't get enough of Sarah and Stef and Angela and Sandy, they are going to be talking more about this topic next week at NTC, which is the Nonprofit Tech Conference. Registration is required. When you register, you can attend over 150 sessions. Of course you can't attend all of those live, so your registration gets access to all of those videos. And their session is going to be next week on Wednesday at 9:45 Pacific Time, 12:45 Eastern Time. They're going to talk more about this.
I can already see we need a part two of this conversation, so we'll see about arranging that for some time in the future as well.
I just wanted to thank you so much for your great questions today, everyone who's stuck with us to this point and the people who registered and asked questions. Thank you so much, Stef, Angela, Sandy, and Sarah for sharing your experiences so openly with us and helping us think together about these tips and best practices.
I wanted to just remind people of our learning objectives and the takeaways, we wanted to describe organizational practice and individual behaviors that could contribute or be obstacles to having a safer, more equitable, more inclusive nonprofit tech industry.
I think we scratched the surface of that, but I think you gave us a lot to think about the things that we can do in our own situations and in our own organizations. I loved that everyone talked about having open and transparent conversations being so central to this work. So I feel like we did a good job of modeling that; showing rather than just telling that you need to be open about some of these things that are really, really difficult to talk about.
I'm going to hand it back over to Sarah to talk about some of our best practices that we had come up with.
Sarah Wolfe: In our conversations leading up to this, the things that we had talked about for having inclusive workplaces: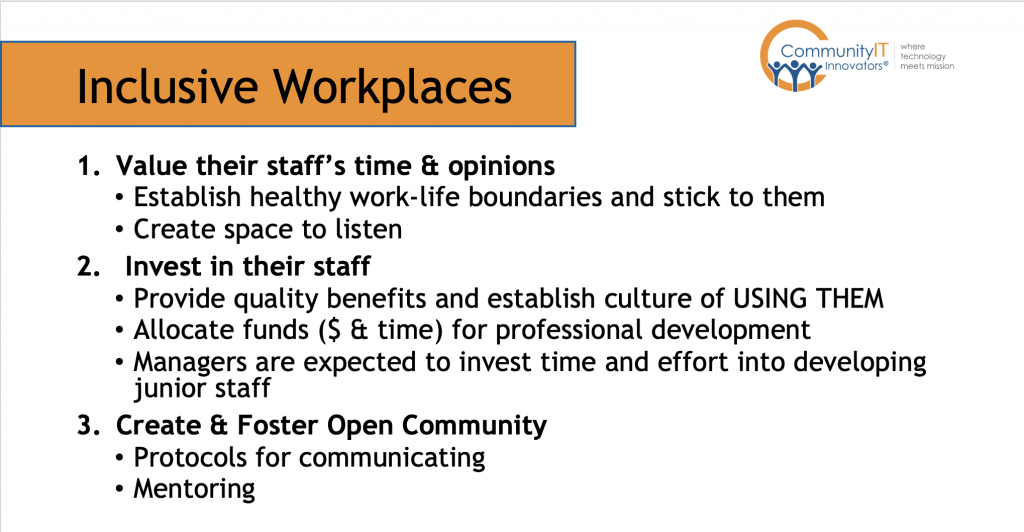 You really have to
Value your staff's time and opinions.
Creating healthy work-life boundaries and sticking to them,
Creating space to listen to your staff. Stef had talked about wanting to make sure there's room at the table, that there's not just room, but you're also listening,
Invest in your staff. I know it's really tempting and it's very common at nonprofits to say mission first, mission first, but in order to get that mission, you have to invest in your staff so they can stay and not burn out and
Creating and fostering open community. The idea of being able to embrace the fact that you've done something wrong, or you need to ask for help and if somebody's uncomfortable, how you actually talk about that stuff is part of the work.
Thank you for coming and I would like to thank you. Stefanie Cruz's website is Digigeeks.com. Angela Kim is Academy of Hope aohdc.org and for Sandy Martins, the MENTOR website is www.mentoring.org. Thank you so much for coming and sharing. This was great and I can't wait to do this again.