Kaleidoscope: NTC Presentation on Supporting Diverse Perspectives in Nonprofit Tech
View video
Listen to Podcast
Like podcasts? Find our full archive here or anywhere you listen to podcasts: search Community IT Innovators Nonprofit Technology Topics on Apple, Google, Stitcher, Pandora, and more. Or ask your smart speaker.
Sarah Wolfe and panelists presented a conversation at the NTEN NTC conference in March 2022. Centered around their diverse journeys to success, this session with four leaders celebrated bright spots of successful inclusion and cultivation of diversity in nonprofit technology, as well as sharing advice for the individual and the organization for thriving on the road ahead. Whether you come from an under-represented background, or want to do more at your nonprofit organization or tech company to support and include staff, this panel session was a vibrant discussion among women with a lot to say and share.
What support has helped you get where you are today in nonprofit tech? What experiences have shaped your career? What have you had to overcome?
Learn to listen! How can you be an ally? How can your workplace provide an environment where everyone thrives?
A full list of additional resources can be found below. We offer these resources selected by the panelists for further learning and action.
You can view a companion video or listen to the podcast from these panelists in our video series here.
More resources from the panelists:
Online
https://www.mentoring.org/wp-content/uploads/2021/04/Why-Workplace-Mentoring-Matters-4.20.21.pdf ..We must create workplaces that are supportive of … growth as the next generation of leaders and innovators.
More resources from MENTOR on race and cultural inclusion in the workplace here.
https://nonprofitaf.com Questioning assumptions on traditional nonprofit practices.
https://www.nonprofitlearninglab.org/dei Resources round-up, good place to start.
Books:
Dare to Lead by Brené Brown
Innovating Leadership Co-creating Our Future by Maureen Metcalf
Start Here – Master the Lifelong Habits of Wellbeing by Eric Langshur, Nate Klemp Ph.D
Barking up the wrong tree, The Surprising Science Behind Why Everything You Know About Success Is (Mostly) Wrong by Eric Barker
Podcasts
HBR Women at Work – especially episode called Leading with Authenticity
Brené Brown: Unlocking Us Podcast
Additional Resources
DEI Coaching. Sharonda Simmons is a nationally recognized creator of curriculum and strategic initiatives focused on increasing racial and socioeconomic education, and the founder of Thrive and Shine coaching for nonprofits pursuing DEI work. You can view her presentation on the value of DEI to nonprofits – and strategies to put in place – as a free resource from Nonprofit Learning Lab where she made the presentation. Search "Creating a DEI Strategy" under past webinars.
Strategies on Inclusion, Report on Workplace Experiences at Nonprofits "The sad — but unsurprising — truth is that people of color and whites have a different set of experiences in nonprofit organizations. This gap in how professionals experience their workplaces — whether they receive mentorship, are granted promotions, or face microaggressions — is partially reflected in what we call the 'white advantage,'" write Frances Kunreuther and Sean Thomas-Breitfeld, Co-Directors of the Building Movement Project, and authors of the 2020 report, Race to Lead Revisited: Obstacles and Opportunities in Addressing the Nonprofit Racial Leadership Gap, in this article and links from Take the Lead Women.
Racial and ethnic diversity is lacking among nonprofit leaders – but there are ways to change that article with multiple stats and links, by Atinuke Adediran at Fordham Law, published in The Conversation.
The National Council of Nonprofits has been assessing how their organization can champion diversity, equity, and inclusion as values for our sector. On this page, they've curated resources that they have found helpful in this work.
New Nonprofit Leaders of Color Bring Change but Also Face Hurdles by Alex Daniels in the Chronicle of Philanthropy profiles leaders of color and strategies for inclusive leadership changes that work or don't work.
What is NTC?
NTC is the Nonprofit Technology Conference – the annual get-together of the member-driven NTEN community. In 2022 it featured over 150 live, interactive, and thought-provoking sessions, inspiring keynote speakers, and ways to connect with each other. Membership in NTEN is scaled for individuals and organizations and is a valuable ticket to the nonprofit tech community year round.
When you bring your whole self and your curiosity, the NTC is a joyful learning experience like no other. Community IT has been a proud sponsor and presenter at many NTCs over the years!
Community IT Session Speakers: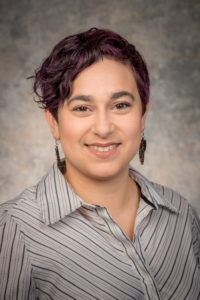 Sarah Wolfe, Moderator
A DC Area native, Sarah Wolfe joined Community IT Innovators in March 2018 as Account Associate before being promoted to Sales Manager. She is responsible for ensuring our partner organizations are receiving the right combination of IT support services to meet their organizational needs and goals. She is a founder of the internal BLM working group at Community IT.
Prior to joining Community IT, Sarah was a science teacher at various schools in Maryland. She attended Oberlin College in Ohio, graduating in 2008 with a Bachelor of Arts in Biology, and took classes at UMCP for her teaching certification. In her free time, Sarah enjoys gardening, crafting, and curling up with her menagerie to read a good book or science blog.
To learn more about what it is like working at Community IT, please see our interview Community IT Voices: Sarah Wolfe. Sarah is excited to moderate this panel at NTC Kaleidoscope on diverse perspectives on thriving in nonprofit tech careers.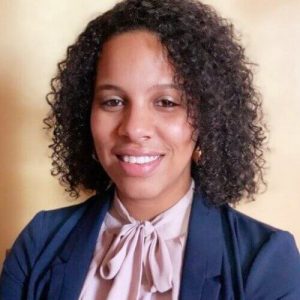 Sandy Martins
Sandy Martins serves as the Director of Information Technology at MENTOR. Raised in Boston by strong women, she's a proud first-generation Cape Verdean American who values hard work and perseverance. For Sandy, work reflects who she is: a leader, a collaborator, and a strategist. She's spent the last 16 years helping companies and organizations implement and improve business processes by managing complex, technology-driven projects while supporting their mission and strategic vision. Sandy has diverse expertise in the technology sector, including network technology, health IT, and software and application development.
As the Director of IT, Sandy guides the internal technology committee to assess and recommend organization-wide technology improvements at MENTOR while fostering an environment of collaboration, continuous improvement, and learning. Additionally, Sandy manages the organization's roadmap of enterprise initiatives, ensuring a plan for growth in alignment with MENTOR's mission, vision, and values.
Sandy, a life-long learner, holds a bachelor's degree in Computer Graphics and New Media from Johnson & Wales University (Providence, RI) and is on the path to complete her MBA program at Providence College in 2023. Learn more about Sandy Martins' work at MENTOR here.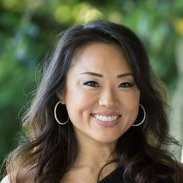 Angela Kim
With 13+ years of experience in the private and nonprofit sectors, Angela Kim brings significant operations, project management, and business intelligence expertise to the philanthropic sector. She is driven by mission, impact, and helping nonprofits to do more social good across our communities. She has been Director of Finance and Operations at Academy of Hope Public Adult Charter School in DC for two years, arriving just as the pandemic was changing their campus-based learning model for good.
She is a graduate of the Columbia University Nonprofit Management Masters program and has served on multiple nonprofit boards. To learn more about Angela's story, listen in to her The Heart of Giving Podcast episode to find out what motivated her to make an inspirational, life-changing, mid-career decision.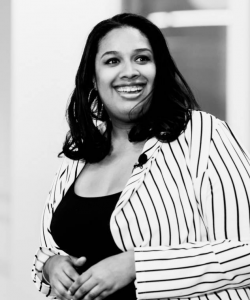 Stefanie Cruz
Stefanie Cruz is CEO and Founder of Digigeeks Collective and is a strategic communications professional with 15+ years' experience.
She was one of the first digital strategists on Capitol Hill. She worked in partnership with the Democratic task force to support and encourage Members of Congress and Committees to embrace digital and social media tools to share legislative updates and create online communities.
Most recently, Stef served as the Vice President of Marketing and Digital at America's Promise Alliance. You can learn more about Stef and her work listening to nonprofits here.
The Community IT Commitment
Community IT Innovators has long recognized the necessity of creating a workforce and an internal culture that values inclusion. Providing IT services exclusively to nonprofits for over two decades, we learned early on the importance of hiring technical staff who reflect the diversity of the organizations we serve: over 50% of management roles and 68% of staff are from traditionally under-represented communities.
We always want to get better. We welcome the opportunity to learn from experts and understand a diversity of experiences. Following the murder of George Floyd in 2020 we have taken several steps to elevate anti-racism work within and without Community IT. You can view our progress report here.
We've learned to seek out non-traditional applicants and support under-represented employees when they join our company. Learn more on our careers page, and in our Voices of Community IT series. Learn more about our commitment to DEI.
---
We were really excited to present this group of amazing women working in various roles in nonprofit tech at NTC for Kaleidoscope: diverse perspectives on what it takes to thrive in nonprofit tech careers.
Transcript
Sarah Wolfe: Welcome everyone to the Community IT Innovators Kaleidoscope Panel for NTC 22. We're so happy that you decided to join us for today's webinar Diverse Perspectives on Thriving in Nonprofit Tech Careers.
I'm excited to be partnering with three amazing women in technology today from three different career paths who will have a conversation about building supports and finding environments where traditionally underrepresented communities can thrive in our sector. You'll be seeing them once we're done with these slides, in just a moment.
My name is Sarah Wolfe. I'm the sales manager at Community IT, and I will be moderating today's conversation. This is the first time I'm presenting at NTC, so I'm very excited. I use she/her pronouns and I'm a queer, cis, mixed Columbian American woman living in DC on Anacostia land. Today I have dark red hair and I'm wearing a white blouse with a black collar.
My journey here has not been linear. I graduated with a BA in Biology in the summer of 2008 and eventually found my way into education. I spent most of the next decade teaching various science classes to middle school and high school students, and after years of denial, I admitted I was burned out. At a loss of where to go and what to do next, a friend pointed me in the direction of Community IT. I joined in 2018 as the account associate, and since then I've helped found the Community IT Black Lives Matter Working group and moved into sales management, September of last year.
Before we begin, if you're not familiar with Community IT, I just wanted to share a little bit about us. We are a 100% employee owned, managed service provider. We provide outsourced IT support, and we work exclusively with nonprofit organizations and our mission is to help nonprofits accomplish their missions through the effective use of technology. We have about 40 staff and we started in the metropolitan DC area over 20 years ago and now serve nonprofits across the U.S. We're technology experts and we are consistently named a top 500 managed service provider by Channel Futures, and that's an honor that we received again in 2021.
Learning Objectives
Now that that's over and done with, I'm sure you are much more excited to hear about our learning objectives for today.
My goal is for our audience to be able to use anecdotes from our panelists' personal experiences to
describe organizational practices and
individual behaviors that can contribute to a safer, more equitable and more inclusive non-profit tech industry and
identify organizational structures and individual behaviors that can create obstacles to a safer and more equitable and more inclusive non-profit tech industry.
I want to say from the outset that in our prep meetings, we've been very clear that if somebody knew exactly how to create inclusive workspaces, we'd all be doing it already. These women don't have all the answers and during today's panel, they are interested in exploring where they personally have come from and potentially where the sector can go.
Over the past few years, Community IT has been more explicitly deliberate in our attempts to create an equitable and inclusive environment for our employee owners. We haven't always gotten it right, but we are trying our best and learning from our successes and failures.
One of the things I've taken away from the work I've done is having open and honest conversations can often be the best way to learn and grow as an individual, and as part of a larger org. I'm not an expert in equity and inclusion, but I am excited to learn. Some of the things you hear today may be new to you or things that you've heard many times before. There's going to be overlap with a bunch of different panels.
But we're hoping that this is going to be a continuation and or a start for a longer conversation. We encourage you to submit questions and comments through the chat today.
Since this is such a big topic, we know we can't cover everything, but you can contact me or the panelists after the webinar for follow up and suggestions for another panel or our next panel on Diversity and Inclusion in Nonprofits and Nonprofit Tech.
On that note, I would love to introduce our panelists. We wanted to gather people with a wide range of experiences since nonprofit tech is such a wide field.
Panel
I know I've been talking nonstop for a moment, but I'd like to introduce Stefanie Cruz. She is the CEO and Founder of DigiGeeks and has over 15 years of experience as a Strategic Communications Professional. She's mobilized millions of individuals to action across national social movements, including the Women's March, Families Belong Together and the March for Our Lives. She was one of the first Digital Strategists on Capitol Hill. And most recently, Stef served as the Vice President for Marketing and Digital at America's Promise Alliance.
We also have Angela Kim. She's been the Director of Finance and Operations at Academy of Hope in DC for the past two years and has over 13 years of experience in the private and nonprofit sectors. Angela is a graduate from Columbia University of Nonprofit Management master's program and has served on multiple nonprofit boards. 
Sandy Martins serves as the Director of Information Technology at MENTOR, and she has over 16 years of diverse expertise in the technology sector, including network technology, health IT, software and application development and managing complex technology driven projects. Sandy holds a bachelor's degree in Computer Graphics and New Media from Johnson & Wales, and will be completing her MBA program at Providence College in 2023. 
Stef, would you please start us off on sharing your story?
Stefanie Cruz: Sure. Stefanie Cruz, so excited to be here with you all. As Sarah shared, I'm a Digital Communication Specialist. I have been doing this work for about 15 years. I'm originally from New York and currently live in Arlington, Virginia. I started actually as a poli sci major. Sarah, it's interesting what we study versus what we end up doing. I ended up working on Capitol Hill about 2006 before social and digital was a big thing within the political world and really helped members of Congress understand why they needed to be on Facebook and Twitter. And now I completely regret it, but here we are.
But really, helping people to understand the importance of online and digital tools to bridge communities together and help to close divides. After graduating from Pepperdine in California, I went to the Hill. I was on the Hill for about seven to 10 years. When I transitioned to the nonprofit sector, I worked at AARP within their public policy institute for about two years and then transitioned to America's Promise where I helped to oversee their digital and marketing work. I'm super excited to be here with you all and to chat more about our journeys.
Sarah Wolfe: All right. Angela, would you like to step in next?
Angela Kim: Sure. Hi, good afternoon, everyone. My name is Angela Kim. I'm a 1.5 generation Korean American. I grew up in Maryland and currently also reside in Arlington, Virginia. Apparently, it's a hotspot. I today have dark brown hair and I'm wearing a light blue shirt.
I don't think anybody's career is linear. Not that I know of. For me, I spent the majority of my career in the corporate world doing sales operations with global tech firms, at VMware doing cloud computing and micro strategy, a business intelligence company. I've been surrounded by a lot of smart tech folks, and I enjoyed having robust systems and resources and manpower and technology and funding all at your fingertips. And at the same time, I spent a great deal of time volunteering after hours at Boys and Girls clubs in the greater Washington DC area that I absolutely fell in love with.
And at that time, I started and created a Junior Board and then served on the board for a number of years to help create impact for the lovely kids that are there. That's where I really truly developed my passion for nonprofit mission based work. I came to a really pivotal decision point where I was finding myself much more inspired and motivated and happy to do the more nonprofit mission work after hours than selling more widgets at a certain point.
So I came to a decision point where I had to decide: do I volunteer my time after hours? Do I donate a lot of money, or do I donate my skills and strengths directly to a nonprofit on a day-to-day basis? So I made that decision to move to the nonprofit side full-time and went through a master's program for nonprofit management, which was incredibly amazing.
I joined Academy of Hope Adult Public Charter School in 2019 and oversee operations and finance. It's a public charter school that serves communities in Northeast and Southeast in DC, and we really focus on providing high quality adult education and services to give folks a second chance at earning their high school diploma and career advancement. And so now the work is much more enjoyable and I can see where all of my hard work is going. I'm so excited to be here. Thank you.
Sarah Wolfe: Thank you. Sandy?
Sandy Martins: Awesome. Great afternoon, everyone. For any visually impaired folks, I am a Cape Verdean woman with curly hair wearing a cream sweater. My name is Sandy Martins I was born and raised in Boston, current living here in Rhode Island. I've always had a fascination with technology. I enjoy how dynamic it is. I love the power of connection it has when bringing people and processes together and the many problems and efficiencies that it solves. Similarly, that's also how I feel about project management.
I've had the pleasure to begin my career within the tech industry as a project manager. In the beginning, I was really eager to learn more about it. So I joined a professional development organization by the name of OSPMI or Ocean State Project Management Institute. After a couple of years, I was nominated to join the board and served two consecutive terms as the VP of Admin. Given the organization's history, it was definitely a milestone being the youngest board member, as well as the only black woman who has served in that role.
After six years, I officially stepped down in 2016 to focus on other things like managing many projects. And in the last 16 years, I've managed projects related to networking technology, unified communications, health IT, software application and now as a Director of IT at MENTOR, I am strategically moving the organization towards efficiencies of project management and driving impactful change through technology.
Now as much as I enjoy technology, I also had to learn how to disconnect from it and create this healthy balance for my mental space. So that involves journaling, spending time with my family, being a plant mom, traveling when I can, or even being outdoors. And when I'm not doing any of that, as Sarah mentioned, I am pursuing my MBA, on track to graduate in May of next year. I strongly believe, with the passion that you have, it's essential to really drive that through engagement, continuous improvement and inspiring others that are around you. So that's a little bit about me. I'm certainly excited to be here. I appreciate you having me and these wonderful ladies here to talk about a very thought provoking conversation.
Sarah Wolfe: Thank you very much. I'm really excited to be doing this. One of the things that we wanted to do was get an idea of who we're talking with. So if you would feel comfortable, people in the audience, please let us know how you identify. Whatever you feel comfortable sharing would be greatly appreciated. We do want to make sure that we're talking about what matters to you.
Transitioning to Nonprofit
While we're doing that, I wanted to ask Sandy and Angela, how was the experience transitioning into the nonprofit space, both positive and negative?
Angela Kim: I can take that question first. For me, just reflecting about my transition and comparing the two worlds. I think the reason why I was so excited about this position and having the opportunity to lead the organization forward in the technology space was, I really brought a lot of the lessons learned from being in the corporate sector. Always a business user and working really, really closely with all the business analysts and engineers that were extremely smart and could literally create whatever we needed and wanted, that's really where I learned about the basics of data analytics, data hygiene, change management, user adoption, system migrations, dashboards, and reporting and analytics, and just being ultimately very data driven. I learned how technology and data can really help make an organization and leadership make better business decisions. I always say this, my biggest lesson was always make friends with the IT folks; you always need to be on their good side. Always, always, always.
And then, in contrast, moving into the nonprofit sector, I have been absolutely just blown away by the drive and motivation that the nonprofit folks and staff carry day to day when it gets really hard and the work is overwhelming. Especially through this pandemic and all the things that have happened in the world in the past couple of years, the drive and the commitment to the purpose and the mission has been incredibly amazing to see in action. The commitment to family and passion, and just being surrounded by truly talented and brilliant people that are willing to collaborate and to create change and do good for the world in your communities.
I think what has been a starkly negative aspect is it's definitely been a change and something that I had to get used to in terms of the speed and the pace that things move.
The difference in the amount of resources, time, the manpower available or just the head count, literally. Sometimes having people understand the value that technology can bring to an organization to make work more efficient and get out of that, "this is how we've always done it."
Helping to educate people about technology to help make it easier and more efficient and to save us more time. So that's been something that I've seen and had to learn, but I'm really happy to be in the nonprofit world and to bring all the lessons learned into this space for this organization.
Sandy Martins:  As mentioned, I work for MENTOR who exists to expand the mentoring movement by developing and disseminating high quality research and evidence-based practices across the U.S and Canada. 
Coming from a background strictly in corporate and moving on to nonprofit allowed me to experience what it felt like to work with a diverse group of people. Research that I read recently mentioned that about 70% white males make up the tech industry. So seeing that shift at my organization has truly impacted my experience, definitely in a positive way. I work with many amazing women, women of color, men of color at MENTOR. I also have the pleasure of working closely with the diverse tech team. Shout out to the in-source services tech team who supports us and really supports the IT strategic vision that we put in place.
MENTOR, however, is a smaller organization in size. So you may have people wearing multiple hats and there's also challenges. I think Angela alluded to it as well with technology and the change that it can bring.
I'm getting a really good lesson right now on the importance of human behavior, change management, but I'm certainly fortunate to be in this role where I'm learning to approach this area with more grace and developing creative ways to influence staff's comfort level with new or improved technology and processes.
Sarah Wolfe: Wow. Awesome. Thank you.
Inclusive, or Not?
Stef, since you spent most of your life in government and then working with nonprofits, how have you navigated working with companies and organizations that while diverse on paper,  did not create a safe and inclusive space for you?
Stefanie Cruz: Thank you, Sarah. I think this is an interesting part of our journeys because it's different, at every organization that you are because all organizations and businesses are sort of on a spectrum of how well they are helping to create safe and inclusive spaces.
As you said, Sarah, if we all knew exactly how to do it, then everyone ideally would be doing it. I've found myself in some pretty difficult situations within the nonprofit sector in spaces that were predominantly white or predominantly male where I felt that my ideas weren't being heard. I felt like I was constantly fighting, which is a weird thing. I don't know if I'm the only one who feels like or has felt like you had to fight to do your job in terms of being questioned or not really feeling like folks believed in what I had to say.
And there's a disconnect. If you hear the amazing accomplishments of the women on this panel, you're incredible, you've done incredible things. You obviously know incredible things and then all of a sudden, you're sitting at a conference room table and you're like, am I crazy?
No, I really know what I'm talking about. But yet you find yourself in situations where you're not really being made to feel like your ideas have value, like they are really being heard. And in those situations, it took me really getting to a breaking point where I had to decide for myself the impact that environments that weren't safe and inclusive were having on my mental health, how they were impacting my family life, how they were impacting my career.
It came to a breaking point and I decided that I had to find my voice. If people weren't going to create space for me and create space for my voice, I needed to create it for myself and I needed to be willing to speak up for myself, and that was hard. You come up against a lot of resistance but I had to advocate for what I thought was right. It was my way of pushing from within to create a more inclusive environment for others, as well. And there were some successes and there were places where you weren't successful. So there are organizations that are open to that type of feedback and are willing to make changes and organizations or individuals in leadership positions that don't want to hear it.
When I came up against really difficult situations or people in positions of leadership that were unwilling to commit to creating safer and more inclusive environments, I voted with my feet and I left. Which I think seems like it's an easy thing, but it's actually not.
It took me quite a bit of time to realize that I had agency and that I could leave and remove myself from situations or work environments that weren't committed to creating safe and inclusive spaces.
I did eventually start my own consulting firm three years ago. We are the DigiGeeks Collective. We are a group of Digital and Communications Consulting Strategists that work on various projects specifically within the nonprofit sector.
I am so committed to creating the type of space that I honestly never found within the workforce or the nonprofit sector, a space where people can be heard, a place where people feel validated and valued.
It's interesting saying it out loud because it feels like it should be common sense, but it's not. So that's been my experience in how I've navigated some of those difficult situations.
Sarah Wolfe: Yeah, absolutely and it's really frustrating to know that that is not a unique experience.
Dovetailing off of that, I'd love for the audience to let us know, are you somebody who is in leadership? Are you in management so you can influence hiring or an internal culture? Are you a staffer who's interested in learning what you can do at your level, or are you job seeking?
I know that Stef is a CEO and founder. Angela's in management and a director, as is Sandy.
Power Dynamics and Organizational Structures
I wanted to ask Stef, if you could expand a little bit more and dig in to what you were talking about. What kinds of power dynamics and organizational structures make a good space for diverse and inclusive work?
Stefanie Cruz: Yeah. I think I spoke a little bit about voice and listening. I think part of it is making sure that you are truly creating an open space where you are willing to listen, and the power dynamic is the ability to share power, right?
If we're changing dynamics at the top that are contributing to environments that are not safe and not inclusive, that means you have to be willing to give something up.
Hear and understand that maybe you're getting something wrong and
share power with individuals within your organization at every level, from junior, mid to senior level to
take input to
understand how you can help to change your culture, your environment, and your structure to become a more inclusive and safer space.
And there's something that's really important from leadership and power dynamics around your expectations about what quality leadership is.
I talk about "quiet leadership." The inclusive we're talking about, it's not just race.
There's so many different ways to create safe and inclusive environments. That also means that someone who sits in a conference room who might take longer to process information is not necessarily the person who always shows up to speak at the first time. It doesn't mean they're not a leader. It doesn't mean that they don't have a lot to contribute.
But also understanding from a power dynamic, how are we creating space for all different types of leadership levels? For all types of different ways that folks process information, how they share information.
I think this expectation that we all fit within a box, or we all have to check all of these boxes to fit, it's not safe.
It's not welcoming and I think it's really a matter of leadership taking a step back, being able to examine how willing they are to hear the difficult feedback and to have a courageous conversation that involves saying, okay, I don't have all the answers and I'm willing to take your input and create actual change in how we approach things and how we lead.
And again, it feels easier said than done because otherwise we wouldn't be having this panel conversation but I don't think it's done as often as it should be.
Sarah Wolfe: Absolutely. So piggybacking off of that,
Health, Equity and Inclusivity
Angela, what have you done as a manager to foster that culture of health and equity and inclusivity for those under your supervision?
Angela Kim: In the last few years, I think everyone has had to deal with this in some sort of way. I don't know anyone who has been able to avoid this. Just with everything that's been happening in the last few years.
At Academy of Hope, to be honest, one of the things that really attracted me to this organization two years ago was that the leadership, just looking, you could tell it was very diverse. I was originally attracted to that, and I heard a lot about their strategic goals and plans that really had to focus on the DEI lens. So that was really, really attractive to me. But overall, as an organization from the top down, we really stopped and had to acknowledge the times we live in and we had to really come to an understanding that this is what we're all dealing with.
We have very challenging times. It's hard to just come in and work like everything is normal. There was a lot of pain and suffering within our families and communities. We really needed to acknowledge that there's a lot happening at home and around the world.
I really was trying to be very sensitive and just acknowledge, I raised my hand and I said, I really want to be very sensitive about how I bring myself to work and how I'm managing my direct reports. I would like more tools and resources to make sure that I'm doing a good job and doing it justice and that I don't have all the answers. So I started from that point.
As a leadership team from senior all the way down to the mid level leadership, we really led the way in providing a space. Giving people time to openly talk about whatever was on their mind that they felt comfortable sharing and giving ourselves grace and starting things like wellness communities.
We do have at our organization because we heard loud and clear from many staff surveys, that there was a huge interest in starting a DEI task force and committee.
So we do have one of those here that is always listening and taking the pulse of the organization and then putting forth some strategies and tactics of improving how to make our organization more inclusive and more equitable. We do have it very much ingrained in our strategic plan.
Our individual team and individual goals are all inclusive of making sure we think through our objectives with the DEI lens. As you can imagine, there's tons of conversation that happens. It's very much a two way street of making sure we all have agency and a voice at the table to reflect.
I'll just close out with this. For me, this has been a really big time to look inward and look at myself and our entire organization.
The leadership has really been absolutely loving Brene Brown's book "Dare to Lead" to really make sure, and this totally relates to the past couple of years, to help us have really, really tough conversations. 
That sounds like nothing, but it really has been extremely transformative for our organization when people have those bubbling feelings that they're not putting forward, or talking behind people's backs, or the meeting after the meeting, or whatever. Those things create a negative and perhaps even toxic environment, which could definitely relate to the DEI viewpoints.
This piece has been extremely helpful in helping our leadership to bridge those gaps and teaching us tools, being extremely clear about what you want and setting those expectations.
As someone mentioned earlier, being very vulnerable about "I make mistakes, we're all human it's okay." And just making sure that we make a cultural change across our organization, starting from leadership and showing the rest of staff that we are actively making efforts to change the culture here. We have to because people are voting with their feet and leaving and it's just a reality. So all those things.
Sarah Wolfe:  Voting with your feet, I was listening to NPR months ago, everybody was talking about, it's the great resignation. And they said no, it's not a resignation. It's a renegotiation. 
If you, as an organization, are willing to
listen to what your staff are saying and
go to them and meet them where they are, listen and do what they need.
Give them what they need to be able to succeed, then they will stay.
And so with that, I know that one of the things that has been also very prevalent has been self-care.
And I want to do another shout out to the Coffee Talk this morning because I felt like, did you guys just like take my agenda? But, everybody's talking. It's great. They had a lot of really great ideas on this.
People in chat, you've been great at sharing and making comments. I'd love to hear from you and also from Sandy. Not all self-care is bubble baths. What do you do for self-care professionally to make sure that both you and your staffers can succeed?
Sandy Martins: Absolutely. I love this question. There's a few things that I consider for practicing professional self-care.
Number one, I'm really big on organizing and managing my time.
There's a quote that I look at every morning as I start my day that says, "For every minute spent organizing an hour is earned."
The things that I do to earn my hour back, or to manage my time effectively is:
At the end of every week, I check my calendar for the following week to ensure what it's looking like. Is it a really meeting heavy week? Is it involving a lot of internal conversations? External conversations?
Based on that, I do my best to fit in blocks of time where I have a break or catch up, or for that matter, just have a moment to switch gears in between meetings.
I also, based on the workload that's going on, ask the meeting owners if I'm needed at the meeting. A lot of times you are just thrown into meetings, just because. So if this is an area where I can come up to speed based on some meeting minutes or notes, I'd rather do that than have to sit in within that hour timeframe. But of course, if you don't ask, you don't know.
I also do my best to stick to my rituals. Stick to my yoga rituals and meditation, and for about 30 minutes to an hour every morning, I check out my day to ensure where I'm going to really organize my day accordingly.
And that's something that my organization does is they really support focus time or DNS, or do not schedule timeframes, which are usually two to three hour blocks that they put on our calendars. And it's meant for us to really focus and complete our deliverables.
Something else that I practice is mental health days off.
I just want to preface this to say that if you have vacation time or personal time, depending on your organization's policy, do not feel guilty about using that time for mental break. I remember really early on in my career, I used to feel so guilty for even the thought or the idea of taking a day off because I needed to work hard. I needed to show that I'm dedicated.
But really over time I was actually burning myself out, which meant that I wasn't working to my best ability. So it took a few years for me to recognize the importance of having that healthy balance between work and self-care.
Definitely for the sake of my sanity, for my health, as well as my team members, I would ensure to really take the break when I needed it.
And lastly, if you're not happy doing what you're doing or being in an environment, then do what you need to do to find the next journey in your career.
I think that a lot of times, people feel very complacent or comfortable where they are and they're afraid of taking that next step or that next jump in their career. I always say to myself that I have an expiration date when I join an organization, usually it's four to five years.
The first two years I'm really getting to learn the culture and really understand everyone. And then by year three, four, five, that's where I really envision myself to see the long term here. How is the growth rate at the organization? Do I see myself growing within the organization, too? Are there a lot of opportunities for me to grow?
And again, I go back to the culture. If it's not conducive or healthy, there's plenty of opportunities out there. You should never feel like you're stuck or you need to stay there. Do what you need to do to gain happiness and make that step forward to move forward with your journey.
Sarah Wolfe: Awesome. Yeah.
Advice for New Staff
Angela, building on that, all those great ideas of planning and building off that five years, what advice would you give to a junior staff member or somebody who's really in that first part of their career in nonprofit IT?
Angela Kim: I was extremely fortunate to make a lot of mistakes in my early career, on my own. As a 1.5 first generation Korean American, my parents did not ever work in the corporate world. I had none of that to lean on. So I made a lot of mistakes and did the best that I could. I try very intentionally to pass on those things to my team to help them learn these things. As I tell them, of course you always learn better when you go through that yourself, but I try to pass on those lessons learned.
I think the biggest mistake that I made early in my career is, and I really remember this very early on in tech, I thought it was the responsibility and job of my manager to look out for my professional career growth.
And I distinctly remember at a performance review. I said, "Why did my manager not come up with professional goals for me? Why didn't they focus on that?"
Do we all do performance reviews and work through that throughout the year? No, obviously not every organization does that.
So I think that was my biggest lesson learned is to make sure that you take control of your own career growth and professional development. Think through where you want to be in five, 10 years. Do you want your boss's job? How did they get there? What skills are needed? Look at their job description. What's the delta? Where are your gaps and how do you get there? And really make sure you have a very intentional plan, whether it's at work and they have professional development tools and training and resources and funds available, or maybe you do that on your own time outside and you take courses, or maybe you get with a mentor.
I'm a huge proponent of mentoring. It's never too late. You're never too old to have a mentor. I actually suggested to my team this year to have a mentor that will help them in the specific areas that they really want to improve on.
Public speaking, or maybe speaking up more, project management, whatever it might be. They want to become an entrepreneur, so they want to gain more skills there. They are pairing themselves with the appropriate person to manage that time with that mentor on their own.
What I've also started to do is to have quarterly performance reviews together with me. That is not required by the organization. We only have annual, but we do a quarterly review to talk about how they're doing, any corrections made or improvements they can make, or that I can make to help them develop and grow.
All of that is extremely important that we do at our organization, and I really take time to help them, help teach them tools. I've learned a lot of things on the job in my career, so I try to pass that on. Things like Excel tools and tricks, a pivot table, a VLOOKUP, I learned way early on, never stopped using that. So I continued to try to pass that knowledge along.
Additionally, what I would say is to be very clear about what you want and what you're looking for. If your goal in the next five, 10 years down the road is to become a CTO or a CIO of an organization, make that very clear and have that conversation with your manager or leadership and say, "This is where I want to go, can you help me devise a plan to get there in the next one to two, three years?"
It'll be very interesting when you put it out into the world and you tell people what you want. The opportunities somehow seem to appear because you've told people and they remember when you said, "I want to be a CIO," or whatever that they do remember you the next time something pops up. It's been incredible in that way.
That's actually how I got this job. It came up on my radar because I was being very intentional about what I was looking for.
In addition, in terms of what we've mentioned earlier, giving people voice and agency. I really, really underscore with my team to ask for help and ask for guidance early. If you don't know what to do, or you don't know how to go about something, instead of wasting your time sitting with something, or if you don't understand clearly what's expected, make sure you ask those questions early on versus when it's too late and the deliverable is due.
We've learned as an organization, clear is kind. This comes straight from the Brene Brown book "Dare to Lead." This has been transformational for us. 
I was thinking I was delegating and I would tell somebody, go do X. And then when I was looking for an update, they hadn't completed what I expected. I learned I was not being clear exactly what I thought done looked like. And that's been extremely important. When I said, "Go operationalize this policy," in my head, actually I did not verbalize. I actually was thinking about a procedure, a policy and communication plan, but I had never verbalized that, and that was my error.
The last last two things I would say is, be vulnerable with your team and model that the first thing the leader should show is that they can be vulnerable and show that they are human, that we all make mistakes.
So if you make a mistake, it's completely fine. You're not going to be penalized for it. We learn from this and move on.
And the last thing I would say is, empower them to have agency and let them know. I have had certain instances where folks didn't feel like they had authority nor agency and I had to, as their manager, help facilitate that. And for example, in a setting or group meetings say that this person will be the lead and will be responsible for A, B and C and that's been helpful as well.
Sarah Wolfe: Absolutely. And I love how there's a lot of suggestions coming in from chat that are dovetailing in really well.
Chat, please feel free to add in and put in any questions into your chat. We do have a little bit of time for Q&A.
Our goal was to make sure that we had some organizational practices and individual behaviors that can promote a safer, equitable and more inclusive nonprofit tech industry.
As a roundup before anybody has Q&A, I'd love to do a round robin.
Q and A
What investments should leadership in nonprofits make to bring in and retain historically underrepresented staff? We can also do small versus large nonprofits in that. 
Stef, do you want to go first? I keep on picking on you first.
Stefanie Cruz: Sure. I think it's interesting when you think about bringing in and retaining. I feel like we think about the external process of bringing people to the organization. And I really have been thinking a lot about what an organization needs to do within, to create the space so that when someone arrives they can stay, they feel valued, they feel seen and they can effectively contribute to the organization.
For me, that means actual training around diversity, equity and inclusion for staff at every level from leadership mid-management and junior level. So that folks can understand and be aware of their own biases, of how they show up in conversations.
To Angela's point, this impacts performance reviews, how we engage in meetings, really creating that training and awareness and learning. It has to happen because we can't just say that we are creating a diverse and equitable environment because we are hiring five new people of color.
What are we doing within the organization to create a culture that can create a space for all of us to really understand how to work together and work together in a way that's very effective? That's definitely something that I would say is important.
And then the point that this is not a one time. You don't have someone come in and do diversity and inclusion for your organization one time to make you a more diverse and inclusive organization. There's staff turnover, there's the organizational policies that shift, this is an ongoing effort and the organization needs to be committed and continue to do the work daily to successfully create this type of environment.
Sandy Martins: I'll jump in on this one too.
There are two things that I would recommend for areas of investment that leadership should consider to bring in and retain historically underrepresented staff.
Angela, you mentioned earlier workplace mentoring. Research done by Conboy and Kelly says that organizations with mentoring programs have shown that it improves promotion and retention of diverse groups, increasing that for the rate of men and women by 15 to 38% compared to organizations that don't have mentored workplaces. 
At MENTOR, our organization, we have a senior Director of Systems Innovation by the name of Charlene who builds partnerships with companies and workforce development agencies to maximize quality mentoring in the workplace. So I'm definitely glad to share more information in a link on how folks can learn more or develop mentoring workplaces at their organization.
The other investment leadership should consider to do this is create an inclusive hiring process, which actively recognizes diversity and embraces a wide range of qualities that candidates may bring to the organization. Of course, there's many advantages to that, such as the company's reputation, which in return attracts and retains the talent.
I read a research paper on monster.com where it said that 86% of candidates globally say DEI in the workplace is important to them. And then additionally, 62% of those folks would turn down a job offer if it came from a culture that didn't support a diverse workforce. 
I think that the year 2020 was a real wake up call for many organizations where they recognized what we, the underrepresented people have always known about racial injustice and inequality. So for leadership, really investing the time and having a thoughtful approach to inclusive hiring, I think is certainly important to consider.
Angela Kim: Yeah, 100% agree with everything that's been mentioned, so I don't want to repeat that. To add on, at Academy of Hope we do post positions internally and then we give our internal staff an opportunity to apply and then we post externally.
I know our HR team has definitely made a great deal of effort to be a lot more inclusive and equitable. We recently did a compensation equity assessment to look at our local markets and industry benchmarks to make sure our compensation didn't have any disparities. I think everyone has mentioned professional development. I would hope most companies and organizations have professional development dollars. Use them, absolutely use them, and it should be very intentional and strategic.
We also have a new hire buddy system internally for staff that start at our organization so that you have somebody outside of your team that connects you with the organization to get the lay of the land, understand the culture, understand where you fit inside the organization and just to have a sounding board is always important.
In our team, we talk a lot about how to manage up and also manage sideways to really help people be successful and grow and develop here. So that's something that our team talks about quite a bit as well.
Sarah Wolfe: Wow. Those are all really amazing. We do have a question that came in from chat.
What are some of the challenges that you face when trying to address glaring issues with leadership that are affecting the organization?
Sandy Martins: For me, it's how do I convey that clearly to them regarding the trials that I'm having and whether they are in support of what I am sharing with them. A lot of times too, depending on who the leadership is or the role that they have, they could either be very vulnerable and understanding of the situation, or they could just use their role or position to kind of thumb down the situation and not really support in that aspect.
So I try to understand how I can really clearly and effectively try to share what I'm thinking about or issues that I'm experiencing and hope they would be able to be there to support and guide me through it.
Angela Kim: At our organization, we just recently went through something that caused a major cultural shift for us. And the way that we went about tackling that was we realized that there were murmurings happening and we needed to address that at the leadership level.
We really focused on providing staff with a safe place and space to talk about whatever they were feeling. This is very old school, we had a staff comment box and also folks were able to email in anonymously so they felt protected and safe. Those were all read by senior leadership and were sorted through and the senior leadership team actually held a town hall to talk about those things.
It was a very tough conversation. Like I said earlier, we had a lot of very, very tough conversations. And it needed to be said. We gave folks the space and time to talk about those things. Then importantly, we then came back to everyone to say, we hear you, we acknowledge your concerns, and now we're creating a plan around it to improve and to tackle and resolve. So we were being very intentional about showing folks that were listening and were acting upon that.
Sarah Wolfe: Excellent. Yeah, so we do have about five minutes left. There aren't any other Q&As.
I do have a couple of slides to share just summarizing what we've been talking about.
In Summary
Making sure that organizations are valuing their time, staff and opinions.
Creating work life boundaries, stick to them, create space to listen
and there are people who are probably also very bad at asking for what they need. Model asking for help, scaffold in, build in, get those people used to saying what they need.
Invest in your staff,
provide quality benefits and establish a culture of actually using them.
PTO is not there to just languish away, use it, make sure people are taking vacations,
allocate funds and time for professional development.
Make sure that managers know they are expected to invest time and effort in developing junior staff.
Creating and fostering an open community.
Making sure that you can have those conversations, like Angela said about learning how to communicate with each other about tough concepts, bringing up a way to flag a microaggression without having to stop a conversation.
Mentoring, mentoring, mentoring, mentoring.
This is just the beginning of this wonderful conversation and people have been working towards this for years and years. Cultural shifts take a really long time and we always have to revisit them.
There is a collaborative notes Google doc, and I'm going to be pulling some of these suggestions, if people haven't put them in there already. We also put a link to a bunch of resources, including the book that we've been mentioning a couple of times, [Brené Brown's] "Dare to Lead." As well as her podcast. 
There are a whole host of other things [linked at the top of this transcript.] There's a link to a mentoring.org. Why Workplace Mentoring Matters PDF, a couple different online resources and podcasts, HBR Women at Work, there was a podcast about leading with authenticity and lots of different, really great resources. 
Please feel free to add your resources into chat and add them into the collaborative notes. And I just want to say that this has been a really wonderful time talking with everyone, and I want to thank Stef and Angela and Sandy. Thank you so much for having this conversation with me and being able to share with us.
I've put your organizations' websites and your LinkedIn's. Everyone please feel free to reach out to us to continue the conversation, and I know that we are pretty much at time and thank you so much.